Arabia Monitor is an independent economic and strategy research firm that specializes in the Middle East and North Africa (MENA) region. Arabia Monitor boasts 80+ years of experience distributed amongst teams of native analysts that specialize in Iran and all 18 Arab countries.
This precise understanding of complex native dynamics is enhanced with a broader perspective and global expertise with Arabia Monitor offices strategically located in London, New York City and Beijing.
As an emerging market; the MENA region is rife with business opportunities and teeming with potential risk as well. Arabia Monitor realized their laser-focused expertise will be needed by both regional and global interested parties (Governments, investors, existing businesses and etc.)
Given the nature of their industry trends and client expectations; the importance of establishing their depository of intelligence reports for sale in an accessible manner to their customers was not to be understated. The frequency of report development meant they needed a reliable CMS and media library that didn't negatively impact the performance of their platform.
Key Challenges
Poor online customer experience
No flexibility in editing or developing content needed for their target audience
Various technical and performance difficulties encountered while browsing from various platforms and devices
Technology did not support their business goals
Inability to engage in much-needed e-commerce activities
Inability to optimize online marketing and automation
Inability to scale
Recommended approach by Vardot
Vardot recommended a comprehensive hassle-free solution to address the challenges and upgrade their technology to meet their business needs and enable them to realize their vision for growth.
Vardot's VARBASE® was used to rebuild the old Arabia Monitor platform; which was built using WordPress on Drupal and migrated all existing content from WordPress to Drupal 8 seamlessly.
Arabia Monitor now enjoy...
A Search Engine Optimized (SEO) Multilingual Website
Arabia Monitor's new platform is available in 4 different languages: English, Arabic, French, and Mandarin. Their website search engine optimized for all the aforementioned languages.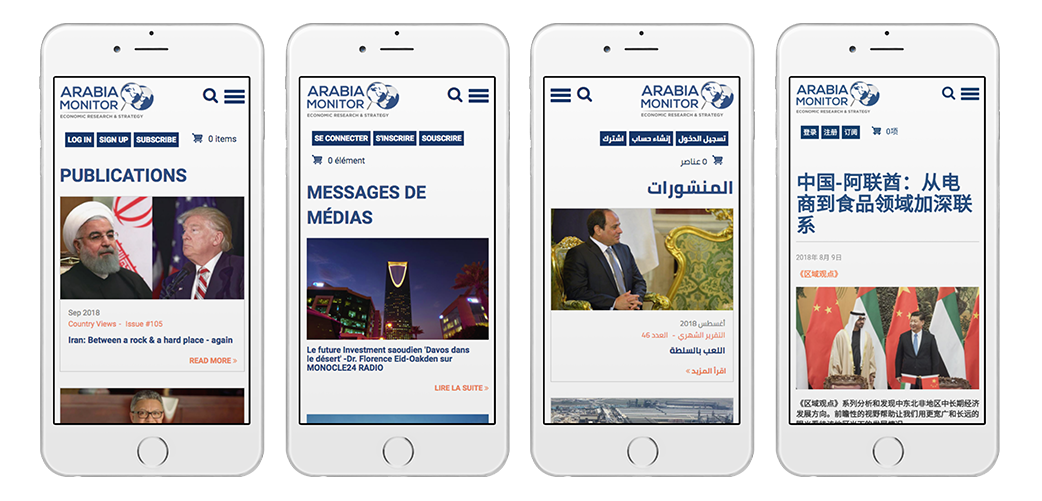 Secure E-Commerce Capabilities
Arabia Monitor is able to provide their community and customers with a secure online purchasing system powered by Drupal Commerce. Drupal Commerce is renowned for the highest security standards. To learn why leading e-commerce websites are using Drupal Commerce, click here.
Automated Marketing via Seamless Integration
Via integrating MailChimp; Arabia Monitor is able to automate their email marketing campaigns which heavily depended on keeping their database of partners, readers, and customers up-to-date.
Editorial Flexibility
Since migrating their content and website to a Drupal content management system (CMS) Arabia Monitor's ability to design, develop, edit and upload content to their website has never been easier.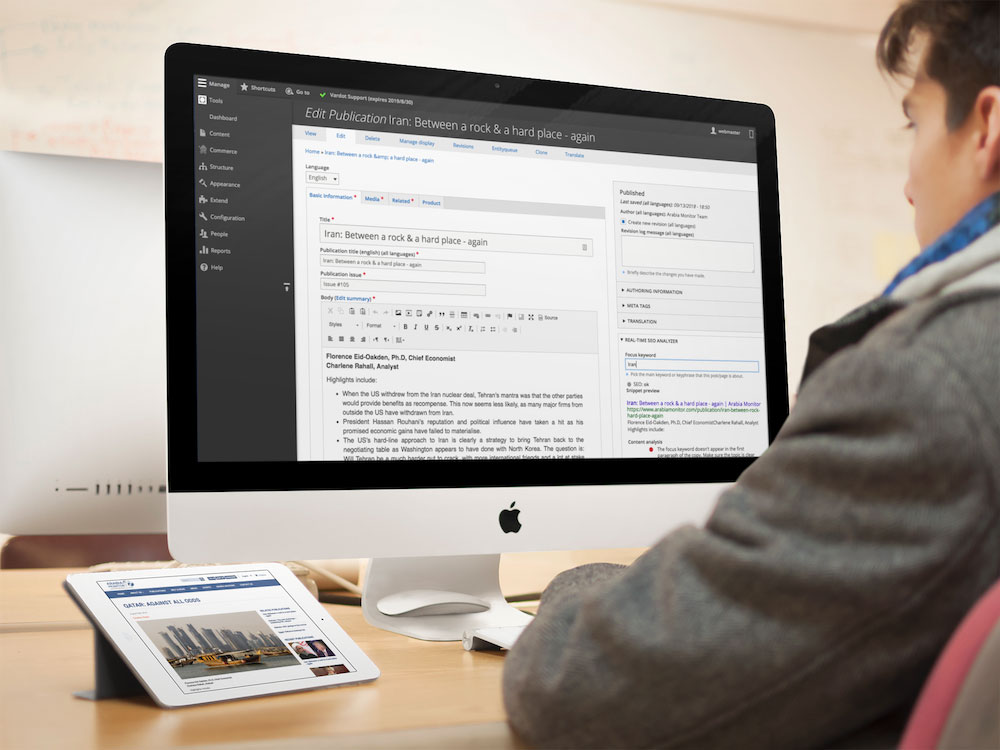 Smoother Customer Experiences
User experience is optimized across all devices. Arabia Monitor's mobile site page speed and browsing performance is boosted via Accelerated Mobile Pages (AMP).