Paving the Way for Leaders With GELI's New Website
Building a seamless and dynamic E-Learning platform dedicated to empowering the leaders of the future
Image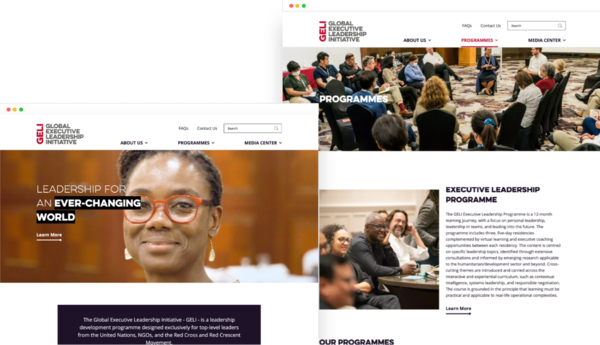 Global Executive Leadership Initiative (GELI) is a non-profit initiative supported by USAID, European Union, and German Humanitarian Assistance, with a mission to inspire exceptional leadership through continuous learning, ingenuity, and transformation. GELI is in partnership with London School of Economics and Political Science and Harvard Humanitarian Initiative and hosted by UNOPS in Geneva.
GELI's goal is to build the leadership cadre of the future, supporting executive leaders across the humanitarian and development sector through two carefully designed and cutting-edge programs in collaboration with expert educators from around the globe.
Image
The Challenge: Laying the Foundations
GELI needed a well-structured, informative, and user-centric website that is simple and easily accessible, with a digital presence that would reflect their unique program, bringing together executive-level field leadership from the United Nations, non-governmental organizations (NGOs) on a joint learning journey that mirrors the country-specific field leadership decision-making platforms.
GELI's vision to "Build a better world through transformative leadership enabled by continuous learning and ingenuity" was the inspiration for us at Vardot. The challenge of seamlessly managing the lifecycle of a busy leader-in-training was a mandate for GELI. Vardot happily obliged and stood-up for those challenges.
To create a website that would meet GELI's needs, Vardot's team worked closely with all stakeholders and walked them through the process of developing a website from scratch incorporating the comprehensive atomic design methodology and a series of interactive creative workshops.
Our Challenges were:
Creating a scalable website that matches GELI's unique mission

Enabling GELI with an easy-to-use content management system with premium support

Building a robust, seamless and user-centric lifecycle management platform for GELI's stakeholders

Translating GELI's brand and vision into a dynamic digital presence
Image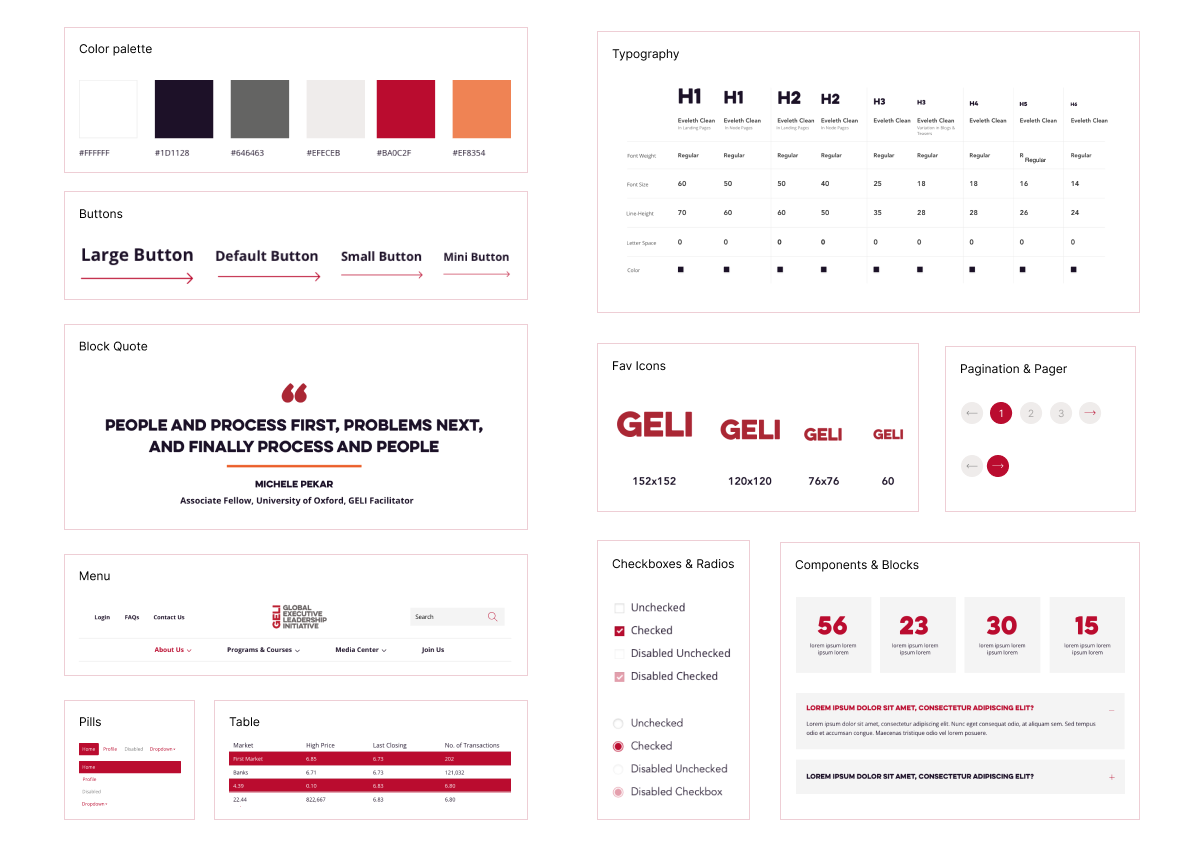 The Approach: Cutting-Edge Technologies
The project scope included a new website based on Drupal, connected to a cutting-edge and user-friendly learning management system (LMS), and Salesforce API integration to facilitate the management of the entire lifecycle of program participants.
Vardot worked closely with GELI to understand their vision and mission, as well as the needs of their target audience. Through several interactive meetings and creative workshops, we ensured the website design and functionality aligned with GELI's objectives. 
GELI needed their own digital space, flexibility and security were on the top of priorities list. This direction inspired our journey to build the visually appealing, professional and scaleable up-skilling website for world leaders. Stakeholders from UN agencies and renowned universities were given an easy-to-use user-friendly platform to connect with peers and program participants as well.
Image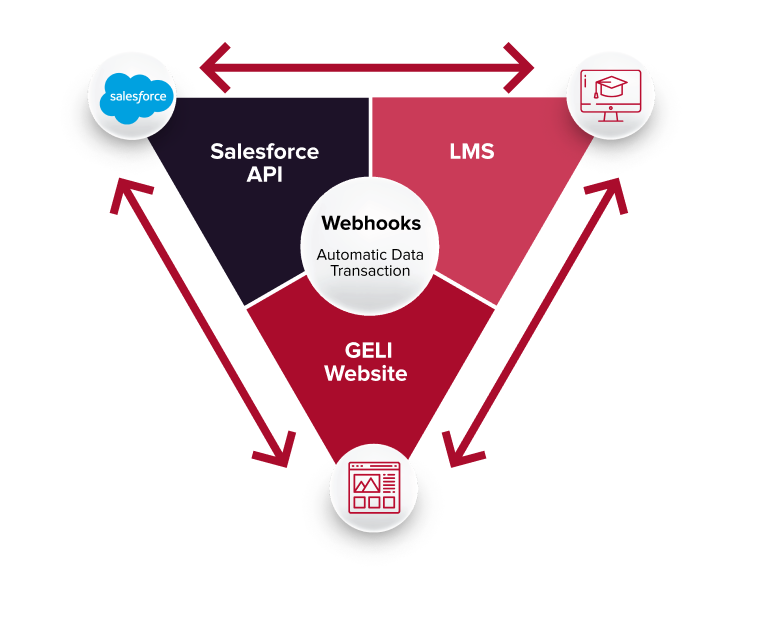 In our journey with GELI, we utilized cutting-edge technologies to enhance the user experience and engagement, including Drupal 9, Varbase and a top-of-the-line hosting service by Platform.sh. The site was built using Vardot's custom product, Varbase, which provided a great head start for the project, with many pre-configured features and modules that helped accelerate development time and minimize development costs. 
To provide a seamless user experience, we integrated the Learning Management System (LMS) and Salesforce using APIs. This allowed GELI to ensure that users had access to all the necessary information and tools without the need to switch between multiple platforms. By leveraging APIs, we were able to establish a secure connection between the different systems and enable smooth data transfer.
Image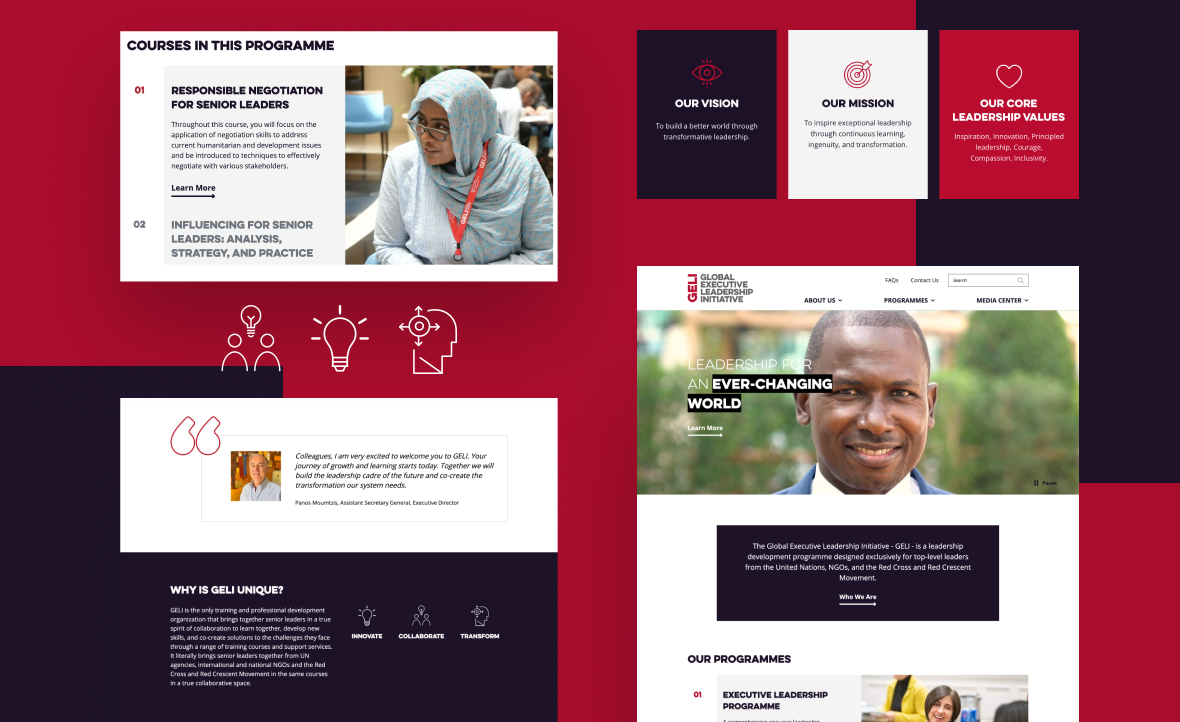 The Result: Global Leaders Enabled
A comprehensive and user-friendly website that enables potential global leaders with tools and seamless lifecycle management of their leadership program through cutting-edge technologies and integrations. The website is simple and easily accessible, providing potential global leaders with the information they need to engage with GELI's unique program. 
Vardot's partnership with GELI means that this project is kept alive with Vardot's flagship continuous growth component, providing our clients with the support they need to grow their website and evolve with their mission and connect better to their target audience. By utilizing cutting-edge technologies and integrations, Vardot has helped GELI to create a comprehensive and user-friendly website that truly enables potential global leaders.
 
Key Results:
Stunning user-centric design for an impactful identity
Seamless technology integrations
Smooth content management and curation
Secure lifecycle management of all stakeholders
Image