Empowering IRC to House 5700 Afghan Refugees in California
Explore the exciting journey Vardot embarked on with IRC to build a customized and robust application processing platform on Drupal 9
Image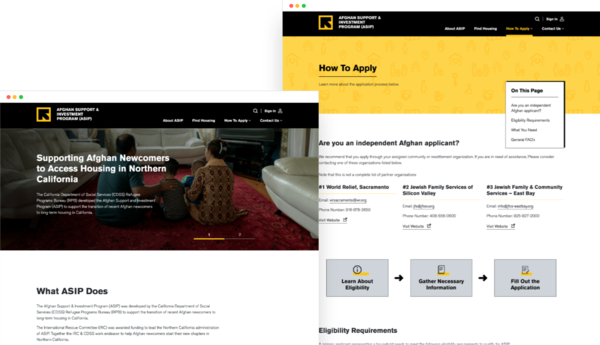 The Afghan Support and Investment Program (ASIP) offers a glimmer of hope to refugees fleeing the war in Afghanistan. Their mission is to provide essential resources, such as housing, healthcare  and job training to help refugees become self-sufficient members of their new community in Northern California.
Vardot was honored to be commissioned by The International Rescue Committee (IRC) and the California Department of Social Services (CDSS) Refugee Programs Bureau (RPB) to develop a custom application platform for ASIP. This user-friendly, secure, and scalable platform has streamlined the application process, providing real-time updates and customizable reporting. Through the ASIP platform, the IRC and partnering organizations assisted 5,700 Afghan refugees in their journey towards a brighter future, offering a lifeline to those in need.
Image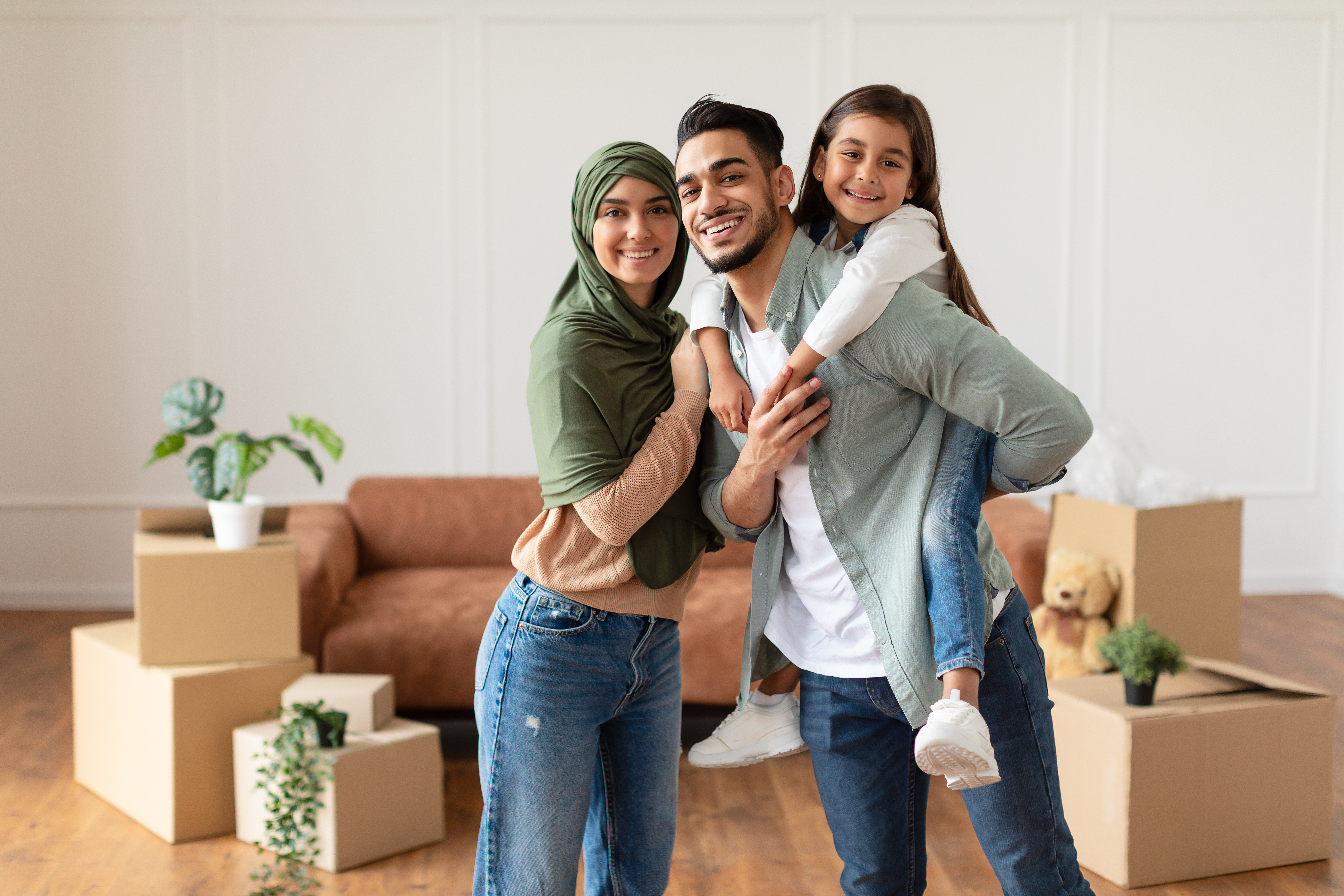 Challenge 
The requirement for ASIP summarized in developing an application processing system that was both user-friendly and secure. The system needed to be accessible to partner organizations applying on behalf of Afghan refugees, who faced barriers due to language or the complexity of the application process. The interface had to be easy to use for multiple accredited organizations without compromising the security of the applicants' information. 
The main challenges were:
Developing a user-friendly and robust application processing system within a limited time and sensitive data management policies.
Ensuring the system was easily accessible to partner organizations applying for Afghan refugees who faced language or application complexity barriers.
Creating an interface that could be used and managed seamlessly by multiple accredited organizations while also protecting applicants' information security.
Image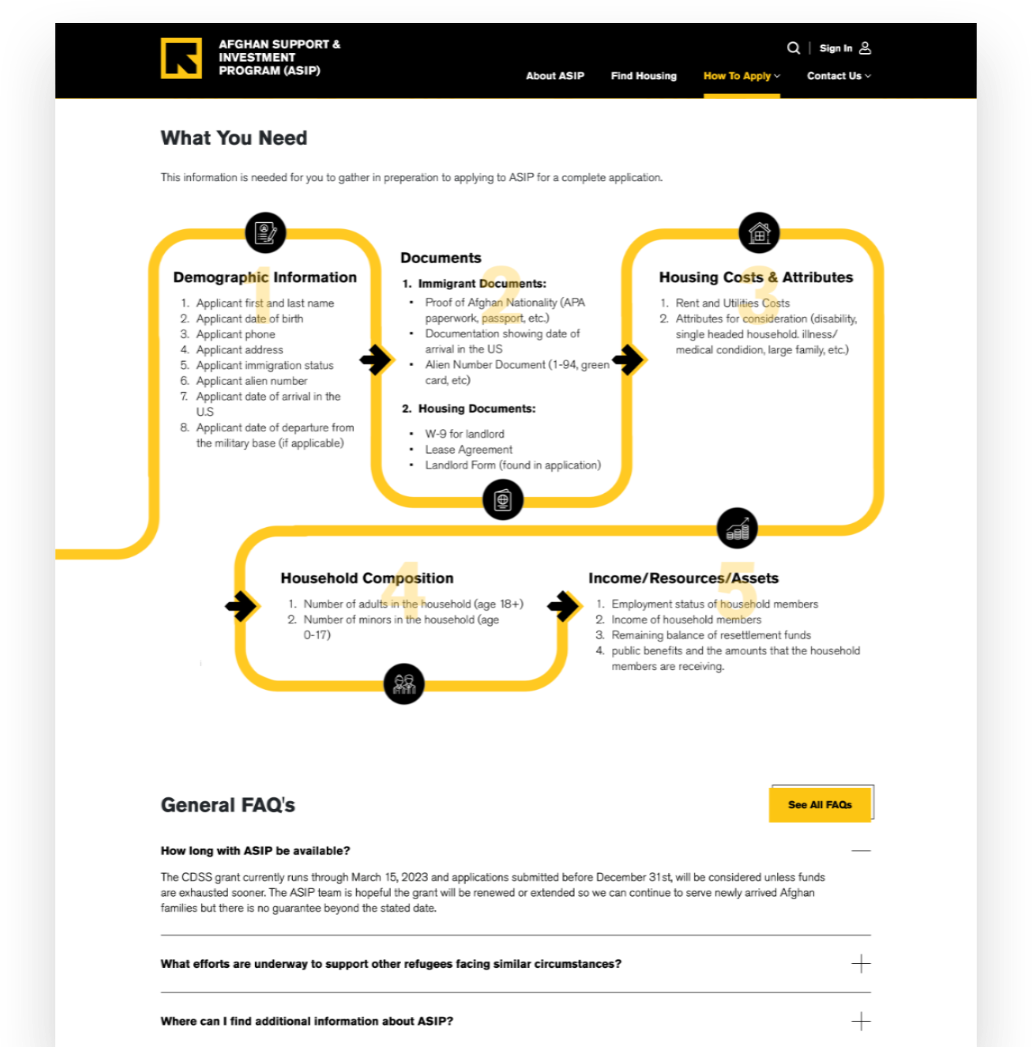 Image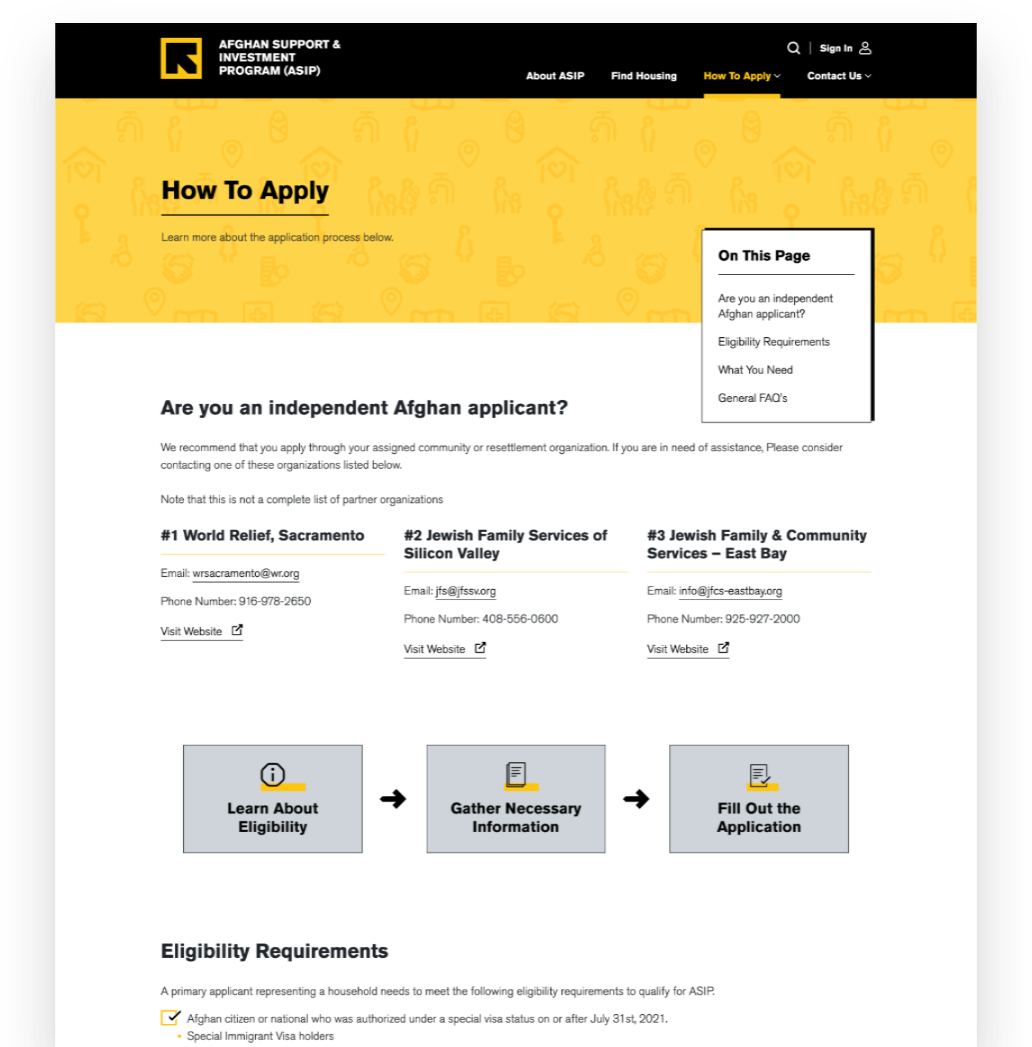 Approach  
Vardot embarked on a journey with the IRC and California state representatives to develop a custom application processing platform that would meet ASIP's unique needs. Our team used Drupal 9, Platform.sh, and Amazon S3 to build a visually appealing, user-friendly program with seamless functionality and state-of-the-art security measures. We leveraged Agile methodology throughout the design, UX, front-end, and back-end development phases while applying an iterative design and user feedback process.

Our approach included:
Customized development for a user-friendly and engaging interface.
Top-notch technology stack consisting of Drupal 9, Platform.sh, and Amazon S3.
Cutting-edge design methodology and streamlined UX development.
Optimization for peak performance, ensuring a seamless user experience.
Guaranteed Confidentiality to ensure the protection of sensitive applicant data, all information were securely stored on Amazon S3, utilizing cutting-edge security to provide peace of mind for the program managers and applicants.
 
Seamless Verification by automating the verification process to ensure that only eligible refugees apply for the program, saving time and resources for program managers.
Intuitive Navigation through providing the user a streamlined dashboard allowing applicants to start new applications with direct, easy-to-follow steps, and an overview tab to view drafted and completed applications.
 
Fluent Interoperability and Flexibility of the platform built on Drupal 9, leveraging scalability, custom development to ASIP requirements, and seamless integration with other systems.
Image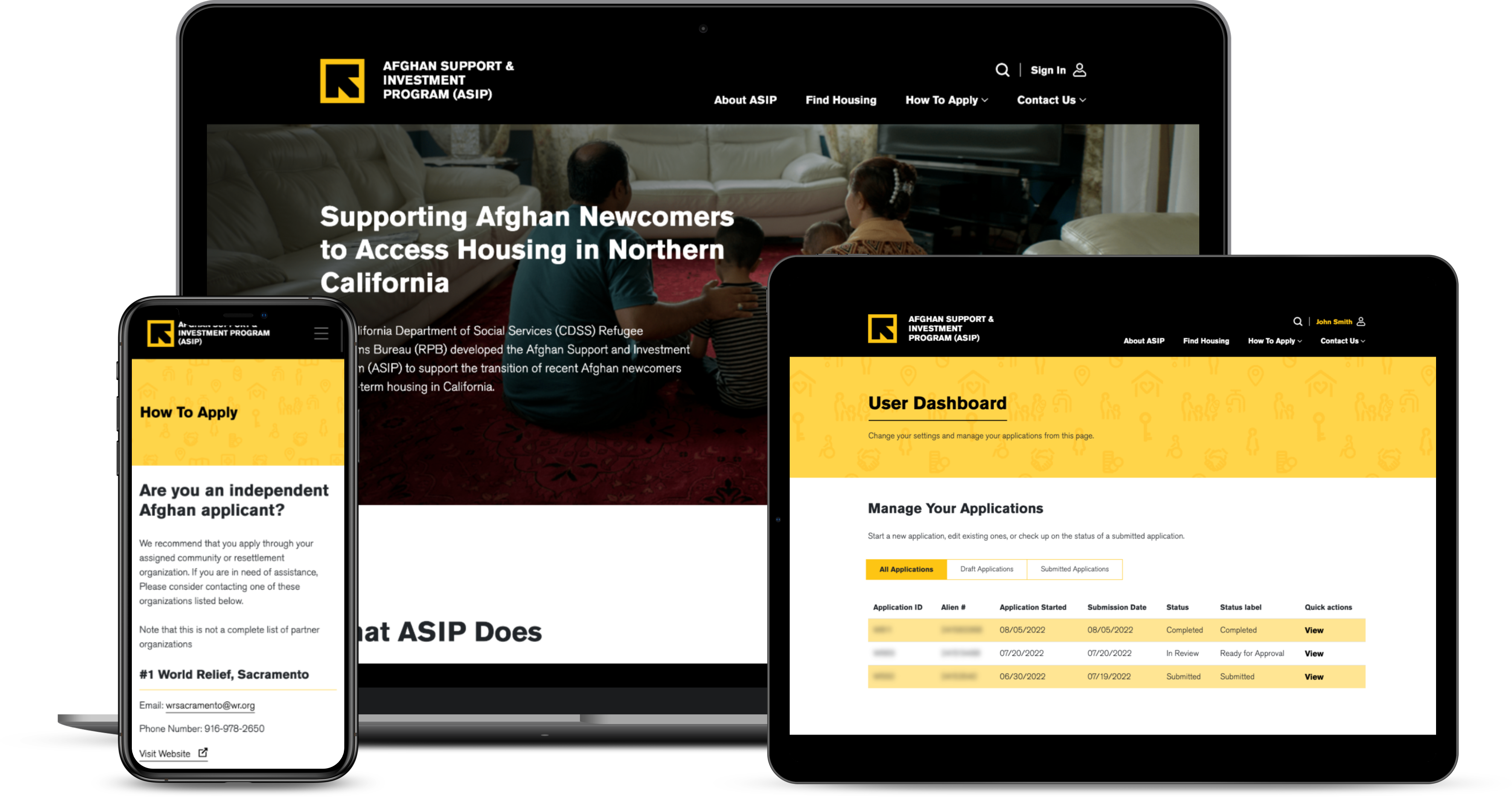 Solution 
By working closely with the IRC team, Vardot have developed a robust and customizable application processing system.
Vardot's custom platform for ASIP streamlined the housing search process for Afghan refugees, providing a user-friendly interface and reducing the burden of third-party processing.
Designed to meet ASIP requirements and seamlessly integrate with other systems. The platform features a sophisticated work-flow design that allows for easy feature addition without disrupting operations, and streamlined user dashboards that enable both refugee applicants and partner organizations to navigate the platform with ease. The platform automates the verification process and provides real-time updates, reporting, and analytics tools to evaluate program performance. Applicant data protection is ensured by our cloud-based service, which is optimized for inclusiveness, responsiveness, and transparency.
Key Results
Designed with scalability and custom development using Drupal 9 and seamless integration with other systems.
 

Prioritizing inclusivity, offering language options including Dari, Pashto, and English, and optimizing the application process for partner organizations to submit applications on behalf of refugees.
 

Seamless navigation through simple and streamlined user dashboards that allows both refugee applicants and partner organizations an easy application process.
 

Automated verification process with real-time updates on the status of refugee applications and customizable reporting and analytics tools for program managers.