Questscope Social Development
Multilingual digital experiences are critical to outreach strategies.
Image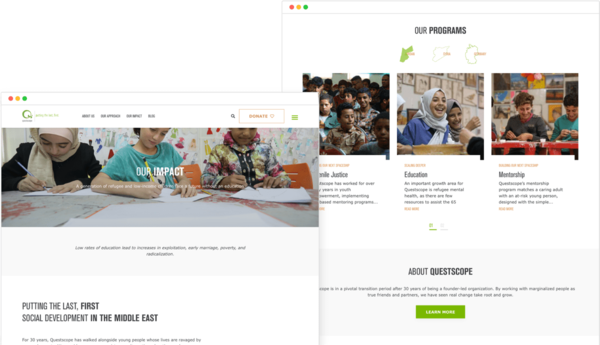 Questscope is an international non-governmental, non-profit organization founded in 1988 with the goal of putting the last, first. They rely on a theory of social change that recognizes the interconnected nature of individual transformation, institutional response, and policy changes at the governance level. 
Questscope partnered with Vardot to revamp the website UI/UX design based on responsive design best practices and to upgrade the performance of the website and its features from Drupal 7 to Drupal 8.
Vardot will design, build, and deliver a website with the commitment to the following goals:
Build the website platform on Drupal 8 and design it to comply with the latest trends and standards.
Build a mobile responsive website in order to have the website more accessible to mobile users.
Build a multilingual site to allow for English and Arabic
Optimize the site to meet accessibility and security, standards, and compatibility.
Build the site with full scalability and flexibility for future new features, and other potential additions that you would like to grow and add in the future.
Ensure fast performance and optimized loading on all screens and devices
All content translatable to all languages (on-site SEO)
Integration with MailChimp
RSS Feed for Blog
Revamped UI/UX Design
Vardot focused on overhauling the outdated design of the legacy Questscope website in a bid to enhance the visual appeal of the website while ensuring that the user journey and experience is taken into consideration.
Based on our research; we introduced charts, animations, and sliders where necessary to ensure a more convenient user experience on mobile devices.
 

Enhance Donations

Questscope needed to make the donation process more convenient and transparent to their potential donors and website visitors.

We dedicated a landing page where all campaigns where listed in an appealing manner for the website visitors that can be easily accessed via a highlighted CTA found on the website homepage header for maximum exposure.

Listed campaigns provided information for donors to have a clear understanding of why and what they are donating for - a vital UX feature that was missing from the legacy website.

Being built using the latest Drupal 8 security modules - ongoing support and upgrades will guarantee that donors will have a convenient and secure donation experience on the new Questscope donation portal.

 
Ongoing Enhancements and Support
Questscope will become a multilingual website to cater to its diverse audience needs and expectations. All the translated content will be search engine optimized.
The upgraded Drupal 8 performance will ensure that the new Questscope website will enjoy the latest and best standards when it comes to accessibility, security, and compatibility.
Vardot built the website with full scalability and flexibility to allow for future improvements, feature upgrades, and continued growth.
Questscope website admins and users received online training from Vardot's Acquia Certified team of developers that lead the project's delivery.
Migration
Upgrading the system and technology means that an informative website like Questscope will need to migrate all it's data and files in a secure manner to ensure continuity.
Automated migration for over 280 node pages where implemented safely. The migration included accounts, profiles, articles.