An Advanced Platform Combining Simplicity and the Ability to Scale
Reliability and excellence in a record-breaking time for the Queen Rania Award for Education Entrepreneurship.
Image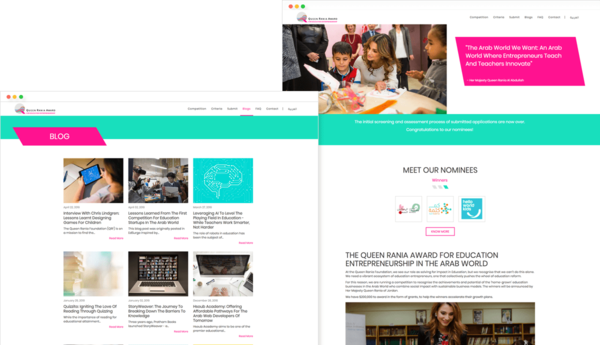 Since 2013, the Queen Rania Foundation (QRF) has been committed to the belief that quality education is the cornerstone of economic, political and social development worldwide.
QRF's focus is perhaps best exemplified through the launch of Edraak.org an online education platform that localized open source technology developed by Harvard and MIT to reach over a million learners across the Arab world with free high-quality educational material in less than 3 years.
In a bid to maintain the momentum of achievements and progress made; Her Majesty Queen Rania of Jordan launched an initiative that intends to foster a vibrant ecosystem of education entrepreneurs, one that collectively pushes the wheel of education reform.
They were short on time and needed a quality platform that combined simplicity and ability to scale. We were recommended and we delivered a fully functional platform in record time.
The World's Most Advanced Webforms System
The competition will be receiving submissions from all over the Arab World over a duration of 2 months; traffic size and its impact on performance was a critical factor.
To that end, their platform enjoys the full power of our very own Varbase platform builder which enabled us to easily create a secure and simple dynamic application process optimized across all devices.
In short, applicants had a straightforward application process and the platform admins have a much easier job sorting and managing applications received.
An SEO Ready Multilingual Site
The platform would be search engine optimized for both Arabic and English languages as their target audience is the entire education and academic entrepreneurs of the Arab World.

Out of the Box Blog
QRF was short on time and we recommended Drupal's capability to provide an "Out of the Box" Blog feature. Highly flexible in terms of content development and management in addition to being quite simple to use.
Mobile First
Every website we develop at Vardot has to be mobile-first and this platform was no different. Accessibility on-the-go is a must and to provide a smooth user experience across all devices.

Seamless Media Integration
Varbase's Media module enabled the platform to optimize the user experience with regards to video content browsing.