The Ultimate Drupal 10 Guide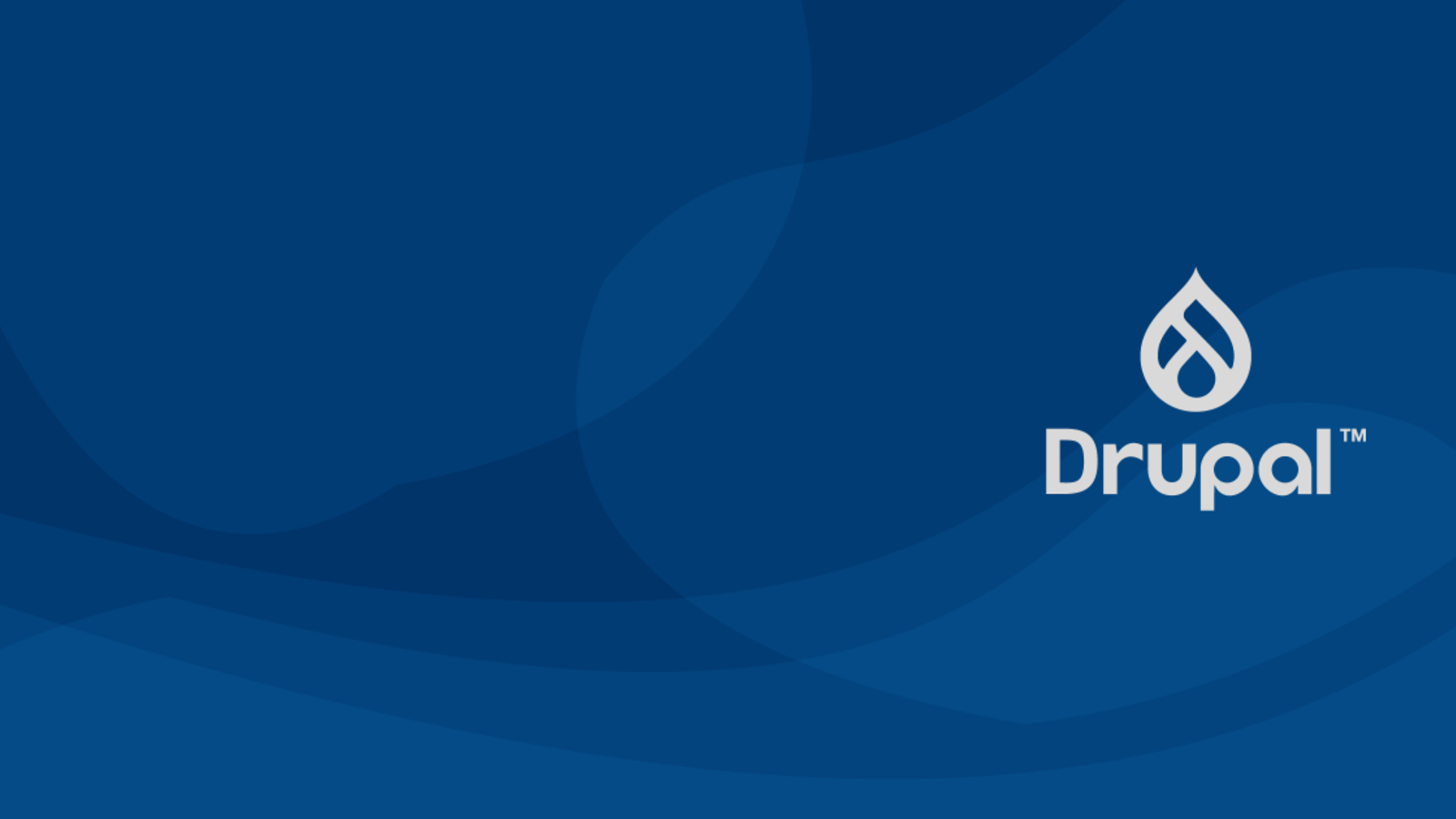 Raghad Eid
January 15, 2023
Drupal is a popular content management system (CMS) used by businesses, organizations, and individuals to create websites and digital experiences. It is known for its flexibility, scalability, and security, making it a go-to choice for many organizations.
With the recent release of Drupal 10, there are many new features and improvements that make it an exciting time for Drupal users. In this ultimate guide, we will explore the benefits of using Drupal, how Drupal 10 expands on the platform's strengths, and what's new in Drupal 10. We will also cover how to prepare for Drupal 10 and discuss the future of the platform.
Why Use Drupal?
There are several reasons why Drupal is a popular choice for website development. Here are some of the key benefits of using Drupal:
Flexibility: Drupal is highly customizable, allowing you to build any type of website or digital experience. It has a large number of modules and themes available, which can be easily installed and configured to meet your specific needs.
Scalability: Drupal is built to handle large amounts of content and traffic, making it suitable for businesses and organizations of all sizes. It can easily handle millions of page views per day and can be easily scaled up as your needs grow.
Security: Drupal has a strong focus on security, with regular security updates and a security team dedicated to keeping the platform secure. It also has a number of built-in security features, such as password hashing and two-factor authentication, to help protect your website and data.
Community: Drupal has a large and active community of developers, users, and experts who contribute to the platform and support each other. This community helps to make Drupal a strong and thriving platform.
How Drupal 10 Expands on the Platform's Strengths
Drupal 10 builds on the strengths of previous versions of Drupal, with a number of new features and improvements. Some of the key updates in Drupal 10 include:
Improved accessibility: Drupal 10 includes a number of updates to improve the accessibility of the platform, including improved color contrast, keyboard navigation, and support for screen readers.
Better performance: Drupal 10 has improved performance, with faster page load times and more efficient caching. This makes it easier for users to access and use your website, and can also help with search engine optimization (SEO).
Improved media management: Drupal 10 has a new media library that makes it easier to manage and organize media assets, such as images and videos. It also has improved support for responsive images, allowing you to serve the right image size to different devices.
New features and improvements: Drupal 10 includes a number of other new features and improvements, such as support for PHP 8, a new experimental layout builder, and improved support for web services and decoupled. 
Moving to CKEditor 5: Drupal 9 currently uses CKEditor 4 as its default rich text editor, but in Drupal 10, it will be replaced with CKEditor 5. CKEditor 5 is a completely new version with a modern JavaScript architecture and an improved user interface, offering several new features. However, CKEditor 4 plugins are not compatible with the new version. If you only used the default Drupal features, upgrading to CKEditor 5 is straightforward. Updating to Drupal 9.5 and switching text formats to CKEditor 5 will initiate a semi-automatic upgrade process. If you need more time to migrate custom CKEditor 4 plugins, install the CKEditor 4 module before moving to Drupal 10. Keep in mind that CKEditor 4 will reach end-of-life near the end of 2023, so it's best to start the upgrade process as soon as possible.
Upgrade Your CMS
Our Acquia certified team of Drupal migration experts will ensure the seamless and secure data migration of all your content from your legacy CMS to your new website.
Drupal 10: What's New
In addition to the updates mentioned above, Drupal 10 includes a number of other new features and improvements. Some of the key highlights of Drupal 10 include:
Modernization: Drupal 10 includes a number of updates to modernize the platform, including support for newer versions of PHP and updates to the underlying framework.
Improved language support: Drupal 10 has improved support for multiple languages and locales, making it easier to create multilingual websites. It also includes a new translation management system that makes it easier to manage translations and work with translation teams.
New experimental features: Drupal 10 includes a number of experimental features that are not yet fully stable, but are included for testing and experimentation.
These features may be developed and refined in future releases. Some of the experimental features in Drupal 10 include the layout builder mentioned earlier, as well as a new experimental media library and a new experimental workspaces module.
Preparing for Drupal 10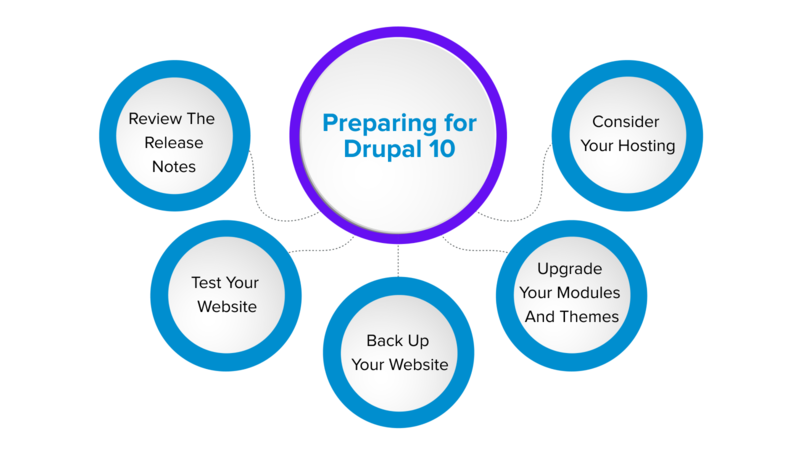 If you are currently using an older version of Drupal and are considering upgrading to Drupal 10, there are a few things you should consider. Here are some tips for preparing for Drupal 10:
Review the release notes: The Drupal release notes provide detailed information about the changes and improvements in each release. It is a good idea to review the release notes for Drupal 10 to understand what has changed and how it may impact your website.
Test your website: Before upgrading to Drupal 10, it is important to test your website to ensure that it is compatible with the new version. This may involve testing your custom modules and themes, as well as testing any third-party modules or themes you are using.
Back up your website: As with any major update, it is important to back up your website before upgrading to Drupal 10. This will allow you to restore your website if anything goes wrong during the update process.
Upgrade your modules and themes: If you are using custom modules or themes, it is important to ensure that they are compatible with Drupal 10. You may need to update or rewrite your custom code to work with the new version.
Consider your hosting: Drupal 10 has some new requirements for hosting, including support for PHP 8 and support for multilingual websites. It is a good idea to review your hosting setup to ensure that it meets these requirements.
The Future of Drupal 10
Drupal 10 is the latest version of the platform and will be supported with security updates and bug fixes for several years. However, the Drupal community is always working on new features and improvements, and it is likely that we will see a new version of Drupal in the future.
In the meantime, Drupal 10 will continue to evolve and improve through updates and new releases. The Drupal community is dedicated to making the platform the best it can be, and there are many exciting things on the horizon for Drupal users.
Upgrade to the latest version of Drupal and migrate your website seamlessly with our expert services.
Contact us now to schedule your consultation