How to Choose the Best CMS for Your Website
Firas Ghunaim
October 7, 2020
You are looking to build a great website for your enterprise and you know that quick-fix solutions like Wix and Squarespace won't do. You need a CMS that delivers superior performance, can handle heavy content, loads pages faster, etc…
There are many options out there that promote themselves as the best. Great as they may be, not all CMS options out there are ideal for your business.
How to Choose the Best CMS for your Website?
We've been helping global enterprises build engaging digital experiences for over a decade now, and they all had this question on their mind when they first approach us. Mind you, they all had experience working with other popular content management systems in the market like WordPress.
However, they faced the following common challenges:
Keeping up with the pace of digital technology innovation
Sustaining a high standard of performance and quality
Complying with the evolving best practices and standards
Delivering a constantly personalized user experience for their website visitors
"How can we constantly deliver the best of the web without having to spend money and lose time rebuilding the website every couple of months?"

 
Your website is meant to be dynamic and constantly evolving. In the digital world, remaining static is not an option. Your enterprise needs a CMS that transforms your website into a strategic business asset.
The thing is… choosing the ideal CMS can be a difficult, time-consuming process.
In a bid to make this process simpler and easier for you, our team has developed a CMS Buyers Guide that helps you navigate all the critical questions that will ensure you invest in the ideal CMS for your enterprise.
Here are the main aspects that you must consider first before you even start looking at CMS options in the market:
1. Identifying Your Goals
Aligning your technical requirements with your enterprise digital strategy objectives is essential because it will give your decision-making a clear sense of direction.
The priorities and objectives of an enterprise-level organization are not similar to a startup. What is the size of your business and operations?
For example, the requirements of a media and publishing digital platform are different from a government portal, social community, and e-commerce website. The larger the enterprise, the more complex the technical requirements will be.
Your business may need to integrate the following technologies with your website:
Marketing automation
Payment gateways
Multiple sites or domains
AI and virtual assistants
If so, you are better off filtering out most CMS options out there and focusing on enterprise-level CMS that offers the flexibility to integrate with most of the critical integrations that a global enterprise may require.
Tip: Make sure to ask the vendor behind the CMS you consider about the possibilities of using application programming interfaces (APIs)
2. Tailor to Your Audience
It goes without saying, but many enterprises tend to make the fatal error of only thinking inwardly when building their websites.
Clearly identifying the personas and profiles of your website visitors is an essential step toward effective digital marketing and communication.
If your market or target audience has a diverse background, your website content must be tailored around personalization.
These stats paint a clear picture:
The majority of people want to be engaged with stories and useful content relevant to their interests and are frustrated with websites that don't offer them a personalized user experience.
"Personalization is about two-way conversations and relevance."

 
Digital experiences such as e-commerce websites and media outlets rely on personalization to enhance their user engagement and customer retention through intelligent and dynamic user journeys.
You will need a CMS that offers you the ability to create multilingual digital experiences where your content is optimized for search engines in all languages and the flexibility to easily create highly personalized landing pages.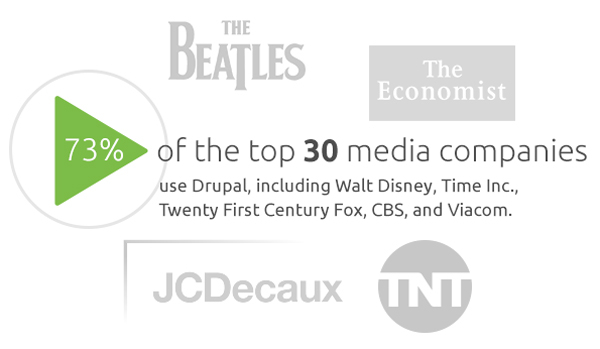 Do not forget to involve your marketing and sales team's insight into user behavior to ensure that you choose the ideal CMS that will support the digital experience that your intended target audience will expect of you.
Learn Why Varbase CMS Is the Best Multilingual Enterprise-Grade Drupal Website Builder
3. The Size of Your Team
Content marketing has become the go-to tactic for businesses that seek to:
Establish themselves as thought leaders,
Drive traffic to their website, and/or
Businesses that rely on online sales revenue.
How is content marketing relevant to the size of your team? Good question.
Typically, published content such as product webpages, downloadable resources, videos, articles and etc. are the result of a collaborative effort between team members from various departments across an organization.
The majority of enterprises tend to have a challenge publishing content in an efficient manner due to the limited resources dedicated to content creation.
Another issue is the "silo mentality".
When each department is asked to contribute towards a joint effort they tend to work in silos without many synergies to complete the project on time and in an efficient coordination manner.
To overcome this all too common challenge and transform your organization into a content marketing powerhouse you will need a CMS that features a seamless content publishing workflow process.
Content creation and publishing will be streamlined because all the project team members contribute based on user roles and permissions. Content moderation can take place in real-time as content transitions from 'draft' to 'in review' phases.
4. Keep an Eye on the Future
Do not let your immediate needs cloud your judgment.
The main reason that enterprises keep rebuilding their websites and digital projects is that they neglected their long-term and future needs.
New digital technologies that influence user and consumer behavior are being introduced to the digital sphere at an astounding pace, you must consider what your enterprise digital experience consists of in the future.
The pandemic caused many enterprises to accelerate their digital transformation plans to create a 360° digital experience for their target audiences across all relevant channels and touchpoints - if that is your end goal (as it should be) then a simple CMS will simply not do, regardless of its popularity.
Effective digital transformation cannot be achieved without constant monitoring, support, and maintenance to ensure that your website enjoys the latest UX features, necessary technologies, and essential upgrades.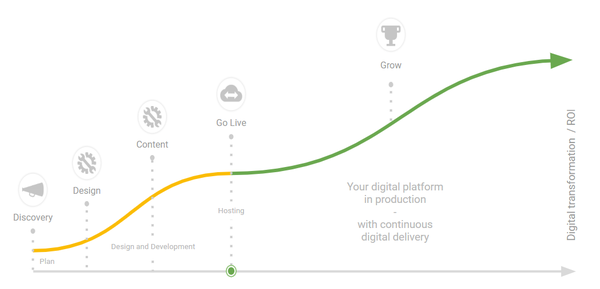 You will need a CMS that will serve as a foundation for all the future upgrades your enterprise will require. In this case, the ideal choice would be a CMS that enjoys frequent automated upgrades and support 24/7.
Need Reliable Website Support?
Explore Your Opportunities for Growth Post-Launch by Downloading Our Datasheet.
5. Key Considerations About the Vendor
Finally, it is essential to research the vendor and team behind the CMS options you are considering investing in.
Make sure that the CMS provider you choose is solid and reliable.
We recommend looking at the following company characteristics: Vendor's history and credibility.
How long has the company been around? It is a startup or is it supported by an existing business? How long has it been profitable? It's best to ask for a company profile in addition to any relevant documentation.
Is their CMS a viable product?
Does this vendor have a sizable number of quality clients using the CMS? Checking the background and history of the CMS developer and team in charge of its continuous upgrades and support is a critical step to ensure you make the right decision.
Asking for a demo is always a smart move.
It's essential to seek success stories to back your decision when selecting a CMS. Check the vendor's clients' page and testimonials on credible platforms such as Clutch.
Inquire about the vendor's product and support plans. Are they clearly structured and transparent about their fees?
Tip: Be wary of hidden costs, fees, and charges that may not be disclosed on the vendor's website. 
Enterprise-level websites usually require the vendor to provide custom extensions and module development services so try to be as thorough as possible when discussing your needs with a vendor to get the full picture and budget accordingly.
Decision Time
Choosing a CMS should always be based on relevant insight provided to you by your in-house technical and marketing teams. Our Acquia Certified team can always provide you with a free consultation to help you gain the confidence and knowledge needed to make the best choice for your enterprise's short and long-term needs.
Varbase Distribution
Drupal 9
Drupal 8
Drupal 7
CMS
Digital Experience
Digital transformation