10 Must Have CMS Features for Nonprofits
Firas Ghunaim
February 22, 2021
Through our decade-long history in building nonprofit digital experience, we've identified a unique set of challenges that almost all nonprofits and NGOs suffer from - and how Drupal was uniquely and strategically positioned as the ideal technology to transform those weaknesses into strengths.
Let's take a look at those challenges and how choosing the right CMS features address them:
10 Must-Have Features in a Nonprofit Website CMS
1. Tailored Flexibility
Challenge: Your current CMS limits your team's ability to create dynamic digital experiences for your website visitors.
First, filter the list of CMS options you are looking into by listing your strategic objectives and aligning them with the technical capabilities that will support your nonprofit's ability to deliver results.
Typically, a nonprofit's digital strategy objectives include:
Community-centric digital presence
Scalable expansion
Enhanced outreach
Easy, simple, yet rich UX/UI
Mobile responsiveness
Secure donations
GDPR, W3A, and WCAG 2.0 compliance
Safe data migration
For nonprofits who need a site builder with maximum flexibility tailored to the needs of complex nonprofit digital experiences, Varbase (Drupal 9 CMS) is an ideal choice as it comes with hundreds of pre-built modules, customizable themes, and multiple content types.
Need assistance in aligning your business and technical requirements? Book a call for with our team of consultants for a free consultation today!
2. Enterprise Security Measures
Challenge: Threats are evolving and your nonprofit lacks the resources to hire full-time DevOps to manage, update, and upgrade your IT infrastructure security.
If you cannot demonstrate your ability to keep your website visitors' information and transactions secure - your nonprofit's digital presence is practically non-existent.
Cybersecurity threats are evolving all the time and it only makes sense that the CMS you choose is supported by enterprise-grade security modules constantly updated by the CMS vendor.
Make sure to ask potential vendors and service providers to demonstrate their security credentials.
Ask questions such as:
How often do you upgrade security modules?
How do you monitor projects built on your CMS?
What is the response rate when it comes to risk assessment and management?
Do you have in-house DevOps?
Are your information security management systems certified by ISO? Learn more about ISMS ISO certification.
3. User-Friendly Backend
Challenge: You have a diverse staff with varying to non-existent levels of technical expertise.
Your nonprofit organization is comprised of non-dedicated part-timers and volunteers with diverse backgrounds - but this shouldn't hinder your ability to deliver results efficiently.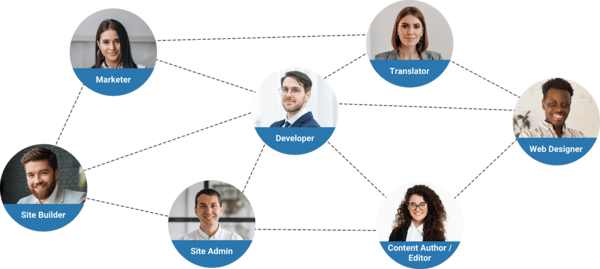 Everyone involved in content publishing, site building, and marketing should be able to use your website CMS in full collaboration with the rest of the organization based on user-specific roles regardless of their technical knowledge or first language.
Be sure to select a CMS that is supported by:
A multilingual backend for all users
Help and "How-to" guides
Technical documentation
Built-in support features in the CMS for each user role and activities
24/7 support for complex technical issues
The open-source - wider community of developers to provide solutions if needed
For example, global nonprofits that employ diverse teams from around the world such as MSF, ICARDA, and UNHCR needed a multilingual Drupal 9 CMS like Varbase to build complex, custom, and engaging digital experiences.
4. Multisite Functionalities
Challenge: Lack of funds to build localized microsites or websites for your nonprofit's global missions and initiatives.
Rather than struggle with different standards and skill sets required to manage different websites; enterprises have realized that Drupal's multi-site functionality enables them to have a focused IT team with fewer burdens and distractions due to the fact that all websites under their umbrella are built using a single CMS installation and framework.
The same benefits extend to marketing departments who will find that publishing content from the same CMS is easier and more efficient.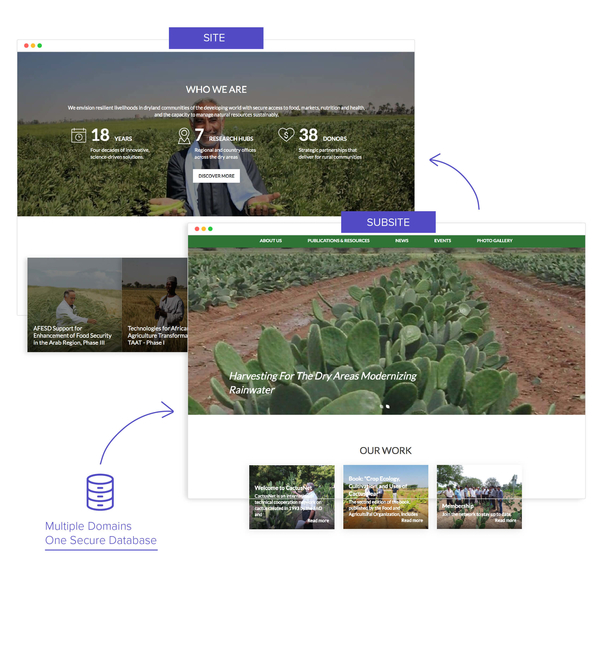 Instead of spending money and hiring teams to manage expensive numerous website development projects - invest in a CMS that provides multisite functionalities:
Centralized management: Build multiple sites and domains managed by the same CMS and team.
Faster to market: Launch those projects quicker because they share all critical modules, themes, and branding of your nonprofit.
Efficient upgrades: All websites will be upgraded and updated through the same CMS.
Lower total cost of ownership: Save resources by hiring teams to build and manage new digital projects.
If you are a nonprofit with missions across various regions around the world - localizing your digital experience and messaging to those locations and beneficiaries will be a massive boon to your digital strategy.
5. Mission Critical Integrations
Challenge: Not all CMSs can integrate with tools and tech you currently rely on (or will need to in the future).
The modern-day digital experience relies on an interconnected web of channels, systems, tools, and technologies that support your nonprofit's digital experience.
From built-in performance dashboards to custom complex integrations - those technologies must be integrated into your website and each serves a specific purpose.
Such as:
Analytics and reporting (i.e. Google Marketing Studio)
Omni-channel marketing automation (i.e. Campaign Studio)
Email marketing (i.e. MailChimp)
Social media tracking (i.e. Facebook Pixel)
Engagement (i.e. Disqus)
Customer relationship management (CRMs such as Eloqua and Hubspot)
Communities (i.e. OpenSocial)
Video publishing (i.e. Vimeo and Brightcove)
... and much more.
Drupal has quickly become a strategic asset to nonprofits and NGOs around the world due to its ability to scale and integrate with almost anything out there in the market - and more importantly, custom-tailored integrations.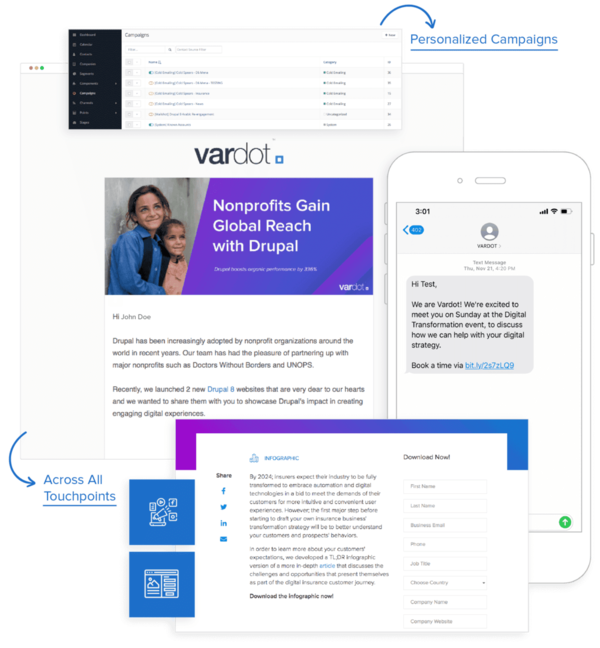 6. SEO-Friendly Content Structures
Challenge: Lack of technical SEO knowledge harming website ranking on search engines.
Content structure is key to being rewarded by search engines like Google with higher exposure and ranking on their search engine results pages.
The IASLC, a US-based global nonprofit, is a content-heavy digital experience and struggled with content structure and information architecture-related challenges that negatively impacted their UX score.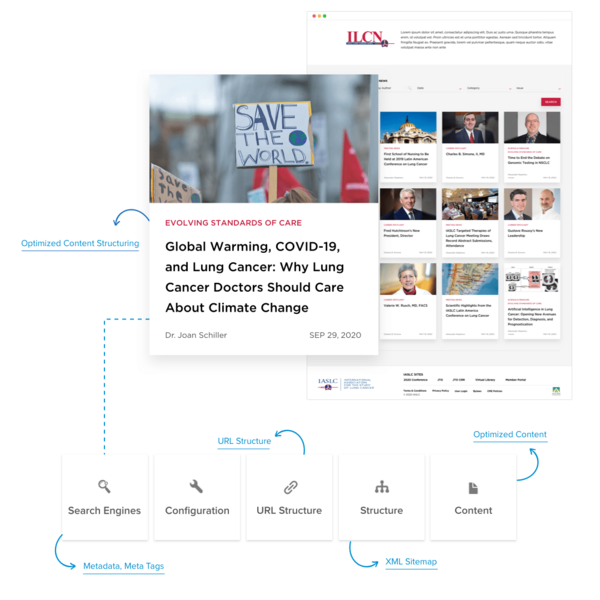 When their new digital experience launched on Drupal 9 CMS Varbase - the simple transformation of their legacy menu and navigation to a user-centric structured menu provided the following benefits:
Categorized and clear content structure
Enhanced indexing when crawled by Google's bots
Clear website visitor paths
Mobile-first UX design
7. Enhanced Content Publishing and Outreach
Challenge: Your target audiences speak different languages and have different preferences when it comes to content.
Content structure and user-centric UX/UI design will definitely help you maintain high page performance scores and core web vitals for search engine crawlers, but what about your human visitors?
Not all of them can read the same language - in fact, most would rather watch a video than reading.
Does that mean you have to hire a translator? More marketers? Rebuild duplicate pages for each language?
Nope.
With a push of a button, CMSs like Varbase enable your team to translate, review, and publish content created across your website and other relevant domains and websites built on the same CMS.
That's right, with a push of a button you can speak your target audience's various languages and create multilingual content enhanced for search engines in each language!
Casting a wider reach isn't enough if your communication doesn't support your efforts to convert visitors into members and donors.
8. High Conversion Donations Page
Challenge: You need to optimize conversion rates but your CMS doesn't provide the flexibility to create dynamic and rich landing pages easily.
Getting people to support your cause via donations requires a high conversion landing page. But what are the on-page features and UX elements necessary?
They can vary.
But these UX factors must be present on your donations landing page:
Credibility - Give potential donors clear information about where their money will be going. Support your credibility with hi-res images, stats, and testimonials from other donors in your NGO's community.
Accessibility - Make sure that anyone can clearly understand and access your donations page through a seamless journey regardless of the browser, device, or screen size they access your website.
Security - Do you have SSL certificates? Let them know that their transactions are secure.
Using the Layout Builder module in Varbase - your marketing team can personalize and optimize landing pages on your website in a matter of minutes rather than days.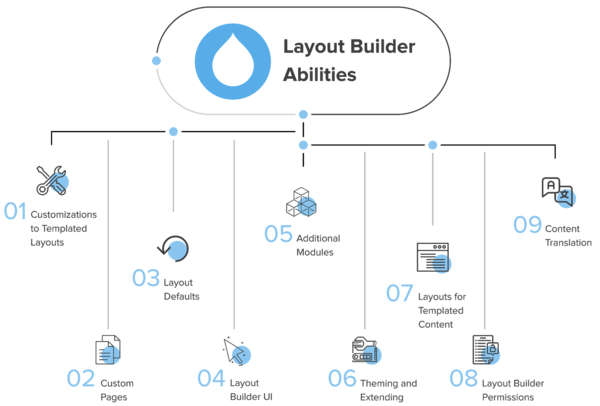 Check out those stats about personalization real quick:
80% of website visitors are more likely to convert thanks to personalized user experiences. (Epsilon)
Personalization can reduce acquisition costs by as much as 50%, lift revenues by 5 to 15%, and increase the efficiency of marketing spending by 10 to 30%. (McKinsey)
Evidently, personalization is key to retaining and engaging your website visitors. Utilizing powerful UX personalization tools such as Layout Builder; your brand as a nonprofit will sustain a strong relationship with each visitor based on relevant communication, content, and user experience.
Streamline your donations with those pro tips:

A/B Testing: Create a separate donation landing page for each of your traffic sources (email, social media, organic search, etc.) This helps you identify which messaging and sources are converting higher than others.

Track Events: Set up event tracking in Google Analytics to identify which elements on your donations landing page are working and which are negatively impacting conversion.
9. Ongoing Support and Maintenance
Challenge: Outdated UX, buggy performance and website suffer frequent downtimes leading visitors to abandon the site.
Prior to the pandemic, many enterprises underestimated the importance of ongoing support and maintenance to their growth, and matter of fact survival as a business.
Not anymore.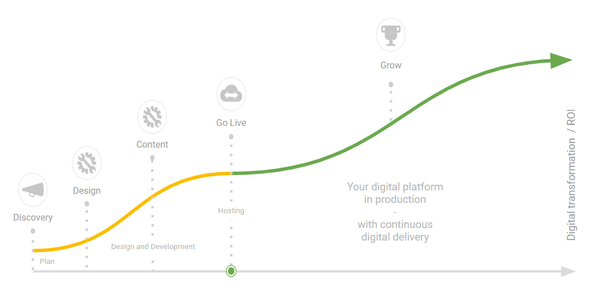 As more enterprises are accelerating their digital transformation plans they are realizing how much website maintenance and 24/7 support, monitoring, tracking, and upgrading are to their digital strategy success:
Risk assessment, tracking, and aversion
Security module updates
Continuous delivery of UX feature upgrades
Server performance optimization
Search engine optimization
Uninterrupted website service regardless of traffic load
Drupal 9 and open-source-based CMS are ideal for nonprofits who are constantly growing and evolving, which means that you won't have to change CMS solutions or purchase upgrades every time you need to add a new page to your site or implement new functionality.
Choose a CMS provided by vendors who have an in-house DevOps department with a proven and strong record of frequently keeping their CMS up-to-date with key upgrades and proactive reporting to guarantee that your websites are always at optimal performance.
Bridge the Gap Between You and Your Clients' Experience
Get a Free Consultation on Boosting Your Donations.
10. Reliable Hosting
Challenge: Downtime and server performance is poor due to a lack of dedicated IT staff to monitor and manage performance.
Still in support, maintenance, and growth territory here.
Implementing best practices in web design and development is not enough. To sustain uninterrupted availability and performance for your users, you must find a reliable hosting service provider.
An ideal solution for budget-strapped nonprofits is to go on the cloud - as it reduces your IT staff overhead by using cost-effective cloud-based services.
Interested in discussing or auditing the performance of your technical infrastructure?
We'd be happy to help out. Get in touch for a free consultation and audit!
 
#DrupalCares
Drupal 9
Drupal 7
Drupal 8
Drupal Planet
Nonprofit
NGO
Digital
Digital Experience