What Is a Chatbot, and Why it's Important for Business?
Dmitrii Susloparov
September 18, 2017
There is a great deal of enthusiasm surrounding chatbots in the Internet technology world today. Fanning the flames were the news that the White House had created a Facebook chatbot using Drupal. This post explains what a chatbot is, its current status, and how it can benefit business enterprises.
What is a chatbot?
Chatbots are software agents which communicate and collaborate with human users through text messaging using a natural language, say English, to accomplish specific tasks. Examples of common tasks in a business context are product inquiries, ordering, and troubleshooting.
Chatbots holds the promise of being the next generation of technology that people use to interact online with business enterprises. From a historical perspective, the first generation of customer contact technology involves websites. Users open the company website within their browser, navigate web pages to get the information they want and to trigger various e-commerce transactions, such as ordering a product.
Next up are mobile apps which users can download on their smartphones or tablets. The problem with apps is that people have to manually download and learn to use each of them. Chatbots lead the way for the next wave of technology.
With chatbots, there are no new apps to download. This is because most users already have at least 1 instant messaging application installed on their communication devices, e.g., SMS, Facebook Messenger, Slack, Telegram, Kik, etc. Another advantage for chatbots is that, because chatbots communicate using a natural language, users don't need to learn yet another new website interface and to get comfortable with the unavoidable quirks.
The chatbot interface is powered by Artificial Intelligence (AI) technologies. AI is tasked to understand the text that users enter and pass on the knowledge to the backend for processing. Another benefit of using AI is that the chatbot will learn over time to better understand user preferences and as a result, deliver better and faster services.
Why are chatbots important to enterprises?
It was reported that, in 2016, for the first time in Internet history, there were more people using messaging apps than social media. It follows that chat has outpaced social media to become the de facto standard in how mobile users want to make contact.
Mobile users are known to be an impatient bunch, ready to abandon any website en masse if they are made to wait for mere seconds after their initial request. Is your business staffed properly to handle this 24x7 onslaught of customer product queries, sales orders, and support requests?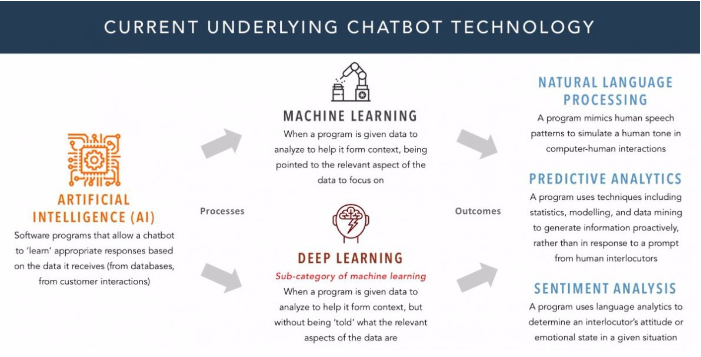 Image Source: Business Insider
Chatbots can be programmed to monitor and respond to those chat sessions that fall within their domain expertise, such as troubleshooting, return merchandise authorization (RMA), sales inquiry, etc. For chatbots to do their job, enterprises first need to capture the aforementioned domain knowledge in a knowledge base. Once the knowledge becomes accessible, chatbots can staff the all-important corporate functions 24x7.
By deploying chatbots, a business can save money by easing the staff headcount while guaranteeing good service response time. Besides its always-on feature, another major advantage of using chatbots is the consistency in how your business processes are applied: chatbots will execute the business logic consistently in all customer contacts.
Chatbots advanced that it is, is not the panacea for all enterprise customer service problems, nor does it completely replace the entire human workforce. Human agents are still required to solve the more complex problems that are beyond the ability of chatbots. While chatbots can resolve the most basic troubleshooting tasks, second-level support technicians are still required to tackle the complicated product issues.
State of the union
The chatbot technology is still an emerging technology. There are many components that have to work together to make chatbots work. As of today, the technology stack is not standardized, and a clear market leader has not yet manifested itself.
Just as there are many messaging apps, there are as many, if not more, chatbot building platforms, each designed to work with a subset of specific messaging apps. Some messaging app vendors, such as Facebook and Telegram, also provide their own official chatbot building platforms. Besides those, there are other third-party chatbot platforms that support multiple messaging apps.
For instance, Chatfuel is a chatbot platform that supports both Facebook and Telegram. The Microsoft Bot Framework supports Facebook Messenger, Slack, and SMS.
Most chatbot building platforms claim that chatbots can be developed in minutes with no coding required. While creating a chatbot may take only minutes, making it do something useful involves customization including configuring the AI front-end engine, the e-commerce and payment processor backend, etc.
Given the myriad technical choices and possibilities, it is best to leverage professional help to guide the development of chatbots for your business enterprise.
Chatbots and Drupal
Many businesses have already crafted their online presence in the form of a website using an enterprise-class CMS technology, for instance, Drupal. The good news is that you can add chatbot technology to your existing technology infrastructure, rather than starting from scratch.
If you have already built an enterprise-class Drupal website, you are a one-step ahead of everyone else. The Drupal infrastructure is essentially a portal that captures your business logic, including the backend portion that interfaces with your e-commerce and other back-office systems.
Adding chatbots to your overall technology stack involves adding the proper middleware to connect your chatbot frontend with your Drupal-based business logic backend.
As stated in the previous section, chatbots itself is an emerging technology that may be outside the scope for most in-house development expertise. Adding the middleware to join together chatbots and your Drupal backend is an extra level of software complexity.
This middleware framework is available from the Drupal community but is currently in a very early stage for commercialization. To ensure success for your chatbot project, professional consulting is highly recommended.
If you require professional services, whether to build from scratch an enterprise-class Drupal website with chatbot integration or to add chatbot capabilities to your existing Drupal platform, Vardot is pleased to offer such services from its Jordanian headquarters or its American and Egyptian regional offices. Contact us now for more details regarding your project!
Tips
Web Design
Drupal Planet