Simplify Translation Workflow Management for Drupal Sites
Raghad Eid
November 21, 2022
Your website is the first point of contact between your customers and your business. Of course, visual appeal and user experience matter, but so does personalization. Beyond personalized themes or targeted product suggestions, communicating your business value in your visitors' language is also crucial for delivering a personalized web experience. 
Research shows that 76% users prefer to buy from websites available in their native language. A multilingual website will give you a competitive advantage in enticing new customer segments in both domestic and international markets. That said, multilingual websites are even more important for SEO if you're hoping to reach customers browsing in other languages, too. 
To get indexed on SERPs, you'll also have to translate URLs, metadata, interface elements, and more. It's even more complicated than it sounds, unless you use an innovative solution for translation workflow management that supports and even automates tedious translation tasks for you.   
Need Support?
Talk to our experts to explore how your website performance is impacting your business and identify solutions.
What is a Translation Management Workflow?
Content translation isn't a one-and-done task — it's an ongoing process. As you add more content and update the existing pieces, you must ensure the changes are reflected in all translated versions, too. 
Translation workflow essentially includes all the steps that you follow before and after the actual translation process. It includes keeping track of the content that needs to be translated, assigning it to the right translators, approving and publishing translations, and tracking and managing content updates. 
Consider a website that's available in three languages — English, Spanish, and Arabic. Our imaginary content editor, Jane, enters the content in the main language, English.  Here's what her typical translation management workflow will look like behind the scenes:
Jane adds a piece of content to the CMS.
She creates and reviews a translation job that includes details, like the word coconut and content type.
She chooses a translation provider, which can be an in-house translator, a translation service provider, or a machine translation tool. 
Jane receives the translation.
She reviews and publishes the translation.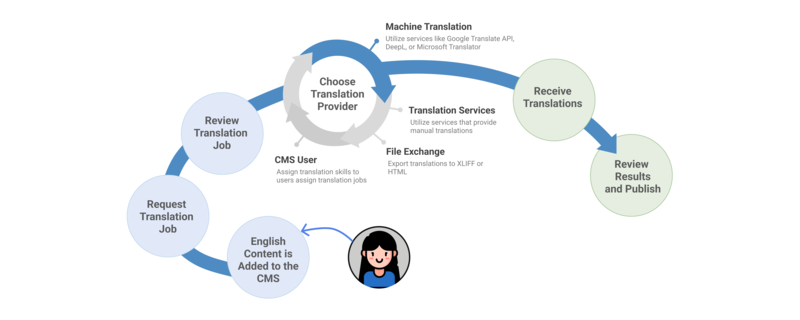 Now repeat the entire process for an entire array of content, including web page copies, news, blogs, online documentation and guides, and all kinds of marketing materials. Multiply it with the number of languages your website is available in, and it'll soon get hectic and chaotic. Not to forget, you'll have to follow the entire workflow for all minor and major content updates, too. 
With managers, writers, translators, and editors spread across time zones and continents, miscommunication and mistakes are inevitable. Maintaining spreadsheets and creating and assigning jobs manually is a recipe for failure. It makes sense to use a translation workflow management tool to simplify and even automate the translation workflows for accuracy and efficiency. 
How Drupal's Translation Management Module Streamlines Translation Workflow Management
Drupal has a Translation Management Tool (TMGMT) module that lets you choose between people and translation services of all kinds, and even automate certain workflows. Below is the breakdown of the TMGMT module features and how you can use them to turn the translation nightmare into a dream.
   1. Request New Translations
1. Open the piece of content you want to translate inside the
CMS
, and click on the 'Translate' tab in the menu.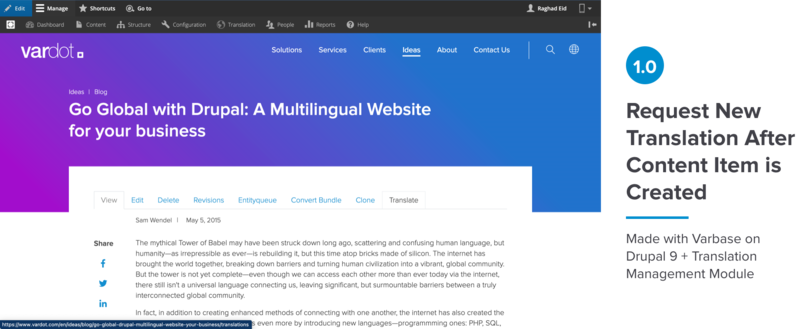 2. The translation page gives an overview of the current and available languages. Choose a language and hit "Request Translation" on top.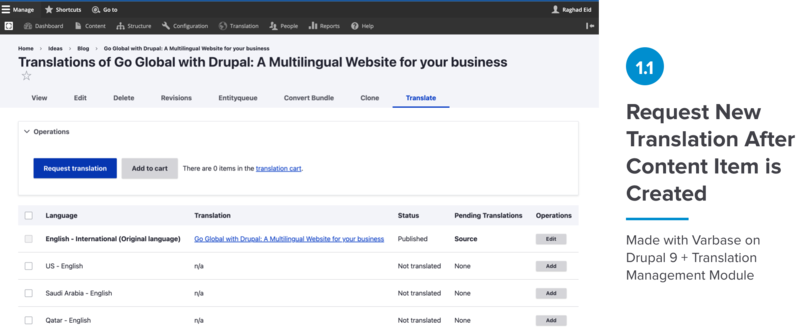 3. Review the automatically created translation job, and choose a translation provider from the drop-down menu in the "Configure Provider" section.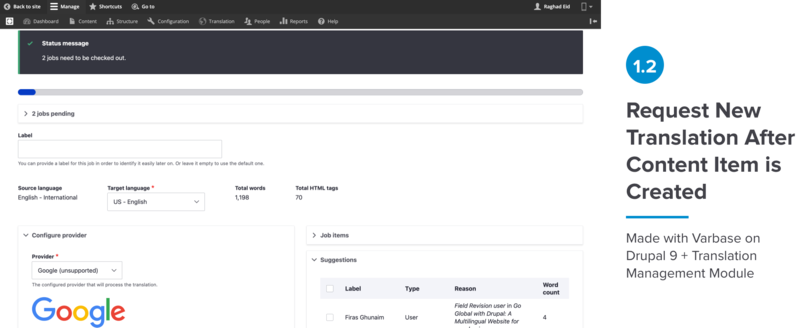 You can choose from all kinds of translators and providers:
In-house translators
Translation service providers, like Global Link, Acclaro, etc. 
Machine translation tools, such as Google Translate, DeepL, etc.
The module also allows you to export and import content to HTML and XLIFF, which is the standard file format for translations. 
4. Hit "Submit to Provider". 
5. You'll receive a status message to "review" the translation once it's available.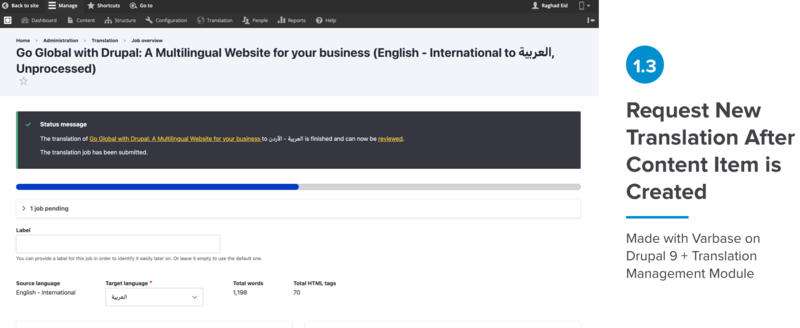 6. Review side-by-side translation of the original content, meta tags, tags, and categories. Mark each translation as good and hit "Save as Completed"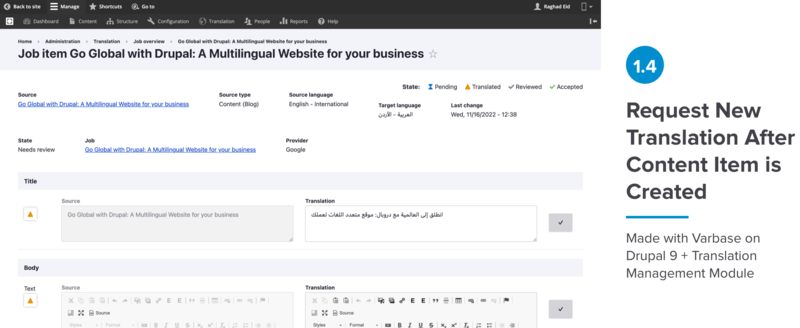 The content is translated, accepted, and published.
Here's a quick demo of Drupal's Translation Management Module, implemented using Varbase on Drupal 9. 
   2. Request Translations for Multiple Items
The "Sources" tab on the "Translation" dashboard will give you an overview of all the content items and the languages they are currently available in.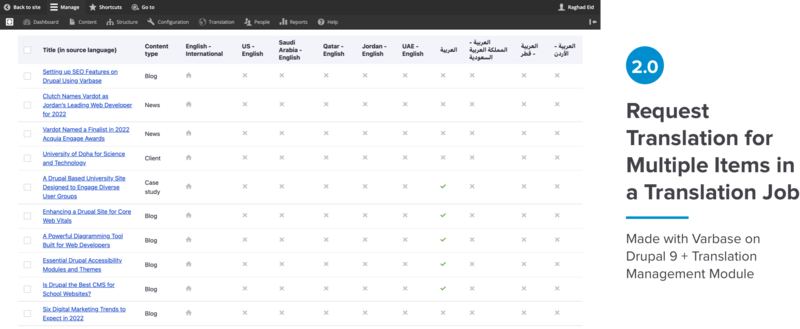 Simply check all the content items you want to translate; choose the language you want to translate them to, and click "Request Translation" to create a single job request for all selected items.
   3. Translation Management Dashboard
There are several useful features available on the Translation Management Dashboard. 
Filter content based on content type and source. For instance, you can search for website components like tags. Interfaces, and interface components like labels and menus items, etc.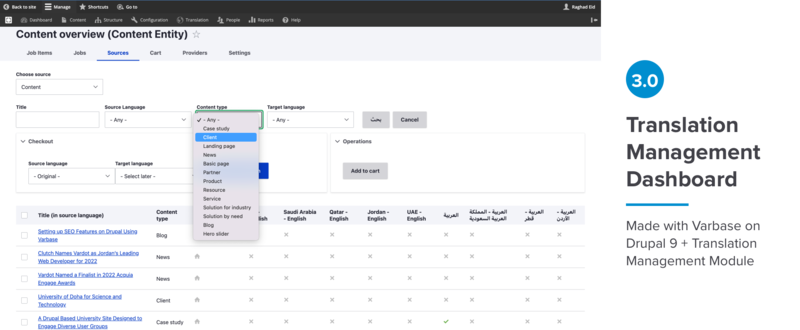 The dashboard also displays a status for each piece of content —  "translated", "not translated", "needs review", and "outdated".

Benefits of Using the Translation Management Workflow Module
Apart from the obvious benefits such as the ease of creating, intimating, and reviewing translation jobs, the Translation Management Module gives you some additional benefits, too. 
Get a Holistic Overview of the Site's Content Translations: Editors can see a complete picture of translated, pending and ongoing translation jobs, including "interface" translations.
Flag Outdated Translations: Existing translations get flagged as outdated if you update or modify the original content.
Automate Continuous Translation Jobs: You can configure the system to automatically detect newly added or updated content and send it to a pre-configured translation provider. 
Create Multilingual Websites Using Varbase on Drupal 9 and the Translation Management Module
Varbase, Vardot's Drupal distribution, comes with over 100 features and modules to Drupal Core, including an optional "Varbase Internationalization" component for languages and translation support. 
Varbase
has successfully delivered over 200 digital experience projects for global brands and international enterprises that need the best Drupal web development and design capabilities for their custom and complex technical requirements.
Choose the language of installation and default website language on the first step of installing Varbase.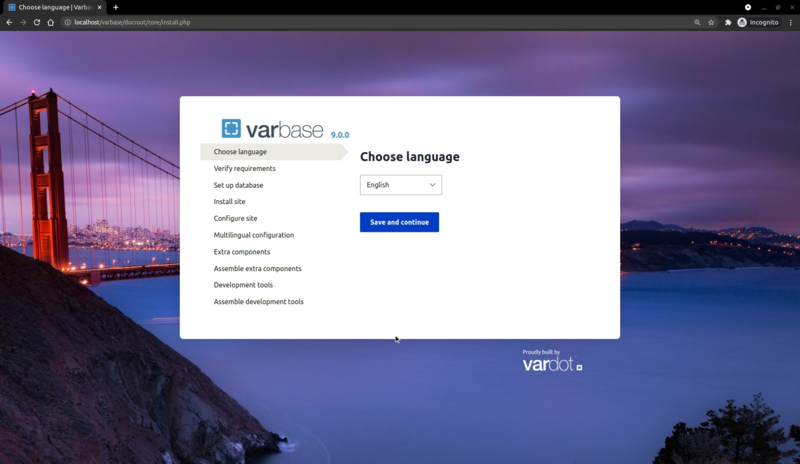 Enable multiple language support and choose your languages on the multilingual configuration installation step.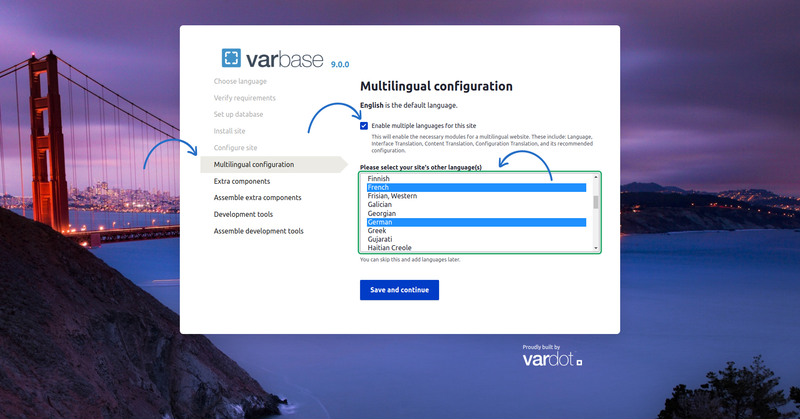 Choosing a multilingual configuration during Varbase installation will enable all modules necessary for multilingual websites, allowing you to make the most of Drupal's Translation Management Module.
Maintain Your Competitive Edge with a Multilingual Website
If you decide to create a multilingual website for your business, your translation needs will become increasingly complex as your content grows. Drupal's Translation Management Module can simplify the entire workflow by presenting a holistic view of the content and translations and enabling automation for repetitive translation workflows. 
Varbase is an enhanced Drupal distribution that comes packed with all the functionality and modules that you will need to streamline and speed up content and translation workflow management. You won't have to spend countless hours keeping track of your translation workflows. With Varbase, you get pretty much everything you need out of the box. 
Drupal
Drupal 9
Translation
CMS
Varbase Distribution