The Future of Enterprise Digital Experience
Firas Ghunaim
June 17, 2020
The future of enterprise digital experience mirrors the needs and demands of the modern digital customer experience. You don't need a website. You need an entire digital ecosystem to even exist in the mind of your potential customers.
In the digital age, the relationship between consumer and brand is increasingly machine-to-human, and by 2030 it will almost certainly be weighted heavily in favor of a machine-to-machine relationship. Forward-looking brands are already investing in smart, AI-powered technologies that offer the ability to automate engagements and processes, capture data, drive actionable insights more intelligently, and deliver more immersive, rewarding, and valued experiences to their consumers.
To matter in today's digital sphere and landscape, you must fulfill the following: Engage and evolve constantly. That is the undeniable truth that enterprises learned when they aligned their strategic business objectives with the technical requirements they will need.
INSIGHT: More than two-thirds of marketers responsible for CX say their companies compete mostly based on CX, according to the 2017 Gartner Customer Experience in Marketing Survey.
What is an Enterprise Digital Experience (EDX)?
Let us start with what it's not.
It's not your average and standard website. A digital experience speaks to the entire interconnected web of digital assets, channels, and domains that make up your brand; from kiosks, smartwatches, and social media, to almost every touchpoint that your clients interact with you.
The beating heart and engine of this digital brand network would be your website; consistently feeding and being fed real-time data through all those various channels and touchpoints.
If you are unfamiliar with the term "digital experience" yet; it's been coined to differentiate between simple websites that can be built using SaaS builders such as Wix and Squarespace.
These SaaS solutions have provided non-technical team members with unprecedented accessibility to building simple and neat websites quickly - however; enterprises understand that they are facing an altogether different reality when it comes to building their online presence.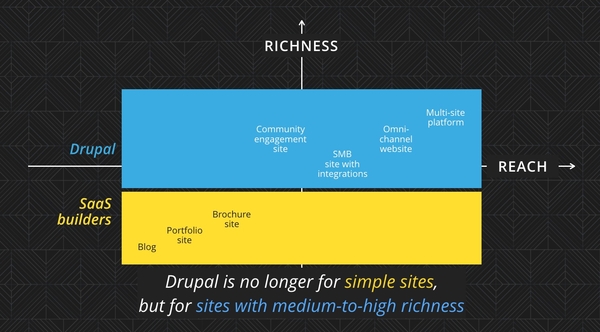 Source: State of Drupal | Dries Buytaert
Enterprises on the other have more complex technical requirements; they may and will need to become:
Multi-site platforms
Community engagement sites
Heavily reliant on critical 3rd party integrations
An omnichannel website
Prevalent names in the marketplace such as WordPress and Wix will simply not do. You can't build a futuristic tower on a foundation that can't handle more than a couple of floors.
Enterprises and international organizations to protect their digital future and investment are increasingly opting to transform their brands into an immersive enterprise-grade digital experience on Drupal. They realized that they need better content staging and management, faster performance, best-in-class security, and superior on-site SEO to attain what differentiates them from standard websites.
Here's why enterprise digital experiences prefer Drupal over other CMS options:
Content Moderation and Staging
TL;DR - Drupal allows enterprises to constantly engage their website visitors in a highly personalized and effective manner.
Unlike simpler websites; enterprise-level websites need to create shareable multimedia-rich content for all platforms and channels they rely on for marketing and business purposes. 
Enterprise-level content creation for marketing needs to be uninterrupted and faster.
Usually, the process of content creation, publishing, distribution, and management for enterprises involves multiple teams from various departments within the organization. For example; creating an ebook on marketing automation will need the combined and coordinated effort from the marketing, technical, DevOps, and sales teams.
An enterprise CMS will have a built-in workflow that streamlines the content publishing process for all technical and non-technical stakeholders and content creators involved - making the experience for website admins, and content creators much easier and faster. Add into the mix Drupal's superiority when it comes to multilingual website content distribution and on-site SEO - you will quickly boost your enterprise's content marketing capabilities.
Landing pages also need to be personalized, updated, or even created from scratch faster than ever before.
Using the built-in Layout Builder module that can be found within Drupal 9 and enterprise CMSs like Varbase; developers and non-technical team members from marketing can create features and content-rich landing pages within minutes.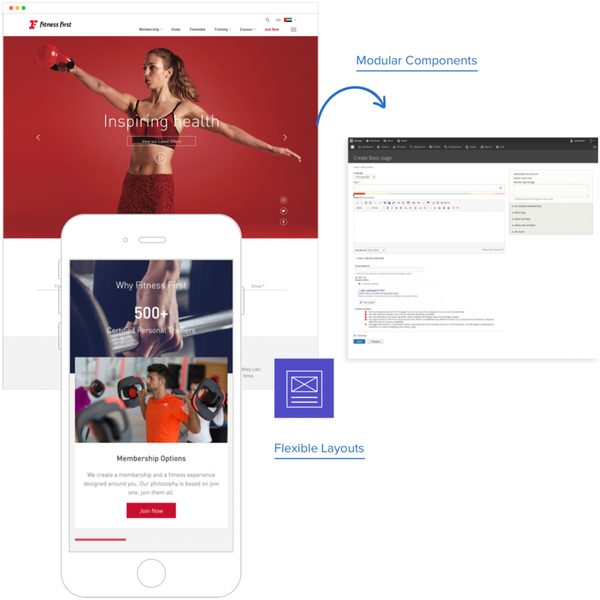 Built-in Multi-site Functionality
Enterprises are global operation entities. This means they must communicate effectively with a globally diverse audience and market thus building numerous sites dedicated to serving that purpose.
However, instead of building a new website dedicated to each market, audience segment, or product - enterprises can now build as many websites as they need under their brand without the hassle and challenges of starting from scratch.
Drupal allows enterprises to build multiple websites and domains that share all the best practices, brand guidelines, security, and even design systems in place.
This means less cost, less time wasted on duplicated efforts when it comes to development and content publishing work. You will not need to hire a dedicated marketing or development team to run each website's requirements because all your brand's websites are run and managed by one centralized CMS.
Add to that the aforementioned benefit of seamless content publishing and management workflows - it becomes evident why Drupal is increasingly being adopted by global enterprises.
Every enterprise will eventually have to build multiple sites under its brand in a bid to enhance its user experiences, the question is do you know which multi-site architecture solution works best for your digital transformation strategy?
API-First
You will be hard-pressed to find an enterprise-level website that doesn't rely on key integration with tools critical for their business. Even local websites integrate some form of email marketing tools to enable easier lead generation.
Enterprise digital experiences are much like the connected web - with various offshoot interconnected microservices.
Drupal was made to ensure that your audience and website visitors can seamlessly navigate through the entire digital ecosystem that supports your critical business objectives such as email marketing, marketing automation, CRMs, payment gateways, and much more.
Drupal can seamlessly integrate with popular tools such as Eloqua, Hubspot, Mailchimp, Mautic, Marketo, Slack, and almost every solution/tool under the sun.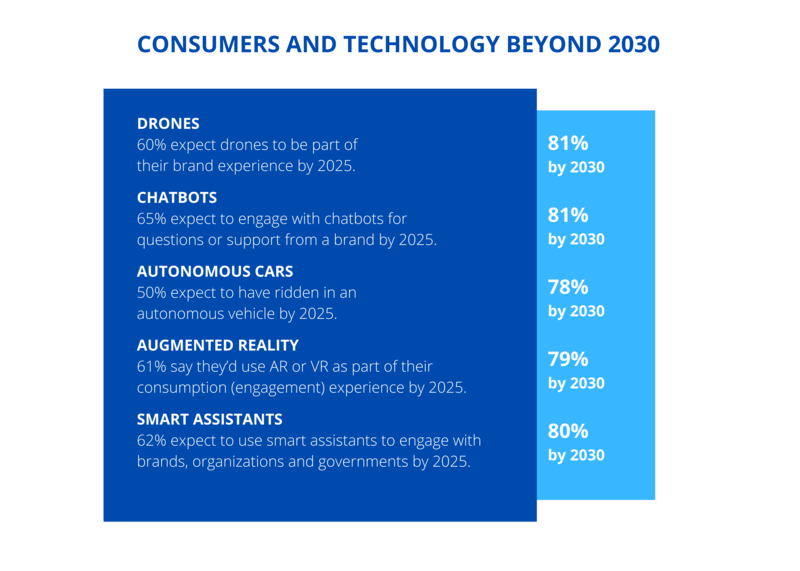 More importantly, your target audience will expect your brand or businesses to be accessible to them regardless of the medium they use - anytime, and everywhere. Your job is to create the appropriate digital ecosystem that plans and predicts all possible ways your customers and potential customers may interact with your business. 
For example, fans attending the World Cup in 2022 can interact with the official bodies governing the tournament through digital kiosks sprawling across Doha's Qatar Rail stations - or through voice search and chatbots. Drupal can enable you to integrate with almost any innovative interface you can imagine.
INSIGHT: Smart assistants are still emerging but will dominate consumer engagement with enterprises.
Immersive technologies will continue to emerge as the default best practice for brands who want to build customer loyalty as a brand attribute and Drupal is the ideal CMS for enterprise digital experiences that wish to upgrade into a truly immersive CX.
Continued Growth, Delivery, and Implementation
From our own long experience in building custom enterprise solutions; we realized that enterprises do not need all those features from the moment they launch their digital experiences. However, they WILL need them a few months later.
Another truth that many businesses are blind to (or frankly choose to ignore to their disadvantage and detriment) is the fact that ongoing support is THE most essential differentiator between the best digital experiences and any standard website.
Digital solutions and technology evolve every day heavily influencing the standards and expectations of your customers - many businesses fail to live up to those standards simply because they elect to not invest in their digital future wisely or because they don't have reliable IT support to continuously monitor and implement the essential upgrades required.
Your website visitors expect you to match their constantly evolving expectations. If they prefer searching via voice - your website better be indexable and found easily on search result pages via voice search. Google has shifted its focus towards rewarding complete digital experiences over simple websites with no engagement to ensure that when people search they only get the best results.
Understandably, this can be difficult if not entirely impossible with your current technology. This is why you need to migrate to Drupal 9 now and use a powerful enterprise CMS like Varbase.
Your website must always be up-to-date and upgrade constantly to ensure that your visitors are experiencing best-in-class features regarding accessibility, security, media, sharing, page speed, etc.
Why Drupal 9 and Varbase?
Drupal 9 is where enterprise-level digital experiences are going. Websites are no longer enough.
Consumers are increasingly looking for experiences that are immersive and allow a deeper level, or richness, of engagement and value. Drupal has proven to be the leading technology and open-source equivalent of CMSs focused on creating feature-rich digital experiences for enterprises.
Drupal 8 has introduced various desired features that vastly enhanced user experience, and Drupal 9 has taken these enhancements to another level.
International organizations and businesses that need enterprise-level technologies and performance choose Varbase as their CMS because it has proven to be the fastest builder of multi-lingual enterprise-grade digital experiences.
We recommend that you protect your investment. Build your future today, outsmart your competition rather than outspend them. Become the best of the web. If you are still operating on Drupal 7 and Drupal 8; upgrade to Drupal 9. If you aren't on Drupal yet; what are you waiting for?
Ditch your inferior tech for a powerful CMS like Varbase which will enable you to constantly evolve as a cutting-edge immersive customer experience.
Drupal 9
Drupal
#DrupalCares
Enterprise Transformation
Enterprise Solution
Enterprise Web Solutions
Drupal Planet