9 E-Commerce Challenges To Overcome
Firas Ghunaim
September 8, 2020
Ever since the restrictions on our lifestyle have been implemented due to the pandemic outbreak, online shopping has witnessed a surge in activity and traffic.
This presents a set of challenges that both existing eCommerce businesses and traditional retails yet to take action when it comes to digital transformation.
Our team takes a look at those challenges and present best practices and recommendations to enable you to build an eCommerce business that can thrive in addition to being agile enough to adapt to any disruptive trends and technologies in the future:

 
Challenge 1: Mobile Responsiveness
Almost everyone including the elder members of your community is enhancing their online shopping literacy in an effort to adapt to the new reality - which means more people are going to use their smartphones to purchase products they will need.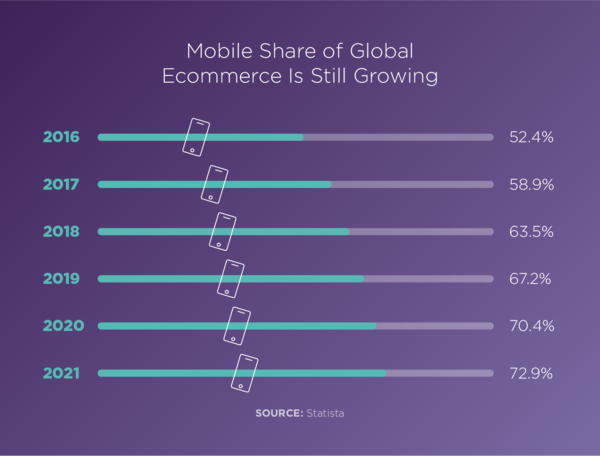 Implementing proven design systems and concepts such as Atomic Design backed up by in-depth research into your target audience's behavior will enable you to build an eCommerce shopping experience that incorporates essential UX best practices such as:
Mobile responsiveness
Smooth accessibility for all customers across all devices
Deliberate customer experience journey mapping
Designing your website around the ideal user experience will result in the friendliest and most efficient user interface for your customers. This can be a challenge if you don't have a UX design specialist experienced in online shopping digital experiences.
It is recommended that you reach out to vendors who have proven expertise in effective and intelligent eCommerce design for a free consultation.
Challenge 2: Building Trust
Gaining the trust of first-time visitors is still a major challenge for eCommerce businesses.
A lot of factors contribute towards building trust. From having a credible design, seamless navigation, enterprise-grade security, transparent product information, reviews and more.
However, a critical factor that enables businesses to bridge much of that gap from the first impression is their ranking on search engines. If you are ranking higher than your competitors on search results it is a strong indicator that your website is a trustworthy eCommerce business with returning and happy customers.
Ranking higher on search engines will require your marketing team to publish content that your prospective shoppers will consider to be helpful and of value to them. For example, your eCommerce website may publish a shopping guide for the summer that website visitors can download.
We recommend using a CMS with superior on-site SEO optimization that allows your marketing team to publish rich content and media files optimized for search engines to get the best chance of ranking higher on search engines.
Assuming your content is relevant to your target audience, your engagement rates will rise, website visitors will spend more time on your blog, your traffic will naturally increase and as time goes on, search engines will always recommend you as a highly ranked search result.
Challenge 3: Retaining Customers
While the main objective is to sell, retaining customers or cross selling them will require you to engage your website visitors at a more deeper and personal level.
Using the right marketing automation tool, you can build a database of customers that constantly evolves based on their actions and behavior on your website.
For example, if an existing shopper on your website purchases organic milk once a week he or she can automatically be placed in a specific segment called "Organic Products" that will receive an automated promotional email each week with related organic products that could be of interest to them.
Your ability to engage customers and website visitors isn't limited to emails, you can reach out to them via tweet, SMS, or even through targeted focus items and flash sales promos personalized to their needs and based on their specific behavior.
Account-based marketing is the most effective form of communicating targeted marketing messages and using the right marketing automation tool you can build highly personalized marketing campaigns across all channels that deliver superior results in a matter of minutes rather than days.
Challenge 4: Multichannel Shopping Experience
People are consuming content on various channels and platforms, and they are most likely going to come across your (or your competitors) content somewhere that isn't your website.
They could be searching for something related to your business on Google, or it could pop up as a recommendation by a virtual assistant like Siri. Perhaps they come across your product or business via a social media post shared by a friend of theirs.
It is essential that your brand is present and engages potential customers wherever they are in a manner relevant to the channel.
In more technical terms, your eCommerce website will never thrive without a certain stack of technologies, tools, and solutions that are considered essential strategic assets to your business growth objectives.
We recommend investing in a CMS that allows for maximum flexibility when it comes to critical integrations required.
Challenge 5: Security
Data privacy and security is a hot issue nowadays, and more so relevant to online shoppers who fear that they are going to be scammed out of their money or hesitant to share their personal information online.
Despite you being as transparent as possible and compliant when it comes to online shopping best practices it is all for nought if you do not display a commitment to the security of your website visitors.
Make sure that you purchase the required SSL certificate, be compliant with GDPR policies and display the right security badge on your checkout page.
We recommend discussing the matter thoroughly with your vendor to explore how you can ensure that your security measures are constantly being updated and supported beyond the launch of your eCommerce website.
Challenge 6: Reaching The Right Customer
Opportunities for eCommerce businesses go beyond borders, particularly if you are an original brand or selling a niche product.
While it's always recommended to localize your business operations it doesn't mean you should stick to your immediate neighborhood, city, or even country. Find potential customers looking for your niche or original products by tracking the behavior of all your website visitors.
Learn why and how they ended up on your eCommerce website, what products peaked their interest and the challenges they faced whilst navigating your website.
Use all that insight into each CX to personalize your website.
Did you know that according to recent studies, 92% of shoppers prefer to shop using their local currency and 75% of shoppers want to use their native language?
Personalize your eCommerce by choosing a CMS that allows you to create multilingual experiences and flexible enough to accomodate payment gateway integrations that enable multiple payment options and currencies.
Learn Why Varbase CMS Is the Best Multilingual Enterprise-Grade Drupal Website Builder
Challenge 7: Choosing The Right Tech
Some online retailers run into unnecessary and expensive problems due to the fact that they invested in the wrong technology, CMS, or have selected the wrong vendor to build their eCommerce platform.
Failure to choose and invest in the right technology is a common issue that many businesses rushing into digital transformation make, especially when they lack the technical expertise required to inform their decision making.
Retailers wanting to achieve growth must be built on a good technology foundation.  They must choose the right shopping cart solution, inventory management software, marketing automation software, email software, CRM systems, analytics and so much more.
In addition, hiring the wrong partners or agencies to help you implement projects or oversee marketing campaigns may also limit your growth.  Online retailers must choose carefully who to work with.
For example, augmented reality shopping is on the rise, does your CMS allow you to integrate with such channels and interfaces?
Smart devices are becoming more common in homes, and IoT commerce is expected to grow this year, giving retailers tons of new touchpoints—from cars to appliances to smart speakers and more—where they can make purchases.
Challenge 8: Going Headless
With the rise in IoT commerce comes the API economy, which allows retailers to push product information to new channels instantly and seamlessly.
As omnichannel shopping gets broader and IoT commerce explodes, retailers will need to take a hard look at headless commerce architecture and consider adopting a new system to help them stay competitive.
Headless architecture decouples a retailer's website's "back end" (the part that houses all the content and information) and "front end" (the part customers see), and uses APIs to push information to a separately developed website or whatever other channel customers are using to access and purchase products.
Challenge 9: Faster To Market
Dealing with the rapid pace of changes in online shopping behavior can be difficult and often all too sudden.
Any moment a trend or disruptive technology might force you to rethink your business model or user experience. As a retailer you must invest in a flexible and agile IT infrastructure that allows you update, upgrade, and integrate the required technologies as they arise quickly.
You will need an enterprise-grade CMS dedicated for online shopping digital experiences that allows you to adapt quickly and launch your digital experiences, campaigns, websites, and content faster than your competitors without the need to rebuild or revamp your entire technology stack from scratch.
Finally...
Need Support?
Talk to our experts to explore how your website performance is impacting your business and identify solutions.