4 Digital News Media Trends 2020
Firas Ghunaim
April 28, 2019
From Donald Trump's consistent accusations to the lack of ad revenue caused by the shift in media consumption behaviors, the digital disruption that hit the media industry left the majority of media outlets considering their next steps knowing that being left behind in the digital age meant the end for them.
Focus shifted from simply reporting the news to delivering the most engaging and comprehensive digital experience possible for their readers.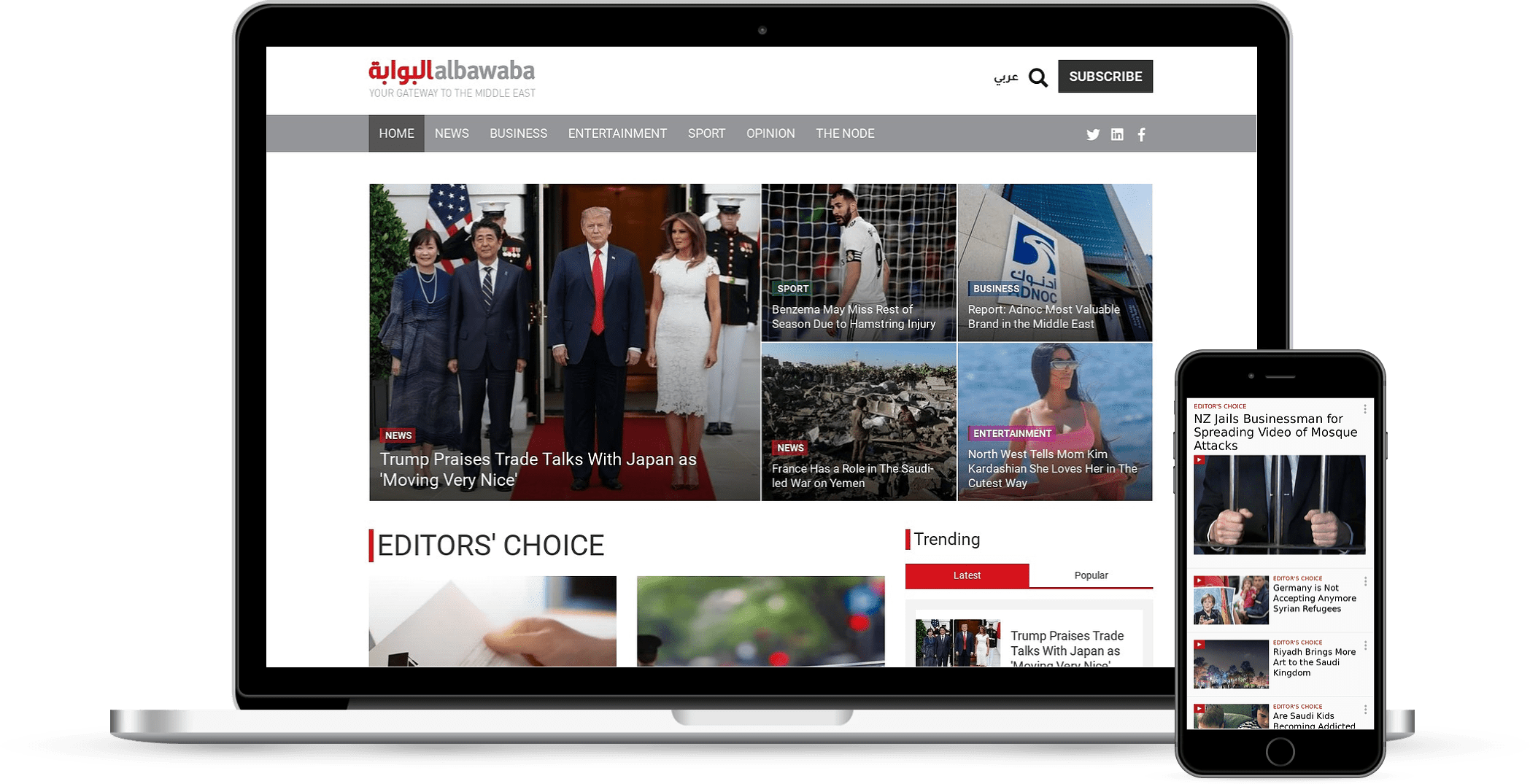 Al Bawaba News - The Largest Independent News Platform in the Middle East (Built by Vardot)
News and media platforms need to remain vigilant and embrace the tech trends that impact content publishing in the near future. Here are the trends that are expected to impact the digital news and journalism industry:
1. Contextual Experiences
We are more likely to be doing more than one thing at the same time and news media outlets should have that in mind when considering how to develop their UX.
For example, you are taking a run on the gym treadmill and a relevant news article was just published; would you interrupt your routine to read a long-form article? The most likely answer is no. The desire to read the article would fade as the minutes passed.
Wouldn't it be great if we could listen to published news articles as we run, work out, cook or even drive? That is now possible thanks to progress made in Natural Language Generation (NLG) technology.
Natural language generation (NLG) is a software process that automatically transforms data into a written narrative whilst keeping in mind SEO-related factors such as keywords and user's reading proficiency levels which makes it a powerful tool for news media outlets who seek to create contextual experiences for their readers.
"By 2020, natural language generation and artificial intelligence will be a standard feature of 90% of modern BI and analytics platforms." - Gartner
According to the Future Today Institute; various major news media outlets have been utilizing Automated Insights; which mines data for them and is capable of writing more than 2,000 stories per second using natural language generation to produce stories.
As voice search is increasingly becoming the norm, users will begin to ask for general content with specific conditions: 
"Alexa, I am running late, please give me the headlines only."
"Siri, please provide me with news articles that are less than 2 minutes long."   
Users are always looking for the most convenient and personalized experience; the news media platform that delivers contextual experiences is sure to gain a lead over its competition.
Such a digital experience could grow an audience and possibly become a subscription service in the near future.
2. Fact-Checking – In Real Time
Promoted by a president, championed by biased political views, and powered by algorithms; "fake news" is a trend that has become an unfortunate reality.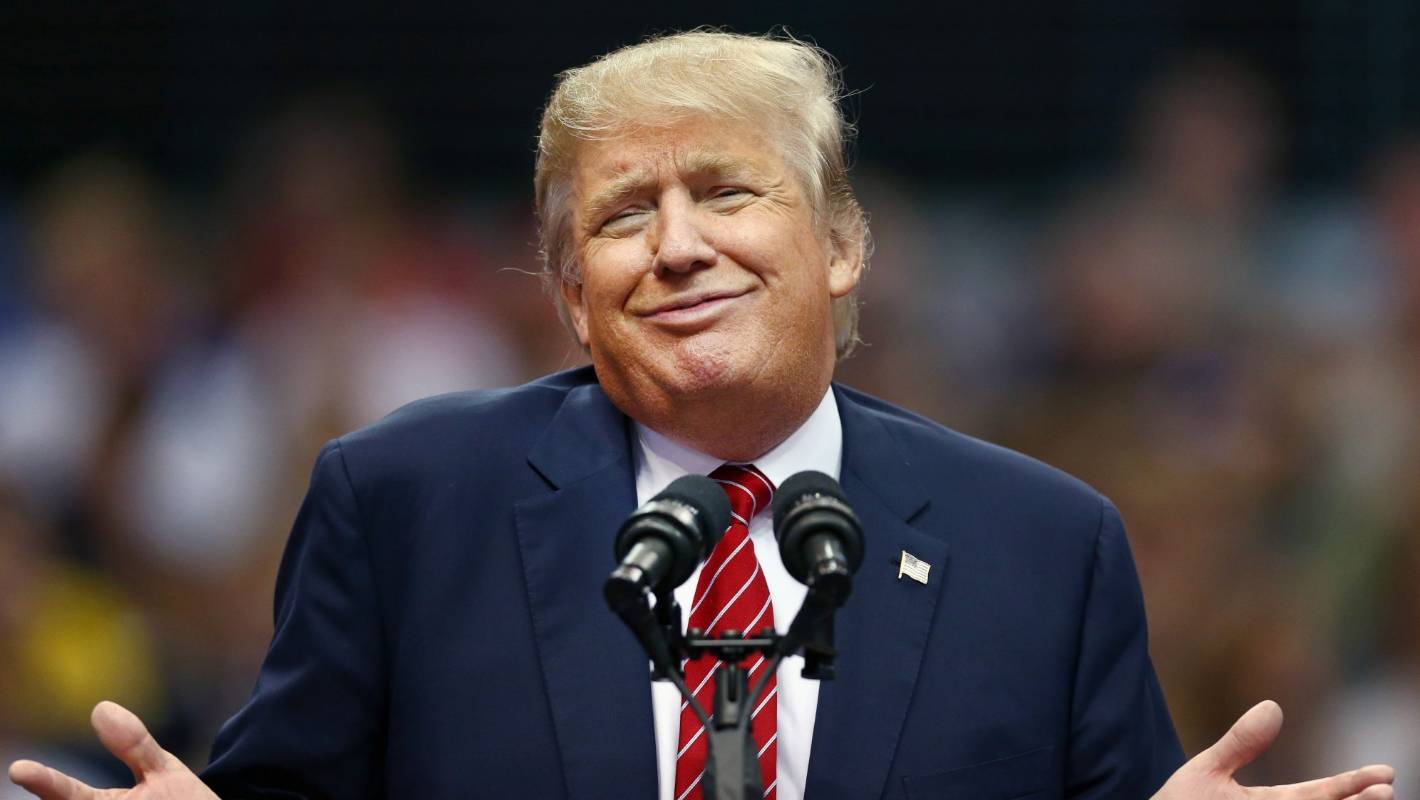 What is real and what isn't?
People have either become proudly misinformed in the bubble they live in, or fatigued to the point of apathy toward real journalism. This phenomenon is arguably the biggest immediate threat to the profession and what's worse is that generating "fake news" has become easier than ever.
Enhanced algorithms for voice, video, and sound are being generated. Researchers at MIT CSAIL have been studying how children learn new words in order to train computers how to recognize speech. Computers are also being trained to watch videos and predict corresponding sounds in the real world.
Whilst this progress will enable AI to provide richer and better user experiences, there have been examples of malpractice too.
In 2017, researchers at the University of Washington developed a model that convincingly showed President Barack Obama giving a speech—that he never actually gave in real life.
Algorithms provide you with news based on your likes, online behavior, and interactions. While this does enable news platforms to generate more traffic, at what cost?
3. Bots
Most journalism is simply about reporting the news and bots have done that efficiently so far.
Bots have proven to be effective when it comes to receiving instant alerts regarding trade warnings, natural disasters and etc. Bots will continue to be refined and improved to automate news-related tasks freeing up time to allow reporters to devote time to more important tasks.
The major risk associated with bots is that they are only as reliable as the people who build them. People or groups with nefarious interests can use bots to distribute false information.
Important:
Ensure that your bot clearly explains its purpose and specific functions.
Your bot must be able to showcase where the answers it provides are coming from without any bias towards an idea or people.
The bot must represent your news and media platform's values. What happens if your bot interacts with another bot or person whose values counter those of your organization?
Bots will continue to play a key role in journalism and other fields heavily reliant on content publishing as they utilize a combination of bots and AI to create new content. 
With elections taking place around the world, misinformation bots will continue to play a big role on Facebook, Twitter, and Instagram. You can expect to see more tech-based solutions being proposed to address the issue; your news platform must follow suit to ensure the credibility of your journalism.
4. Digital Frailty
Digital frailty refers to the loss of digital assets such as published content and articles. Typically, a news agency would lose its content when attempting to upgrade its website.
In reality, this issue is easily avoided and usually caused due to poor IT practices and vendor selection.
A simple way to protect your archives and preserve digital assets is to build your platform using a CMS that is flexible, structured, and features a revision process.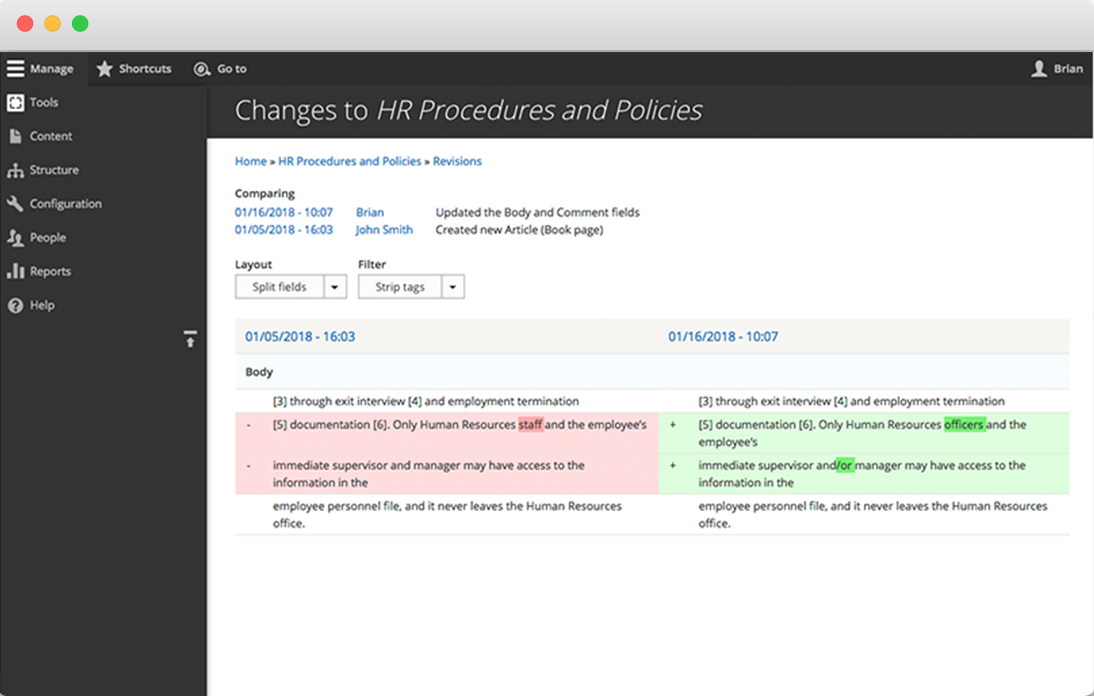 Varbase - Drupal Distribution Revision Comparison - Source: Drupal.org
Drupal is a great CMS for digital news and media businesses as it delivers on the aforementioned and more.
Mergers and acquisitions are another reason why specific content goes missing. This is increasingly alarming as the number of media outlet owners are becoming more and more involved in politics.
News outlets sometimes are forced to delete content that is not aligned with the new ownership's politics. A recent example of this scenario that made headlines around the world is when the Trump administration deleted all climate change-related content from government websites in favor of the new administration's agenda.
---
These tech trends and disruptions are but a mere sample of what impacts the digital news media industry. They present challenges but also tons of opportunities to create an engaging digital media experience for readers. 
From global media titans to independent content publishing platforms; Vardot specializes in developing personalized digital experiences for the news and media industry. 
Contact us to discuss how you can transform your news and media platform into a state-of-the-art digital news experience.
Digital
Digital Media
Digital News
Journalism
Digital transformation
SEO
Marketing
Drupal Planet
Drupal 8
Drupal