Personalized Experiences for American School of Dubai's Stakeholders
A seamless content publishing workflow with an updated responsive design, user-friendly navigation, and a clear site structure.
Image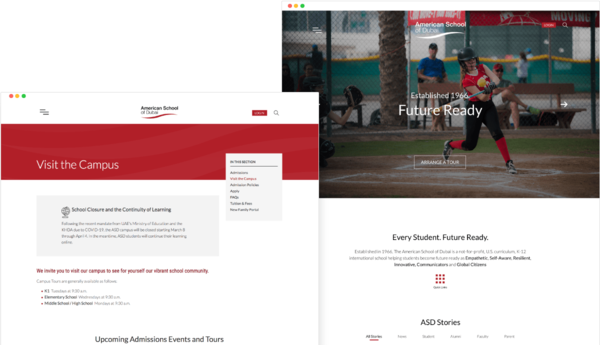 The American School of Dubai is an independent, not-for-profit, US curriculum, PreK-12 international school that provides learning experiences designed to promote the maximum potential of its students.
ASD has ambitions to create the ideal modern digital learning experience for their students and as such, they partnered with Vardot to build their new website on Drupal 8. 
Vardot began the project by analyzing all ASD's needs and priorities via an on-site workshop in Dubai, UAE.
Image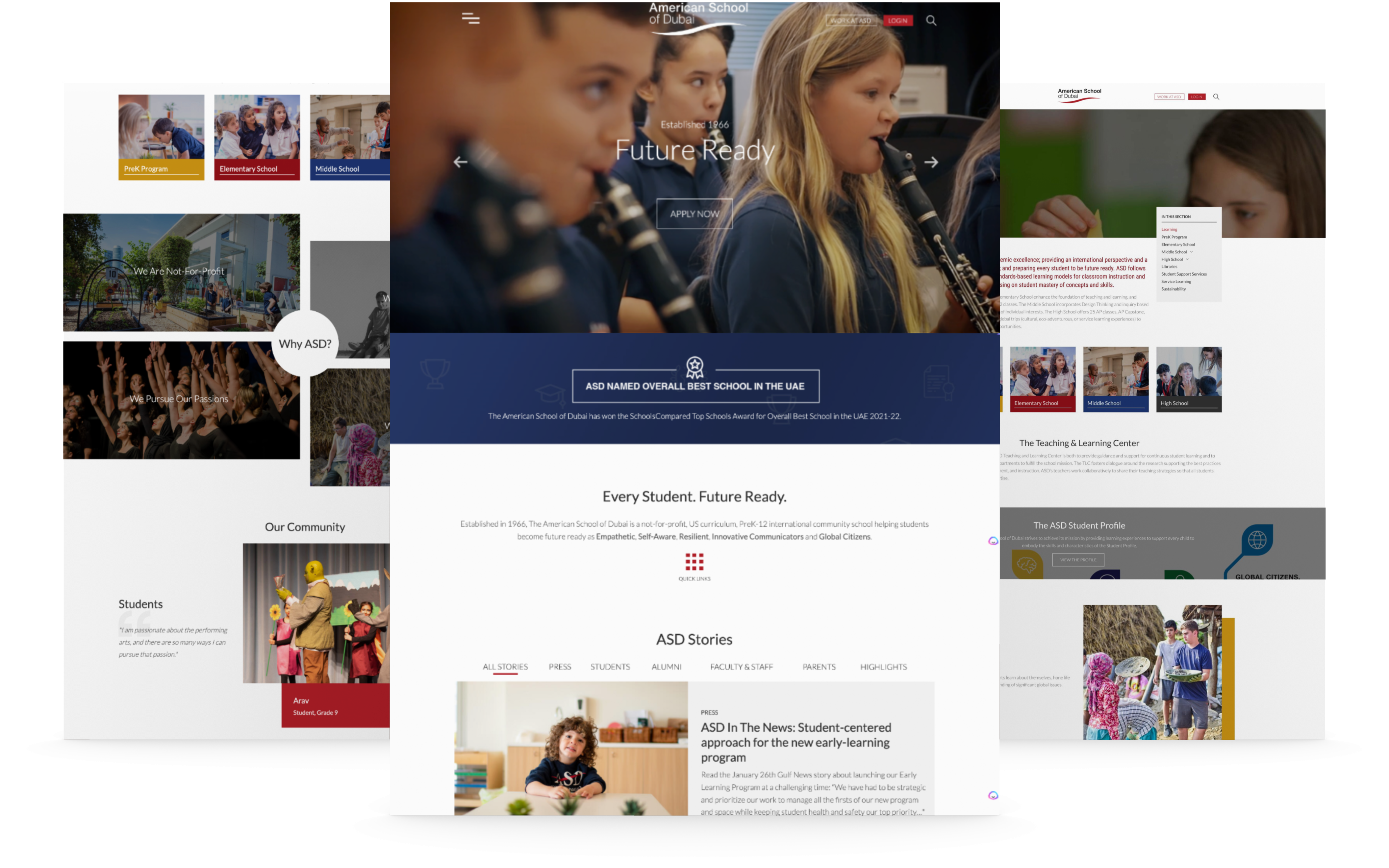 Dynamic Experiences
The American School of Dubai was looking for rich user experience with an updated responsive design, theming, user-friendly navigation and clear site structure. 
The new ASD website is meant to feature a robust news/story manager that can filter by themes and categories and include voices of various constituents.
The ASD Website has a primary goal to appeal to and provide information to its audience members. The main audience members will have dedicated landing pages to provide them with a hub of information in one place. 
To deliver a more personalized experience;  the new ASD website will have multiple landing pages with dynamic content tailored to each different user profile identified by ASD and Vardot:
Students: resources for currently enrolled students 
Faculty and Staff: resources for faculty and staff members 
Parents: resources for potential parents and parents of currently enrolled students 
Alumni: resources for alumni to stay connected 
Prospective Students and Their Families: resources to showcase how is like to study at The American School of Dubai

Customized Editorial and Content Publishing Workflow
The Drupal 8 website was built on top of Varbase CMS - which gives them the ability to publish multilingual content for a diverse range of website visitors and more importantly their target audience of the aforementioned users.
Publishing content using Varbase allowed them to enjoy a seamless content publishing and moderation process with tiered roles and permissions for different levels of access (i.e.) admin, editor, publisher, and viewer.
Based on the identified and agreed upon roles - a preconfigured revision control process was automated for all content types and entities.
Scalability and Growth
ASD wanted the ability to explore their opportunities for scaling and growth in the future. We built the new website with full scalability and flexibility for any new features, and other potential additions that ASD may wish or need to add in the future.
An example of such opportunities being considered seriously by ASD is the plan to launch multiple microsites.
Microsites can enable ASD to create unique digital platforms and websites for particular programs. Initiatives and target audiences without the need for much technical expertise and at a lower cost than building new websites that require different configuration and support.
These microsites will share the same consistent branding, theming, security and content publishing process provided by a centralized CMS.
Secure and Powerful Search
ASD stressed the importance of having a clear structure for the new website as it will help ensure that their website visitors can find and navigate the site much easier. The new website features an index or directory for all ASD staff and faculty which needed to be easily accessible, searchable and secure.
Vardot launched the website SSL enabled and continues to monitor the status of security to implement any required upgrades.
ASD's new website features a sitewide search engine with advanced search capabilities thanks to the implementation of the Apache Solr search system.
A full and extensive On-Site SEO performance checklist tool was featured to enable them to create landing pages optimized for search engines.
Powerful and Sustained Performance
The CMS of choice needed to be robust enough to sustain uninterrupted high performance at all times. Drupal websites are renowned for their superior focus on delivering high performance and superior user experience. ASD is aiming to create a digital experience rich with multimedia content with a heavy focus on video in particular so effective media management was essential.
Also, ASD required a robust CMS that can handle traffic and numerous key integrations without compromising the quality of user experience and negatively impacting page loading speed for website browsers.
Key integrations required by ASD included: Google for Education and Subscriptions syncing to MailChimp. Google for Education integration was required to enable Single Sign-On (SSO).
Support and Enablement
As mentioned earlier, a key factor in any sustained success and digital growth is incremental delivery.
In addition to online and onsite training workshops, Vardot will provide ASD with key maintenance and growth support activities that include but not limited to UX feature upgrades, security updates, performance monitoring, and reporting.
Using automated migration; Vardot safely migrated all eligible content from their legacy website and provided support in the form of manual content entry as well.
Full Control and Ownership
Consistent optimization regarding the website content and technical features was on ASD's mind when they approached us. Launching a new and improved website does not guarantee incremental results and success; consistent optimization and support post-launch is essential.
ASD embarked on exploring cost-effective options that don't involve proprietary software and long-term contracts to ensure that they have full control of their website and CMS in order to implement needed changes and upgrade in a timely manner.
An open-source CMS was necessary to realize this objective and after research and consultation, the American School of Dubai chose to build their new Drupal 8 website using Varbase - the number one most downloaded Drupal 8 distribution and CMS in the world.
Vardot provided the ASD project team with a comprehensive CMS user guide and manual to enable them to quickly familiarize themselves with how to get the best out of Varbase.