Open Social
Grow your own social community and build lasting relationships with customers.
Build direct personal relationships and gain actionable insight into your customers' needs with Open Social. Own your brand's social identity without the restrictions and issues of third-party social media platforms.
Connect
Build a flexible social community to share knowledge, work together, and encourage dialogue.
Engage
Open Social is ideal for collaboration and effective communication - both vital for a growing community of your brand's fans, prospects and customers.
Empower
Use Open Social to invite stakeholders and employees to connect, share resources, and grow as a team.
Connect Your Volunteers to Change the World
Online volunteering helps organizations and volunteers team up and collaborate  – anywhere in the world, from any device. Open Social is ideal for collaboration and effective communication - both vital for a growing volunteer community.
Shared Interests and Values... No Distractions
Tailor your network to a wide range of purposes that make your digital community members feel right at home. Empower your members to participate and be heard without the distractions that can be found on traditional social media networks.
Develop Ideas and Inspire Innovation
Generate creativity from hundreds of members and improve business areas. Open Social is ideal for developing ideas into results. It supports every step of ideation: from the collection of ideas to implementation.
Image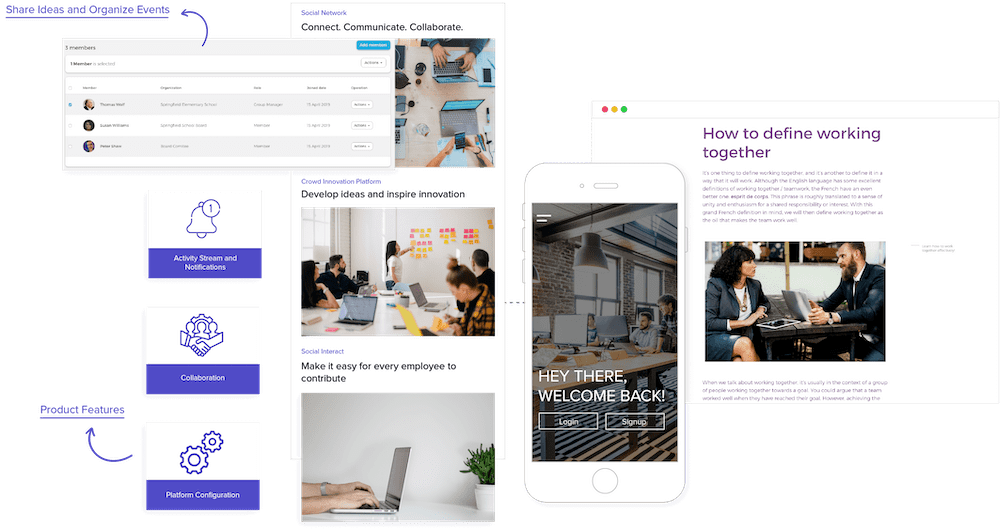 Social Extranet
An extranet is like an intranet, except you invite users outside of your organization to join. Use Open Social to connect your stakeholders and employees. Communication is improved and resources are shared. It's perfect for growing as a team focused on the same set of values and objectives.
Social Intranet
Our social intranet is a digital workplace fully integrated with your business tools and helps your employees get the job done! Within a social intranet, employees can contribute to business-wide discussions, communicate their ideas to their teams, search easily among content and be able to collaborate easily with other colleagues.
Schedule A Personalized Demo