Drupal 9: Latest Updates on Readiness
Firas Ghunaim
April 7, 2020
Drupal 9 is expected to be released on time on the 3rd of June 2020 thanks to the amazing efforts by the open-source community who made huge strides in recent months in fixing and updating key issues.
The beta version (Drupal 9.0.0-beta1) is available now and it includes all the dependency updates, updated platform requirements (web server, PHP, and database versions), stable APIs, and features that will ship with Drupal 9. 
Note: Drupal 9 beta releases are intended for site owners and module or theme authors to test compatibility and upgrade paths for Drupal 9.0. Beta releases are not intended for production.
All the issues that are yet to be resolved before Drupal 9's release date can be found here, while the list of all Drupal 9 core issues can be found here.
Helping with Drupal 9 Readiness
We have been actively preparing for Drupal 9's release by making sure that Varbase CMS will be able to support the easy migration of Drupal 8 websites and projects to Drupal 9.
Learn Why Varbase CMS Is the Best Multilingual Enterprise-Grade Drupal Website Builder
The latest Varbase update (8.8.4) was released late March 2020 and we are pleased to announce that all Varbase Core components are fully compatible with Drupal 9.
All the following components have been tested and released:
Varbase Core
Varbase Media
Varbase API
Varbase Editor
Varbase Bootstrap Paragraphs
Varbase Landing
Varbase Blog
Varbase Media Hero Slider
Varbase Carousels
Varbase FAQs
Varbase Layout Builder
Varbase Reports
Varbase Media Header
Varbase Search
Varbase SEO
Varbase Social Single Sign-On
Varbase Styleguide
Varbase Total Control Dashboard
The following Varbase themes have also been released:
Vartheme BS4 (Bootstrap 4 SASS)
Vartheme (Bootstrap 3 LESS)
Vartheme Admin
At Vardot we have been actively helping with the readiness of multiple modules to make sure they are compatible by the time D9 is released as well. Our team has already begun fixing and addressing issues that arise through our testing on the Drupal 9 beta release. Some of those fixes and updates were implemented on modules we contributed:
Contributed modules ready and released:
VMI
CKEditor Anchor Link
Entity Browser Enhance (d|r)
Entityqueue Form Widget
Total Control Admin Dashboard
Auto Recommend Content Tags (Thru Apache Stanbol)
The Google Analytics Reports contributed module remains in progress and under review for release very soon. You can view the full list of updates released in Varbase 8.8.4 in preparation for Drupal 9 readiness here.
As things currently stand, Varbase readiness for Drupal 9 is solid in terms of the Varbase Core modules, and most of the popular modules used by the open-source community that can be found packaged in Varbase distribution. We are sure that with quickened pace of testing taking place that all popular Drupal modules will be tested and released as stable.
What's Next for Your Drupal Projects?
The beta release marks Drupal 9 as API-complete, so now is a great time to start getting your projects ready for Drupal 9. 
Most projects need a few small changes. A single project release can now be compatible with Drupal 8 and 9 at the same time, so you don't even need to release a new branch of your project to support Drupal 9.
Drupal 8.9.0 will also be released on June 3, 2020. It will contain the same features as Drupal 9.0.0 while keeping backward compatibility with Drupal 8. This final minor version of Drupal 8 will receive long-term support, with bug fixes and security coverage until November 2021.  Meanwhile, Drupal 9 will continue to receive new features in Drupal 9.1 (out in December 2020) and beyond.
Need Help Migrating To Drupal 9?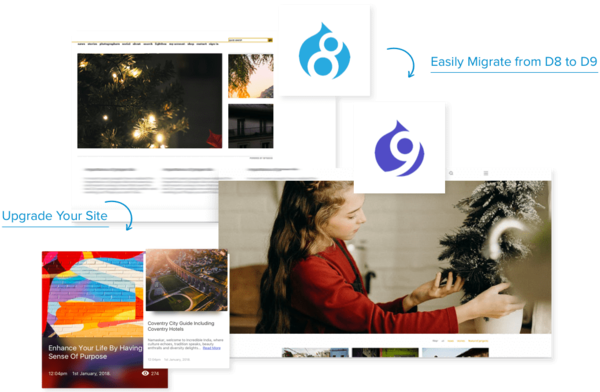 We have received numerous inquiries from enterprises and developers who have websites still running on Drupal 7 with concerns and lack of clarity towards upgrading to Drupal 9 when the time comes. In response, we have dedicated a team of 15+ Acquia Certified Drupal developers to provide guidance, support, and consultation to the needs of our clients and any enterprise that requires assistance migrating to Drupal 9.
Don't hesitate to contact us for a FREE consultation with our team should you need it. We got your back.
#StaySafe
Drupal 9
Drupal 8
Drupal 7
Drupal Themes
Drupal Planet
Drupal Commerce
DrupalCon
DrupalCamp
Drupal 6
Drupal
Multi Site Development
Enterprise Web Solutions
CMS
D9