Vardot Awarded ISO Certification
Firas Ghunaim
January 26, 2021
We are pleased to announce that on December 30th, 2020, Vardot was awarded ISO 9001:2015 and ISO/IEC 27001:2013 certifications for Quality Management Systems and Information Security Management Systems respectively.
---
Over the past year, Vardot's processes and systems were thoroughly assessed and evaluated by LMS Certification Ltd and as such was awarded the aforementioned ISO certifications for the following Vardot key activities: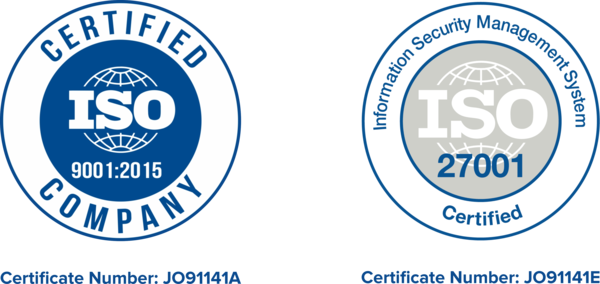 What is ISO/IEC 27001?
ISO/IEC 27001 is an international standard that outlines the guidelines and requirements for establishing, implementing, maintaining, and continuously improving an information security management system (ISMS).
The ISO/IEC 27001:2013 is the latest certification for this standard which verifies that Vardot's information security management systems maintain the highest standards with regard to confidentiality, integrity, availability, and traceability of data and information.
On our part, we always acknowledged that information security will always be a priority and foundation for any truly successful digital enterprise, hence our commitment to ensure that our clients always enjoy the best-in-class security services and solutions.
This certification recognizes Vardot as a reliable and strategic partner to enterprises that need hosting, migration, and managed services that support their digital transformation and projects.
Learn more about Vardot's security measures here.

 
What is ISO 9001?
ISO 9001 is defined as the international standard that specifies requirements for a quality management system (QMS). 
Organizations use the standard to demonstrate the ability to consistently provide products and services that meet customer and regulatory requirements. 
ISO 9001 was first published in 1987 by the International Organization for Standardization (ISO), an international agency composed of the national standards bodies of more than 160 countries.
The current version of ISO 9001 was released in September 2015.
ISO 9001:2015 specifies requirements for a quality management system when an organization:
needs to demonstrate its ability to consistently provide products and services that meet customer and applicable statutory and regulatory requirements, and
aims to enhance customer satisfaction through the effective application of the system, including processes for improvement of the system and the assurance of conformity to customer and applicable statutory and regulatory requirements.
Tools, systems, resources, and processes that go into each stage of our project development and delivery process were evaluated and assessed to ensure that Vardot utilizes the best-in-class practices across all departments and stages of the project development lifecycle.
Going Forward
The certification is another milestone in our journey and moving forward, we can clearly outline our priorities toward becoming a more agile value-driven enterprise IT solutions provider.
Vardot is committed to the ongoing enhancement of Varbase - the number 1 downloaded Drupal 9 distribution and CMS. Our UI/UX team is working hand-in-hand with our business intelligence and software development departments to create simpler yet dynamic digital experiences.
Our development team in turn is focusing on web and app performance from the earliest stages of project development - ensuring that our clients create the ideal digital experience for their target audience.
Vardot will focus on competencies - not just skills:
Adaptability - Demonstrating the required flexibility and agility to respond effectively to changing environments.
Business acumen - Demonstrating awareness of internal and external dynamics with an acute perception of business issues.
Digital Dexterity - The ability to leverage information and technology in unique and innovative ways.
Outcome-driven - Focus on delivering performance-enhanced digital products and services that our clients will need to achieve their desired results.
Collaboration and synergy - Removing silos and blurring the lines between our various departments to create a more cohesive and interconnected ecosystem.
---
What is ISO?
The ISO accreditation is administered by the International Organization for Standardization, based in Switzerland. The certificates they issue are globally recognized and assert the quality of operations and service an organization provides.
 
#DrupalCares
Drupal 9
Drupal 8
Drupal Planet
Drupal 7
DrupalAudit
Open Source
Open Social
Security
Enterprise Web Solutions
Quality Assurance
ISO Certification
ISO/IEC 27001:2013
ISO 9001:2015
Certification