The Ultimate Guide to Software Outsourcing
Dmitrii Susloparov
September 1, 2016
According to Outsourcing Statistics, more than 60% of the total outsourcing market is composed of IT/Software workers. Hiring developers from abroad really make sense for a number of reasons: today it is hard to find a business that doesn't require software services. The number of software projects is growing every year and the average salary of IT-professionals is relatively high. You might not know, but even when hiring a local company you cannot be sure that all of the work is maintained within the same country - many development agencies outsource some parts of their job, some of them even outsource complete projects and only manage the process. Considering the financial crisis and the cost optimization strategies that most companies are implementing in 2016, we can understand why so many managers are looking for outsourcing partners.
With ever-changing trends, you should be prepared to embrace the changes and outgrow yourself. This guide was written after analyzing a decent number of real outsourcing cases and reviewing positive and negative experiences of customers from different countries. We've found out the most common mistakes and ways to avoid them. Although sometimes outsourcing may bring more contrast than pros, our main goal is to help you reduce your risks and succeed in this game. There are many universal factors that can help you understand if your potential partner is good or not. Follow the checklist below, and you'll see how to outsource your web development project(s) without being scared of the results.
Step 1: Make a list of your potential candidates
And make sure that this list contains more than 5 agencies. How to choose them? Start with asking people that you trust and that have expertise in the area you are targeting. It is very possible that they know someone (or even they are someone) who had outsourcing experience and can advise you on a reliable partner. We all trust people that we know more than the "invisible experts", so don't miss the chance to go through your connections!  
But if your connections didn't come through, don't worry. You can always search for outsourcing partners online. Consider the best organic results because they are usually the companies that invest in SEO and have a good domain authority (which might be the sign of a reputable company), but don't avoid paid advertisements either: sometimes you can find highly experienced startups that didn't have enough time to boost their SEO, but can offer you a great service for an affordable price.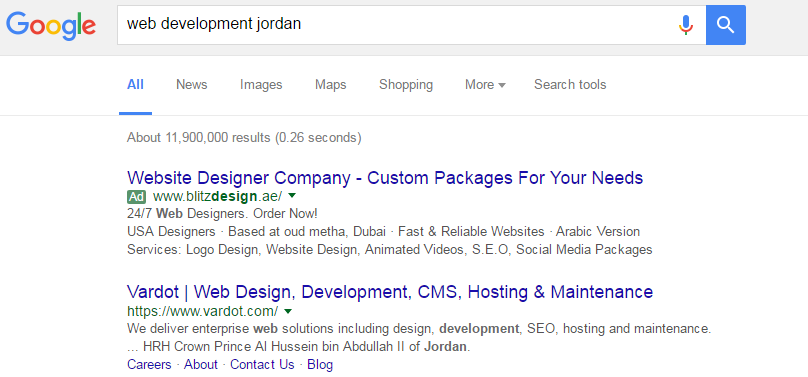 Depending on the complexity of your project I'd recommend you to choose 5 to 10 companies that will be your main outsourcing candidates. The best way to structure them is to create an Excel sheet with four columns:
the name of the company

the price they offer you

details of the proposal (what solution they suggest for your problem)

your personal evaluation of this agency based on the information you'll find about them (below we will discuss how to do a good research).
Organizing all the informationinton one document will help you not to get lost in details, especially when you are choosing between many candidates. Of course my example of columns is very brief - you can add more with details that are important specifically for your project. However, I prefer to add columns only with the main information - it makes it easier for me to make a final decision.
Step 2: Check the reputation of each agency
When you have your list ready, it is vitally important to get enough information about your candidates. To know which agency you should go for, first just google each of them. The advantage of how fast the internet is growing is that information is being added very quickly and you can easily prove the reputation of any person or company.
But don't be too naive. Remember, nobody can guarantee that agencies don't invent references, edit them or at least choose their sites only those ones that are positive. Don't be too impressed if you see 10 recommendations on the company's main page - sometimes out of 100 projects performed by the agency only 10 are successful and they all are proudly listed for you. Go deeper than that - read reviews written not only on agencies' official site(s), but also on different forums, blogs, and special review portals like Clutch and others. Of course, it is possible to cheat and write fake-reviews everywhere, but at least the percentage of fair opinions will be much higher. Believe me, those companies that are providing bad or mediocre service will be filtered out already on this step - if many people are dissatisfied with their work, it's impossible to hide it.
In the second round, after you're done googling, go through social media profiles of your potential partners. They also can tell you a lot about the experience of other clients with this company, because evaluations in Facebook and Google+ have become more and more popular every year. Don't panic if you see that someone gave your desired outsourcing partner just 1 star. When I started doing marketing at Vardot, I've noticed that we have several low scores on Facebook. I've contacted people that gave us these low scores and said that our company is working on the improvement of our services. I've asked them to provide me any feedback that we could use to become better and guess how many responses I got... Zero. The most interesting part of this story was this: when I've checked the database with all the projects we performed, I've realized that these guys never were our clients.
Why do people give low scores? Do all of them think that your services are not very good? Of course, not. Some people do it because they think that one star is the highest score, others give it intentionally after an unsuccessful job interview, there are also people that do it for conspiracy reasons - it's a topic for a big psychological research and we won't spend much time on it now. More important for us is that the number of low scores shouldn't be big comparing to the high scores. The average score you should look for should not be lower than 4 out of 5. If it is, you'd better invest some time to investigate the reasons why or switch to the next potential outsourcing agency. Remember, people usually don't spend the time to describe their positive experience, but if they are really dissatisfied - they will use a chance to add the review to their 1-star.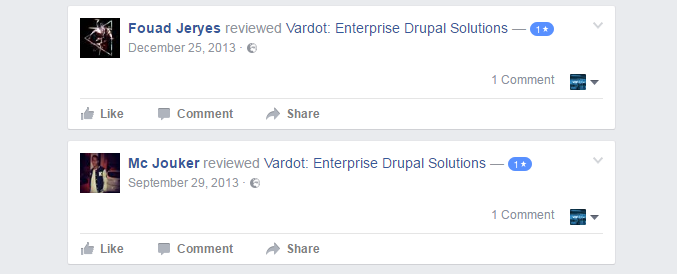 The good thing in outsourcing is that you're not the first one who does it. Analyze the experience of other users. Read client reviews, blogs, and certifications carefully. You might find something valuable or whimsical. Then, you'll be able to reach the correct decision.
Step 3: Make sure your potential partners are financially stable
Nobody wants to pay the first bill and realize that the company disappeared. We all prefer to work with agencies that we trust and don't consider our project as the only chance to survive. We all love to work with experts, and experts that are financially stable. How can we learn that a particular outsourcing agency has been running business for a long time and generating good revenues, if we didn't find it in Forbes?
Well, if you've followed our instructions, right now you have a social media profile of your desired partner opened in another tab. Check how often they post and how many followers they have. Another valuable resource will be the blog of the company. Do they write at least a few times a month? Are the blog posts really valuable or just written to show Google that something is going on here?
Creating a good social media profile and blog takes a lot of time and effort. Such things will show you that the company wasn't created a few days ago, that it invests in its reputation, and works on building the community. Finally, it should be a sign for you that the company has resources to hire marketers and create a department besides the actual development. Those companies that don't invest in marketing, are usually very small and may be financially unstable.
Another great sign of revenues is that the company runs an affiliate program or even better conducts a sponsored program. For example, Vardot  is the only Drupal Premium Supporter in the Middle East and a preferred partner of Acquia. If you hear it, you understand that your outsourcing firm works according to the highest international standards and is more trustable than others. Because if sponsors and organizers love to deal with an agency, so should you. These guys take care of their reputation; therefore, your investment will be fruitful.
Age, reputation within the society, and quantity of people working in an agency do show stability. Higher may not always mean better but numbers do matter. Always opt for financially stable firms. It's highly possible their quality drove them there.
Step 4: Learn cultural basics
It is a good idea to investigate outsourcing reputation of countries. The price for same services is always different in different countries, but if you think that it depends only on a currency rate, you're mistaken. Almost all the time it also depends on the proficiency of developers which is based on the educational level of the country, its social background, and many other things. You'd better outsource difficult software-related tasks only to countries with best programming talents. Otherwise, you also may be lucky in the end, but statistics show that it's better not to take risks. Evaluate the complexity of your project and don't focus only on the cheapest offers - otherwise, you might need to pay twice.
Another important thing is cultural traditions because they often affect a working schedule of the whole country. For example one of the most important Russian traditions is a one week break for the whole country after a New Year. In the Middle East employees work a shorten day during Ramadan, which lasts approximately one month. Christmas, Carnival, FIFA World Cup holidays and celebrations may vary depending on the country. But for a good company, it shouldn't greatly affect the outcome of the project or any major deadlines. At the end of the day we are all human and sometimes we just need a break.
Note: in every country, there are always companies that have most of their clients abroad and for this reason, some companies do not work according to the national schedule. Nonetheless,  if your project needs to be finalized ASAP, you'd better double-check the working schedule of your outsourcing-partner before signing the contract; you might be surprised.
Step 5: See the products they've developed
When I was surfing through Drupal development agencies, on every fifth site I've seen NASA and The White House logos. It doesn't mean that all the companies contributed to these projects, but they were sly enough to use famous and catchy brands in order to increase the visitors' loyalty. Technically they don't like us: instead of calling this section of the website "Our Projects" or "Our Customers", they write something like "Power of Drupal". Don't allow agencies to confuse you - when searching for product examples, make sure that you only evaluate their real projects and not the projects performed with the same technology.

And don't only evaluate the project based on its description in the portfolio. Let's be honest, in my CV I can write that I worked as president of several countries - it shouldn't convince a potential employer to hire me. You are smart and smart employers conclude about the candidates' skills only after attentively looking at their results. If you're about to outsource a website, visiting sites built by your future development partner and evaluating them in detail would be a must. Because if you don't do so, how would you be sure about your partner's potential? Their work is a mirror of their quality. Website speed, UX, robustness, media integrations, functionality - everything is important for you in this step.
However, don't make conclusions after just one project. Remember that agencies are creating the product that they've been requested to and sometimes weird fonts, images, lack of content display on the site are just the result of their clients' wishes. Going through at least 5 sites they've built would allow you to make a more objective decision. If you've noticed that half of the websites that you've visited have bugs, you'll likely find bugs on your own. Consider everything: how pages navigate, if they load quickly, if they are mobile friendly, if they are connected to social networks, and more. Your potential partner should know what SEO is. If they don't, forget about them. You don't want to get a site that won't be indexed by Google and visible to anyone except you and your friends that you've shared a link with.
Your project is your business. Get a feel for what they produce.. This is the feeling your clients are going to have. If you like what you see, go for it.
Step 6: Ideally meet with agency employers in person (or at least arrange several Skype calls with CEO & project/sales executives)
Communication is everything. It's human psychology that we love helping people that we like. And the best way to break the ice between people is a simple conversation. The more personal it is, the more convenient for everyone.
In case your project is big, it would be better to arrange a personal meeting with a manager or the CEO of the firm. Sometimes difficult projects require changes in the whole working process of the organization. If the director and senior managers are aware of your needs and are really interested in you as a client, you've hit the jackpot. They will involve their best team members, approve changes quickly, provide helpful recommendations, and control deadlines of all project phases. Therefore, you should share with your potential partner all of your ideas and don't hesitate to ask questions - this way you can get valuable information, a lot of helpful advice, and sometimes a good discount. If you see that the people you are talking to are not sure about what they are saying or need time to double-check something that only depends on knowledge and not on the process, remembers it. It should affect your future choice.
Another advantage of meeting your outsourcing partner in their agency is that you can see their infrastructure and technology. Be suspicious if you see that the guys are still working on old technologies (Windows 7? Yep, it's old now). There are projects that require certain hardware and software - visiting the office of the company is a very good possibility to see if your future development team is well equipped.
Last, but not least - the atmosphere in the office will tell you a lot about the kind of work being done. It may be professional, may be fun, but better when it's both. Don't forget, your first priority is to get your work done. If you see friendly professionals that know what they are offering, don't be afraid and go for it!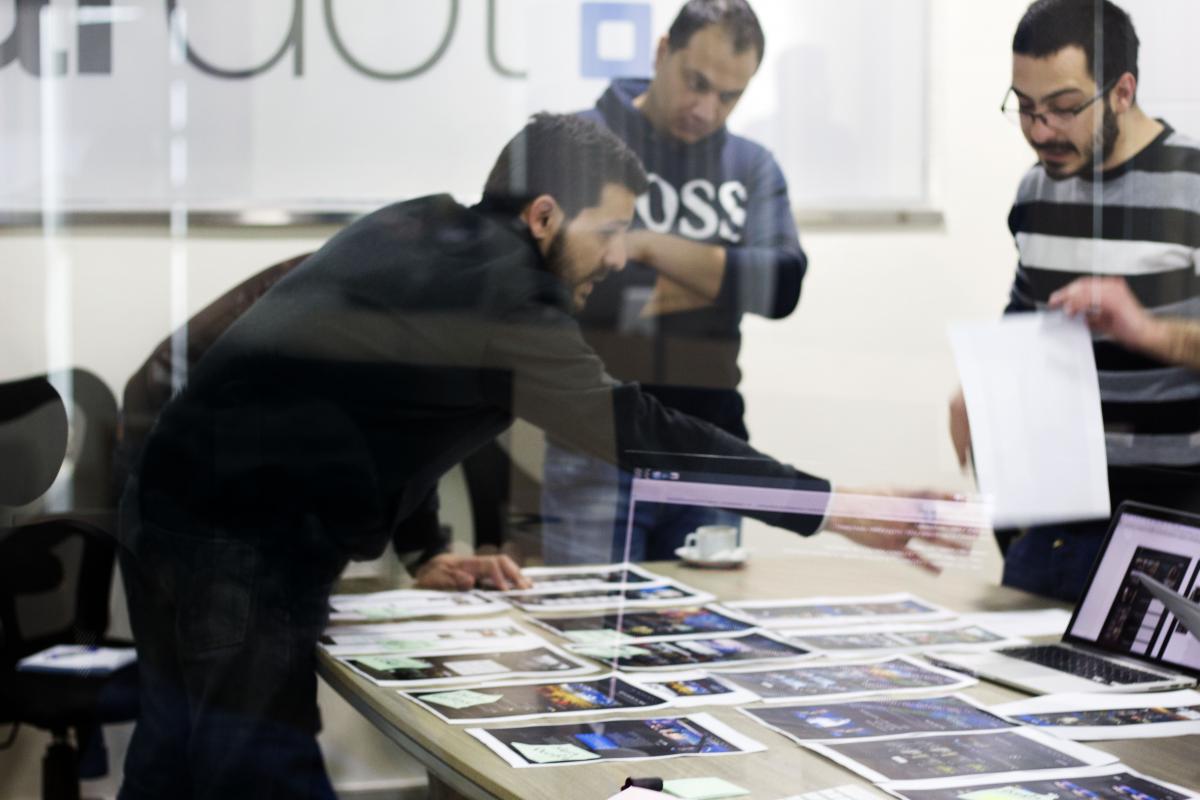 Step 7: Choose the partner that speaks your language
And again, communication is everything. There are a lot of things to discuss during every single project. Imagine that your partner doesn't understand you in a proper way. Believe me, it can turn your working experience to hell. Funny misunderstandings in small talks during the first call become critical issues during later stages of your project. The golden rule of outsourcing is: choose the partner that speaks your language.
Since English is global now, it would be good to have someone who brings a both-sided understanding. A good communication makes the project clear and smooth, a bad communication makes the project impossible.
Step 8: Ask about ways of working and methodology
Different countries mean different mentalities, but fortunately, best companies follow international working standards that mitigate the differences. If your potential partner works according to ISO, ITIL or Agile, it is a good sign. It'll help you to understand what to expect from the agency and how to control the project. You should be able to see the plan building up from the scratch, how much it has come out if you need to request any changes, and whether you see the results or not.
A project, when realized, should be virtually foolproof. To reach this point, it is important to have it tested again and again for any scope of correction. Nowadays, best of the agencies use Agile and Scrum methodologies. The agencies that evolve with change and utilize upcoming technology are known to provide great services. Look how deeply the agency is investigating before they start working: do they research the market, build personas, and ask the "right questions" that give them the full overview of your needs? Another great addition to your armory would be the readiness of the company to provide you a post development support. Concentrate on those candidates that understand that coding is just 50% of the project.
So, it would be a wise decision to hire agencies that follow internationally recognized development methodologies, documentation processes, and have developers with international certifications. These signs verify efficient businesses and delivery of the good quality.
Step 9: Show your competence
Just like buying something expensive, when you decide to outsource your business, make sure you get your investments worth. Unfortunately not every company is worth trusting (otherwise you wouldn't be reading this, right?), and is situated in a foreign country it is very difficult to identify which agency is good and which one is not. What really can help you in such a disposition, is showing your expertise.
The short story that will explain my point: one client came to us because they were dissatisfied with his $1000 website. It had bugs, was slow and not editor-friendly. When we analyzed it, we understood that it was not more than a simple WordPress theme bought for $45 and presented as a powerful solution. Many people don't investigate their task before outsourcing; there is nothing wrong that you delegate work that you're not proficient in, but you should not allow it to outwit you.
So, as I mentioned above, the best way to avoid it is to show your expertise. Even if you don't know anything about the stuff you want to outsource, get its overview by reading related blogs or asking your friends that understand the topic. For example, in the case I've described above, it would be helpful to ask what CMS and hosting plan the agency is suggesting and why. The competition rate between outsourcing companies is getting higher every year, and developers are usually afraid to lose leads. If they see that you have a certain level of expertise in a subject, they will make their best to provide you with more options to choose and the best price possible.
The quality of work an agency provides decides the fate of your business. If your potential outsourcing partner sees that your knowledge level in the project area is above zero, he will think twice before trying to cheat.
Step 10: Set goals clearly
Be careful what you wish for, you just might get it!
Think that even if you've chosen the cheapest outsourcing partner, but didn't spend enough time on setting up your goals, by the end of the project you might spend more money than hiring a more expensive developer and giving him clear and measurable targets. Most of the outsourcing agencies don't want to understand your creative uncertainty about the final version of the product, and the only thing they are doing is just following your instructions and making your wishes come true. If you don't want to rebuild your project from scratch, understand what you really want and try to be as specific as never before even in things that are obvious for you. Another thing about the cultural difference is that sometimes we all see the same thing in a completely different way.
When you know the communication between you and the agency is clear and you don't have to wait for the work to get completed, you build trust. And then, when you think of expanding, you'll know who to talk to.
Step 11: Read the contract carefully (or better show it to your lawyer)
It's a good habit every time, not only when outsourcing. We should think positive 90% of the time, but let's use the rest 10% to predict (and defend yourself) in the worst case scenario. Make sure you read the contract carefully and request to add, change or remove everything you don't like.
Sometimes it does happen that you don't like the project delivered. In that case, you should be able to proceed accordingly. Before signing any document, make sure you understand their "User Acceptance Policy". This will be a great factor if things don't work out the way you did.
Sometimes you may want some changes to be made or come with a great idea and wish to add it to the project. All additional costs should also be presented in the contract. They may include the cost of rework after a specified number or the general charges of adding another substantial. For example, Agile methodology welcomes change, with a cost based on an hourly rate card. Anyways, it would be a good idea to ask about the change requests and how they will be considered. Some changes may cost nothing, while others may be very expensive.
Legal matters! And if your project is really big and expensive, it would be a good suggestion to show the contract to your lawyer and let him decide if you should sign it or not. Remember, good contracts should guarantee you not only quality and cost of your project, but also its security.
Step 12: Security of the project is a risk. Make sure you control it
Last, but not least - deciding to outsource, you give your sense of security to someone else. But since it's you who have invested in the business, its security should be in your hands.
Besides paying large attention to the reputation of the company you are outsourcing to, make sure to ask them if they can assist you with maintenance - for example, if you are buying a website, ask if they can guarantee you the ongoing maintenance of  required security updates and if they will be responsible for your CMS's updates. If you share private information about your company with someone else, you have to be sure that this information will not be available for anyone else.
Security in someone else's hand can turn into reward or punishment. Act wisely.
Bottom line. Outsource wisely!
Keeping the above points in mind will help you get a good kick start in planning your course of action. For those who are outsourcing for the first time, these guidelines will surely come in very handy. For those who have traveled this passage before, well, you can tell the new aspirants where to look.
Drupal
Tips
Multilingual
Web Design