Setting up SEO Features on Drupal Using Varbase
Raghad Eid
October 20, 2022
In this fast-growing digital age, what could be more important than your website's Search Engine Optimization (SEO)?
It's not surprising that as a business owner running your company online, you want to prioritize SEO since your website is the core of marketing. If you want your site to rank high in the SERP, it is crucial to make sure it's search engine optimized. For that, you need a CMS that offers an enhanced SEO experience for its websites.
Drupal is ideal for your site's SEO. It will assist you in building your site and attracting visitors soon after you launch it. There is also an easier way to optimize your site on Drupal, by using the Varbase Drupal Distribution. Want to know how? Keep reading.
In this article, we will discuss:
The benefits of using Drupal for an enhanced SEO experience
How Varbase helps in the process
How to configure SEO features on Drupal using the Varbase distribution
Why Drupal Is Great for SEO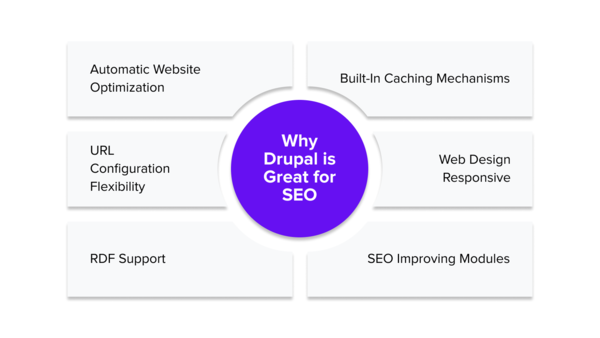 Before we go into configuring SEO features on Drupal, let's take a look at why Drupal is the go-to CMS for an enhanced SEO experience.
Drupal offers a number of benefits that increase your site's search engine exposure and traffic. The following reasons make Drupal one of the best SEO-inviting CMSs:
1. Drupal's code enables automatic website optimization, simplifying SEO efforts.
2. Drupal offers a high degree of flexibility in configuring your URLs and metadata. This is quite beneficial for optimizing your site for certain keywords.
3. It supports RDF (i.e., Resource Description Framework).
4. Drupal uses a web design that is responsive by default. So you won't need to dig into its source code, because it will appear fantastic on any screen size.
5. Drupal's built-in caching mechanisms can be helpful in boosting your site's speed and performance, which are important search engine ranking factors.
6. Drupal also has various modules for improving SEO, such as Redirect Module, Alternate Hreflang Module, Metatag Module, Pathauto Module, etc.
Why You Need Varbase
While Drupal has a lot of SEO-enhancing modules, most of them are not core components. Whereas, the Varbase Distribution pre-configures all of Drupal's on-page SEO modules, guaranteeing the optimization of your website. Varbase also offers an effective SEO engine for determining whether your site is SEO ready, and for making suggestions for on-page enhancements by utilizing its substantial SEO knowledge.
How to Configure SEO Features Using the Varbase Distribution
Now that you know how Varbase helps in the optimization of your website, let's see how to configure the SEO features using Varbase distribution.
First, you need to install Varbase. 
Installing Varbase is easy. You just need to go to the project page on Drupal.org and download it. Once you have Varbase installed, you can start configuring its SEO settings.
There are several ways to configure SEO features using Varbase. The easiest way is to use the "SEO Settings" module, which provides a user interface for configuring various SEO-related settings.
Another way is to use the "Drupal SEO Toolkit" module. This module provides a suite of tools for configuring Drupal's core SEO settings, as well as many contributed modules.
Finally, you can also use the "Varbase SEO" module. This module provides a more advanced set of tools for configuring Varbase's SEO settings.
Varbase SEO module
Varbase SEO module is an optimized module developed by Vardot experts specifically to ensure your website is search engine optimized. 
This module integrates a lot of outstanding SEO features and settings, such as the Resource Description Framework (RDF), which enriches your content with metadata to let other applications like search engines and aggregators better understand its relationships and attributes. From managing meta tags for all social media platforms to redirecting old links to new links, automatically generated aliases, real-time SEO page analysis, and Schema.org JSON-LD structured data definitions. Varbase's SEO module covers it all! Let's take a look:
Metatag: Manage metatags for all entities

Facebook: A set of special metatags for controlling advanced functionality with Facebook.
Google Plus: Provides support for Google Plus' meta tags.
Hreflang: Provides support for the hreflang metatag with some extra logic to simplify it.
Mobile and UI Adjustments: Provides support for metatags used to control the mobile browser experience.
Open Graph: Provides support for Open Graph Protocol metatags.
Twitter Cards: Provides support for Twitter Card's metatags.
Verification: Verifies ownership of a site for search engines and other services.

Pathauto: Provides a mechanism for modules to automatically generate aliases for the content they manage.
Redirect: Allows users to redirect from old URLs to new URLs.

404: Logs 404 errors and allows users to create redirects for often requested but missing pages.
Domain: Allows users to redirect between domains.

Schema.org Metatag: Base module for creating Schema.org JSON-LD structured data defined with Metatag module.

Article: Base module for creating Schema.org JSON-LD structured data defined with Metatag module.
ItemList: Adds Schema.org/ItemList to the JSON LD array.
Webpage: Adds Schema.org/WebPage to the JSON LD array. Creates WebPage, ItemPage, AboutPage, CheckoutPage, ContactPage, CollectionPage, ProfilePage, SearchResultsPage.
Website: Adds Schema.org/WebSite to the JSON LD array.

Real-time SEO: Adds Real-time SEO page analysis and configuration.
Script Manager: Manage JavaScript snippets included in your website.
Google Analytics and Google Tag Manager Modules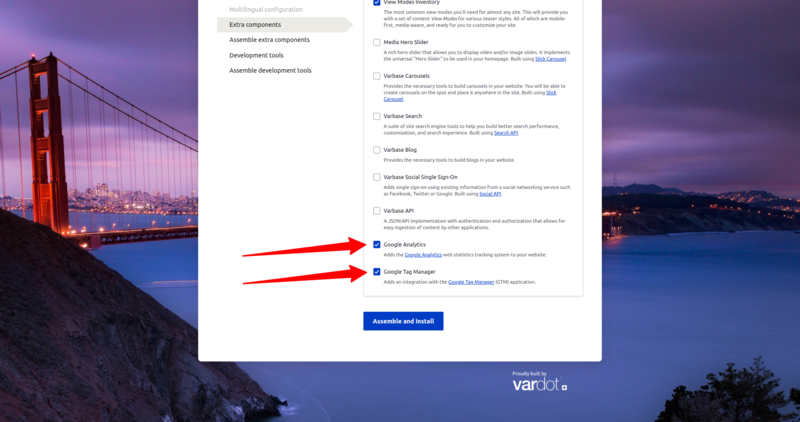 Depending on your needs, you can also install Google Tag Manager and/or Google Analytics modules during the installation of Varbase.
Google Analytics Module
This module enables the online statistics tracking functionality of Google Analytics on your site. It gives you the option to include the following statistics elements on your site automatically:
Single/multi/cross-domain tracking
Selectively track/exclude certain users, roles, and pages
Monitor what type of links are tracked (downloads, outgoing, and mail to)
Monitor what files are downloaded from your pages
Site Search support
AdSense support
Demographics and Interests support (formerly known as DoubleClick remarketing support)
Anonymize visitors' IP address
DoNotTrack support (non-cached content only)
Drupal messages tracking
Modal dialog tracking (Colorbox)
Access denied (403) and Page not found (404) tracking
Cache the Google Analytics code on your local server for improved page loading times
Enhanced Link Attribution support
User ID tracking across devices
Changing URL fragments can be tracked as pageviews
Debug mode with analytics_debug.js
There are also additional options for sending custom dimensions and events, which include:
Custom dimensions and metrics support with tokens
Custom code snippets
Google Tag Manager Module
The Google Tag Manager module allows integration of the Google Tag Manager (GTM) application with your site. This application eliminates the need for administrative access to your site by allowing the installation of analytics and measurement tag configurations from a web-based UI.
You need to get a "container ID" for your site and register for GTM in order to use this module. For development purposes, you should create a GTM environment for your site.
As you can see in this article, Drupal provides several advantages for helping your site achieve a high search engine page ranking for better visibility, and Varbase Drupal distribution comes with various built-in features to enhance your website's SEO even further.
So if you are operating a website made using Drupal and planning to optimize it, you should definitely consider trying out our solution.