Raising the Bar: Content and Security Upgrades in Drupal 10 for Nonprofits
Raghad Eid
February 28, 2023
For nonprofits, a well-designed website is critical to their success. A website not only serves as a platform to engage donors, volunteers, and other stakeholders, but also as a tool to deliver their mission and promote their cause. Drupal, an open-source content management system, is a popular choice for nonprofits due to its flexibility, scalability, and security features. With the release of Drupal 10, nonprofits can look forward to a range of new features and upgrades that will make their websites more accessible, user-friendly, and secure.
In this article, we will explore some of the key upgrades that Drupal 10 offers to nonprofits, including accessibility improvements, enhanced content creation and editing tools, better performance and scalability, and enhanced security features.
4 Reasons for Nonprofits to Upgrade to Drupal 10
1. Enhanced Accessibility
Accessibility is a critical consideration for nonprofit websites, as they must ensure that their websites are accessible to people with disabilities. Drupal 10 has made significant strides in improving accessibility:
Enhanced keyboard navigation.
Improved contrast ratios.
Better support for screen readers.
These features will make it easier for people with disabilities to access nonprofit websites, ensuring that they are more inclusive and accessible to everyone. The Drupal community has also developed accessibility guidelines and tools, which can help nonprofits create accessible websites that are compliant with WCAG 2.1 guidelines.
As a long-term Drupal partner agency, Vardot has extensive experience in creating open-source digital experiences that meet W3C accessibility standards. A recent example where we were able to optimize a client's existing website was the project for the International Association For The Study of Lung Cancer (IASLC).
This mobile-first CMS met modern accessibility standards, with features such as Layout Builder, multilingual options, and out-of-the-box SEO modules. As a result, the implementation of Drupal accessibility modules increased the website's accessibility score to 90% based on results from Google and IBM.
2. Improved Content Creation and Editing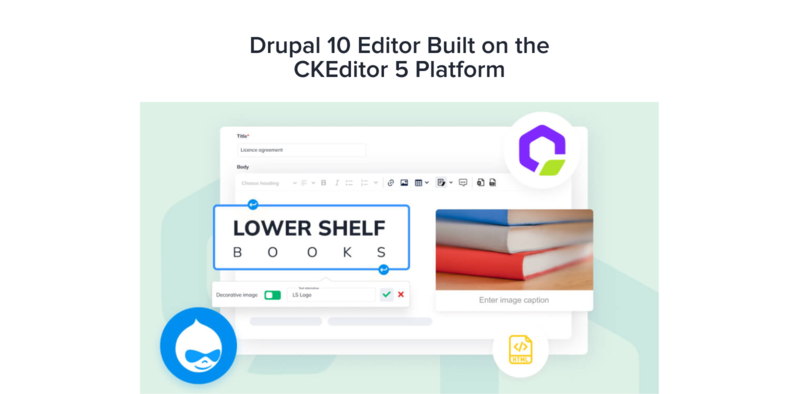 Nonprofits rely heavily on content to engage their audiences and drive their mission forward. Drupal 10 includes a range of new features that make it easier to create, manage, and edit content. The new default editor, which is built on the CKEditor platform, offers a more intuitive and user-friendly interface for creating and editing content. Additionally, Drupal 10 includes a range of other content management improvements, such as:
Better media management tools.
Improved workflows for managing content revisions.
These features will help nonprofits create high-quality content more efficiently and with greater ease.
3. Better Performance and Scalability
In today's digital world, nonprofit organizations rely heavily on their websites to attract donors, raise awareness, and facilitate online transactions. As a result, it's critical that their websites perform well and can scale to meet demand. Drupal 10 offers several performance and scalability improvements that can help nonprofits achieve these goals:
One of the key improvements in Drupal 10 is improved caching. Caching is a technique used to store frequently accessed data in memory, which can speed up website performance by reducing the number of database queries needed to serve a page. With Drupal 10, the caching system has been optimized to reduce overhead and improve performance. This means that nonprofit websites built on Drupal 10 can load faster and handle more traffic.
Another key improvement in Drupal 10 is better support for PHP 8, the latest version of the popular programming language. PHP 8 offers several performance improvements over previous versions, including faster execution times and lower memory usage. By upgrading to Drupal 10, nonprofits can take advantage of these performance improvements and ensure that their websites are running on the latest, most efficient technology.
Enhanced Support for Distributed Architectures
Finally, Drupal 10 includes improved support for distributed architectures. A distributed architecture is a design approach that allows different parts of a website to be hosted on different servers, which can improve performance and scalability. With Drupal 10, nonprofits can easily set up a distributed architecture using Drupal's built-in tools and modules, allowing their websites to handle increased traffic and activity as their needs grow.
In summary, the performance and scalability improvements in Drupal 10 can help nonprofit websites load faster, handle more traffic, and provide a better user experience.
4. Optimized Security Features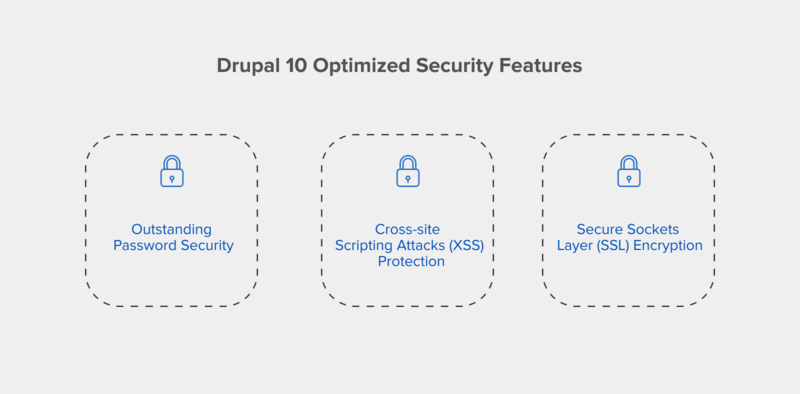 Security is a crucial concern for any website, and this is particularly true for nonprofit organizations that deal with sensitive user data and rely on the trust of their supporters. With Drupal 10, nonprofits can benefit from a range of new and improved security features that help to safeguard their websites and user data.
Outstanding Password Security
One of the key security enhancements in Drupal 10 is improved password security, which includes support for more secure hashing algorithms and better password storage practices. This means that user passwords are better protected from being compromised by hackers, reducing the risk of data breaches and other security incidents.
Cross-site Scripting Attacks (XSS) Protection 
Another important security improvement in Drupal 10 is better protection against cross-site scripting (XSS) attacks. These attacks occur when malicious actors inject malicious code into a website, potentially stealing user data or taking control of the site. Drupal 10 includes new security measures that make it harder for attackers to exploit XSS vulnerabilities, helping to keep nonprofit websites secure.
Secure Sockets Layer (SSL) Encryption
Finally, Drupal 10 includes improved support for secure sockets layer (SSL) encryption, which is essential for protecting sensitive user data when it is transmitted over the internet. By using SSL encryption, nonprofit websites can ensure that user data is encrypted during transmission, making it much harder for attackers to intercept or steal.
In addition to these specific security features, Drupal's dedicated security team is constantly monitoring and addressing potential vulnerabilities in the platform. This means that nonprofits can be confident that they are using a CMS that is actively maintained and updated to keep up with the latest security threats.
Overall, the security enhancements in Drupal 10 help to ensure that nonprofit websites remain secure, protecting both the organization and its supporters. With these features in place, nonprofits can focus on their mission, knowing that their website is well-protected and secure.
What Next?
Drupal 10 offers a range of new features and upgrades that will be particularly valuable to nonprofits. The improved accessibility features, enhanced content creation and editing tools, better performance and scalability, and enhanced security features will all help nonprofits create more user-friendly, effective, and secure websites. 
Whether you need to upgrade your existing site to Drupal 10 or looking to building one from scratch, it is worth considering working with a Drupal development agency to guide you through the process. Contact us for a free consultation.
Disable checking
Premium suggestions