Drupal Hosting Providers Comparison 2022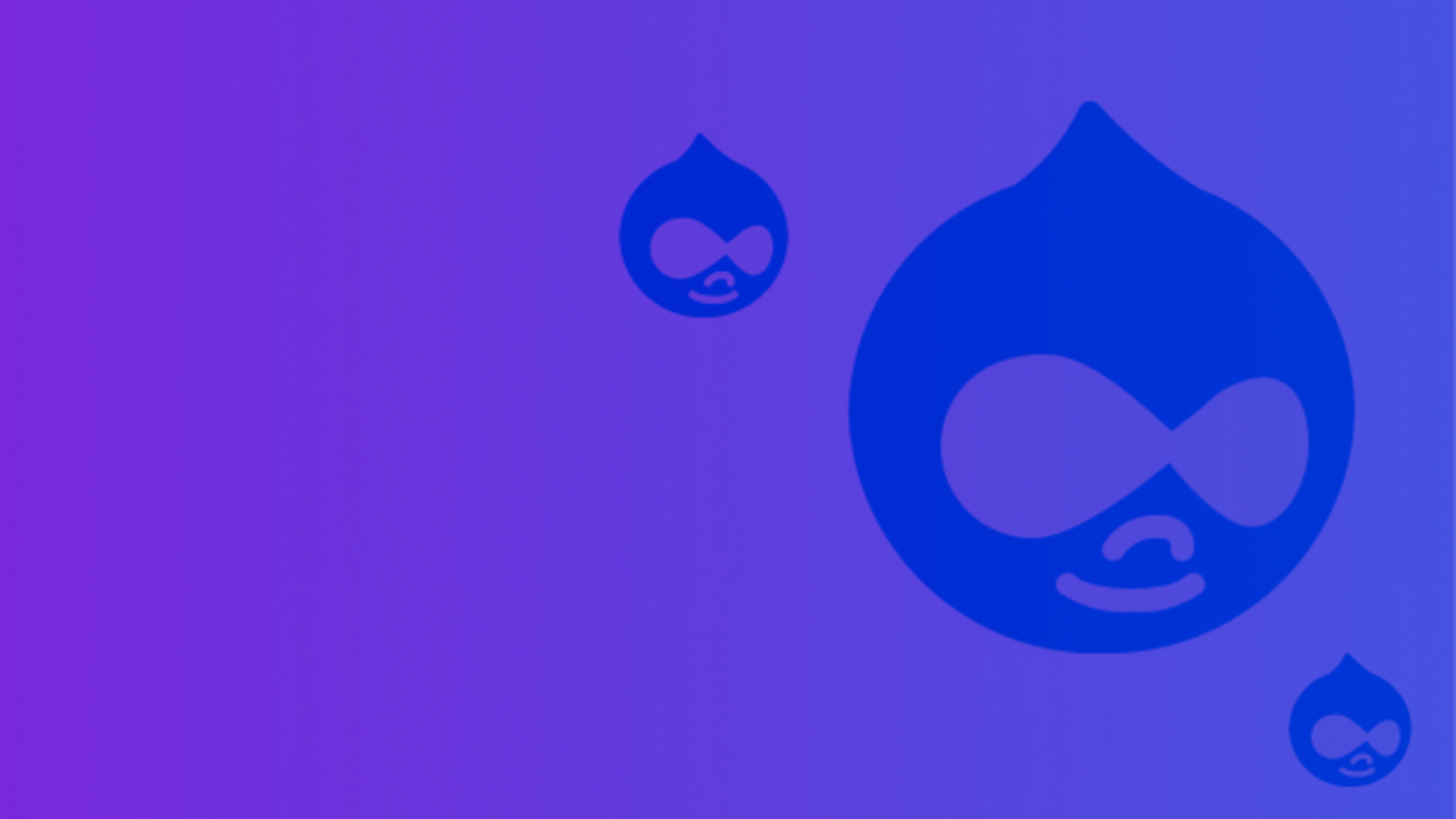 Hosting plays a critical role in optimizing digital experiences. It is the engine room that enables almost every function needed to maintain an effective online presence. The key to making the right Drupal hosting provider choice is defining your enterprise's requirements and matching those to the most suitably capable provider.  
What Is Platform as a Service (PaaS)?
Cloud technology has introduced a bunch of new technology options and terms. Platform as a Service (PaaS) Drupal hosting providers differ from traditional web hosting and even Infrastructure as a Service (IaaS). Firstly, PaaS hosting is cloud-based, while traditional is a plain machine solution. With PaaS options, unlike web hosting or IaaS solutions, you only need to consider the development and maintenance aspects of your site's
requirements. Everything else is conveniently taken care of by the service. 
How Do Managed PaaS and IaaS Options Work Together?
PaaS offerings are the bridge between IaaS and enterprises without the need, skills, resources, or budget for their infrastructures. This is a large percentage of enterprises in the market. A PaaS provider may use an IaaS infrastructure like Amazon Web Services but will also take care of all the middleware, maintenance, and security as well as provide a platform for a development team to use.
Although you might see PaaS as a middleman between you and IaaS, using these intermediary services usually has huge implications for short and long-term cost reductions. Let's take a look at a quick overview of the time and cost benefits of using a PaaS hosting option.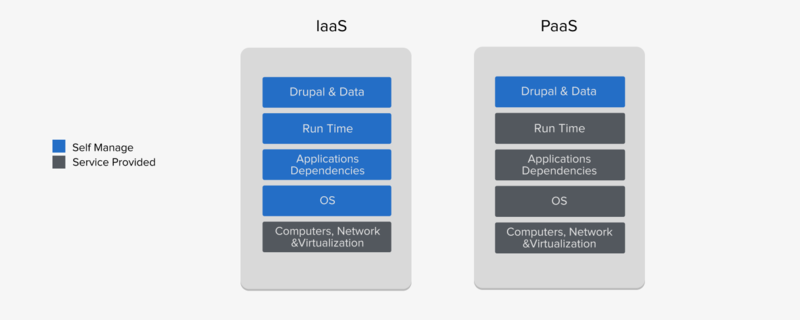 PaaS vs IaaS in Drupal Cloud Hosting. Sometimes using the middleman is an advantage.
While this overview seems great, you might still wonder what the tangible day-to-day benefits that PaaS options can offer your business are. Well, there are several advantages worth listing that highlight the upside of PaaS solutions for small, medium, and even many large enterprises.
Lower Set Up and Maintenance Costs
PaaS providers can leverage economies of scale. This means that they can provide you with infrastructure and middleware that would otherwise be more costly and time-consuming for your enterprise to develop on its own. This aspect is especially useful for small, medium, and high-growth businesses who don't have the spare resources, time, or budget for their own solutions, even if it could be done more cost-effectively in-house
Reduced Time to Market
Good PaaS providers supply flexible and scalable infrastructure. This is a necessity that will enable Drupal developers to implement new infrastructure elements such as Solr search or even add a load balancing performance service in a matter of hours. The net result is that you can release new deployments more quickly and get new features to market faster. In any competitive landscape, that is always helpful.
Focus On Drupal Development and Innovation
With most of the infrastructure needed to build, maintain, secure and optimize your Drupal site taken care of, all that is left is imagining and building great digital experiences. These codebase tasks can be more easily done in-house or by a Drupal partner agency. If your enterprise has no in-house expertise in Drupal development or analytics, it is worth choosing an expert agency partner to ensure that the return on your hosting costs is maximized. 
 
Managed Drupal Hosting
If you have decided on PaaS as the option best for your enterprise, you will also need to make a call on managed or unmanaged Drupal hosting services. Unless you have a shoestring budget or an extensive expert in-house or agency team, managed Drupal hosting is usually the best bet. Managed Drupal hosting options tend to offer the following benefits:
Ability to delegate everything outside of the codebase and analytics.
An expert support extension of your development team, usually with 24/7 support SLAs.
Frees up time and budget to allocate to innovation rather than infrastructure setup or maintenance costs.
Managed Drupal offerings often come in the form of individual or multi-tenant hosting options, so are very adaptable to different enterprise budgets and requirements. 
Best Drupal Hosting Providers 2022
The cloud hosting industry is already crowded with many offerings that supply different solutions for different requirements. Even within the Drupal-specific hosting sphere, the industry is competitive with a wide selection of providers. Defining your business and tech stack requirements upfront will help you choose the provider that makes the most sense for your particular needs. 
Vardot, as an experienced Drupal development agency, works with three highly reputable managed Drupal hosting providers to meet the different needs and budgets of our diverse client partners. Let's take a look at what Acquia, Platform.sh and Pantheon can offer your enterprise
Acquia Drupal Hosting
Acquia is perhaps the most widely known dedicated Drupal hosting provider. They are well established, cater specifically to Drupal sites, and have excellent service support. If you have a larger budget, then Acquia is a good hosting service option. Some of their key benefits include:
Specialists in end-to-end decoupled Drupal and Drupal requirements with NodeJS support.
Managed Drupal cloud platform with 24/7 global support.
Hosted on AmazonWeb Services IaaS with individual and multi-tenant infrastructure options.
Advanced sites at scale capabilities and 9 hosting regions.
Reduction of DevOps time ensured by easy 'add one line of code implementation for useful systems like Memcached.
Take Out: Acquia's Drupal-specific focus and high levels of expert support make it ideal for fast-growing, larger, or international enterprises with more budget and a Drupal-only codebase. It is also a great option for enterprises that require options for individual infrastructures due to rapid scalability or advanced security reasons.
Platform.sh Drupal Hosting
Platform.sh is a Drupal-optimized PaaS with a fast-growing enterprise-friendly offering. A more recent scale-up, Platform.sh is a highly rated, flexible, and cost-effective Drupal hosting solution. They offer some unique solutions within the market.
Cost-effective and tiered offerings start from a free professional level trial to enterprise solutions. 
24/7 support SLAs for all plans, with 45-minute response times for urgent enterprise requests.
Supports all versions of Drupal from 6 to 9 and Drupal multisite on a single project.
Infrastructure is agnostic with partners including AWS, Google, Orange, Microsoft Azure, and OVHCloud.
Caters to 70 frameworks and languages, allowing for the flexibility to combine code bases and deploy across a single containerized grid.
Take Out: Platform.sh is a great PaaS option for any sized enterprise with a multisite architecture, a mixed codebase, or Drupal legacy versions. Their flexibility in regions covered, pricing, frameworks, and languages, along with a strong support offering make them globally competitive and cost-effective. 
Talking about Platform.sh, You can install Varbase on Platform.sh and enjoy a 30-day free trial for new users!
Follow this link to provision your Varbase instance on Platform.sh: Deploy Varbase on Platform.sh!
Or deploy it using the baseline Varbase Platform.sh template project.
Pantheon Drupal Hosting
Technically, Pantheon operates like a SaaS and refers to itself as a WebOps SaaS offering. WebOps is a fairly new discipline distinct from DevOps, DXP, and hosting. Pantheon, along with our other Drupal hosting partners, is considered a global leader. More specialized code base wise than Platform. sh but broader than Acquia, they also cater to small businesses.
Mid-range prices with tiered options from free trials to enterprise.
Drupal and WordPress are supported with dedicated, VPS, or reseller hosting options.
Content Distribution Network (CDN) is available for all pricing tiers.
Caters to a variety of Drupal versions from 7 to 9.
24/7 support is available through Slack, chat, video call, or ticketing.
Take Out: For small to large enterprises with mid-level budgets, Pantheon is a highly credible provider. Their through-tier CDN offering makes them ideal for content-heavy sites that need high-performance enabling caching, even if they are on a fairly tight budget. Pantheon is also a great option for enterprises that have legacy version Drupal sites and need a good variety of support options. 
So, Which Drupal Hosting Provider Should I Choose?
Choosing the right PaaS becomes quite simple when you know your business requirements, and budget and also have an idea of your ecosystem integration needs. You will need to ensure that the Drupal hosting provider you select offers the features and services in a feasible pricing structure is feasible.
An excellent place to start is by defining your overall budget. You will need to think about hosting, and also factor in working with a specialized Drupal development agency to guide you through building, integrating, and the overall maintenance of your Drupal site. 
It is always practical to understand your existing ecosystem or technology shortfalls and pin down your overall roadmap. This will assist you or your agency partner in making the best hosting partner for your Drupal site. The more tailored your PaaS is to your specific needs, the better.
A good Drupal development partner will have the expertise to guide you through the complexities, as well as have established relationships with market-leading Drupal hosting providers. If you do not already have a dedicated or expert in-house team, this is usually a worthwhile investment that will save you time, stress, and school fees.
Interested in Drupal Hosting?
Reach out to our expert team for guidance in defining your requirements and making the right choice.
Drupal hosting
Drupal
Acquia Cloud