Digital Insurance: The Customer Journey
Firas Ghunaim
September 30, 2019
Like all people out there, Gen Y or millennials (people born between 1981 and 1996) also need insurance. However; their perception of insurers is increasingly negative. This shows a clear indication that the majority of insurance agencies do not quite understand this growing strategic market segment.
From gig economies to a digital mindset regarding every aspect of their daily lives, millennials value transparency, accessibility, privacy, and flexibility. More than anything, they require motivation to purchase insurance personalized to their specific needs.
To help you understand what millennial consumer behavior is all about with regard to insurance, we designed an insurance customer journey:
Step 1: Awareness and Discovery
There are usually only 2 reasons or motivations for anyone to be searching for insurance:
To purchase a new insurance plan
To renew a current insurance subscription
Most people seeking to renew or purchase insurance plans are experiencing an urgent need to fulfill any of those goals. Your job as an insurer in 2019 is to make sure you ease the burden and annoyance by making sure that your products & services should be easy to find wherever your potential client is looking. 
More than any other audience in the insurance market; Gen Y has a greater preference for digital channels. This means that they expect your business to have an omnichannel approach to communication with them. Using marketing automation platforms such as Mautic; you can easily engage in multi-channel communication reaching out to potential leads over social media, email, website, and mobile (via SMS and alerts).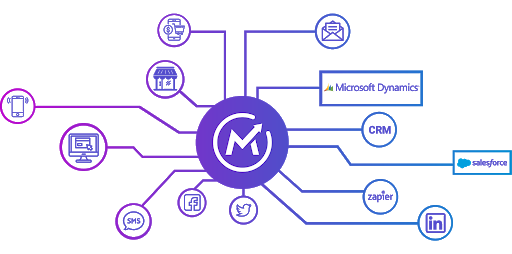 Omnichannel Marketing Automation
It's also essential to remember that your customers will be searching for more information about your products and services on your website, which means that your website will effectively be the beating heart of your multi-channel communication strategy. It is highly recommended to adopt a CMS that provides superior SEO performance across the web and mobile from the moment it launches.
Learn Why Varbase CMS Is the Best Multilingual Enterprise-Grade Drupal Website Builder
Step 2: Seeking Advice & Research
The next logical step is that your prospective customer would research and compare the options available in order to evaluate policy coverage and premium quotes. The process of exploring options can easily become overwhelming to prospects. 
Instead of making all information easy to understand, accessible and clear without any industry jargon; unfortunately, most insurance providers get this stage wrong and quickly cause prospective customers to be confused and at a loss. Ultimately, this negative experience reflects upon your business and the prospect loses interest quickly never to return.
Selecting an insurance policy should be clear and simple for them to understand. Accessibility isn't limited to having an SEO-friendly website, it literally means that all customers; regardless of background or condition, can find, navigate and use your website. In short, your website features and content should have a customer-centric attitude which will reflect how easy it is to contact and deal with your insurance business.
According to the World Insurance Report, Gen Y like to interact with insurers twice as much as any age group. This can be either a challenge you're facing or an opportunity for your digital business to grow. 
Encourage them at every digital touchpoint in addition to providing an online customer service agent to answer their questions. Your website should also have an automated bot assistant that provides recommendations, suggestions, and quotes in addition to answering questions on-the-go instantly.
Automating your marketing messages is a must for insurers who seek to thrive in the new digital age of insurance. Make use of website focus items that highlight and promote coverage offers for easier communication with new prospects. 
Current customers that are seeking alternative options can be also retained by meeting their demands for further flexibility and personalization. Use easily created web forms to capture insight into your customers' satisfaction, feedback, and current pains to develop more flexible insurance coverage plans. Use preferred channels of communication and deliver content/news/offer updates based on their opt-in choices. Reach out with relevant advice and quotes to your current database of customers using easy-to-create dynamic content.
Your target market has shown that they have a much higher readiness for positive digital change than your industry, so, put yourself in your prospects' shoes and consider the massive impact the aforementioned features will have on your accessibility standards and UX overall.
Step 3: Customer Acquisition
Succeeding at customer acquisition heavily relies on meeting their demands prior to reaching this stage; as they will need to have all the information at their fingertips to make sure that they take an educated final decision regarding a certain insurance coverage plan that satisfies all their insurance needs.
To avoid them being distracted by other options or uncertainty, ensure that you navigate them to the correct landing page that clearly details all the information they need before they click on "Purchase" or "Sign Up". Ensuring that this transition and user experience is logical, fast, and intuitive will undoubtedly translate to much higher conversion rates. 
We highly recommend that you plan for any uncertainty by being proactive with your plan development. Highlight other relevant plans that may appeal to them on the same "Purchase / Sign Up" landing page. Just because they need to explore other options prior to committing doesn't necessarily mean they have to seek them out on your competitors' websites.
In addition to the UX-enhancing features mentioned earlier; allowing customers to sign up from any digital channel they prefer will speed up the process. Using the right tool to monitor anonymous user activity on your website will also provide you with the precise moment they signed up for an insurance plan. You can use this to personalize your customer service as soon as they signed up.
Remember though, not all Gen Y are tech and digital-savvy. Digital literacy within this market segment is not universal, however, the behavior and expectations are. Don't forget to cater to the needs of Gen Y prospects who still prefer to speak to an agent before signing up.
Step 4: Digital Insurance Beyond Purchase
The popularity and success of any digital service are directly connected to the extent of positive benefits to our everyday lives. People will not give up on any digital tech that makes their life more convenient, and nobody appreciates this fact of life more than Gen Y. This is a strategic opportunity to become a leading insurance provider by giving them value beyond the coverage they purchased from you.
When your customers get afflicted by an urgent need or experience an accident, they don't have the time to find out whether they are covered in the hospital they rush to or not. Provide them with relevant digital services such as a map of nearby hospitals they can go to in case of emergencies.
Other services beyond the purchase of insurance coverage include the payment of premiums.  Allow your customers to connect their bank account in a bid to automate premium payment and transfer of funds without the need to overthink a traditionally manual process.
Integrating your customer database with automated and personalized email marketing messages and/or SMS alerts will allow you to easily send reminders to your customers based on their specific profiles in your database that their premium payment date is near. Better yet, you can allow them to actively opt-in to receive reminders directly to channels they prefer such as Facebook Messenger.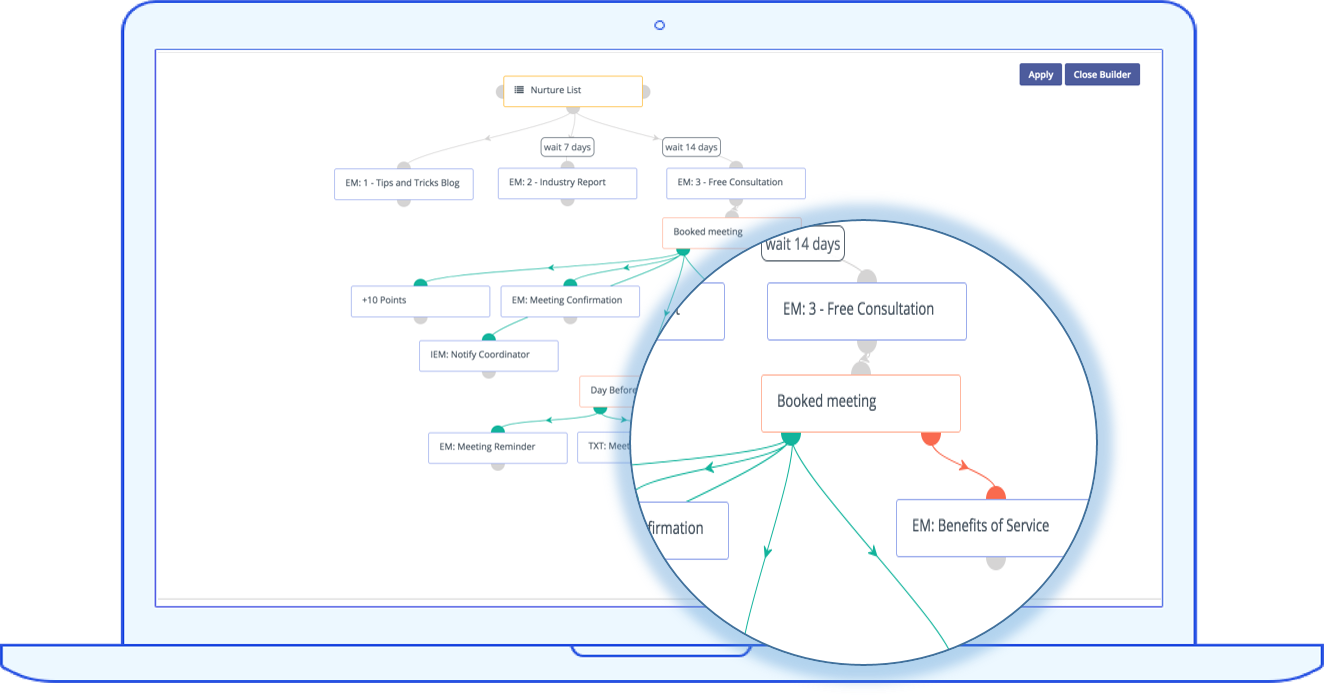 Automated campaigns are easy to build and will save your organization money and time wasted on old processes.
When the need to use their insurance coverage arises; your customers expect a smooth and seamless process. Delivering a hassle-free claim management experience is critical to your insurance business; as this is when your customers make up their minds regarding whether to renew their subscriptions.
Automation of traditional claim management processes through channels preferred by the customers will go a long way in differentiating you from the competition. Customers will appreciate getting fast responses and the fact that they no longer have to wait in long queues over the phone or at your offices.
For example, creating a dedicated and automated help center via mobile that clearly addresses frequently asked questions by customers who seek to manage their claims and learn how to use their insurance. This will save your business time, effort, money, and other resources wasted over traditional support over the phone. On the other hand, your customers will be relieved that they gained access to the clarity they needed quickly.

Step 5: Renewal and retention
Every moment spent on your website and every single piece of communication you send to your customers influence their impression of your business. Ultimately, their subscription renewal will rely on how positive their entire experience was across all the steps we discussed earlier. 
The process of renewal and retention shouldn't be complex. If your customer wants to continue or adjust their insurance coverage, don't make them ring up your offices and wait on the phone until you complete multiple phone calls from customers who wish to do the same. They are more likely to start exploring what your competition has to offer.
Situations can easily change during the life of your customers and their needs evolve. I recently bought a house and wish to get the insurance that covers it, there is no need to make me buy another coverage plan just because I originally purchased coverage for a car only. Make your coverage plans flexible and easier to adjust by simply adding a quote for the house.
Extending my insurance coverage should also be feasible across any channel I prefer to use… whether it was mobile or web. Just as in all steps, convenience is the key ingredient valued above all else.
"The operational efficiencies you can capture by applying technology to the middle and back-office are a huge, real-time measurable benefit." – Greg Baxter, Chief Digital Officer – MetLife, Inc.
In the next 5 years, insurance coverage customers will become increasingly channel-agnostic and demand nothing less than a personalized experience. This will require you to provide a to get up close, individual and contextual with your communication. 
To deliver on that expectation, you will need a combination of technologies and tools that are currently being adopted by insurers who identify the opportunity of taking the lead early on and shift their attitudes to embrace and invest heavily in the digital future of streamlining their customers' journey and experience.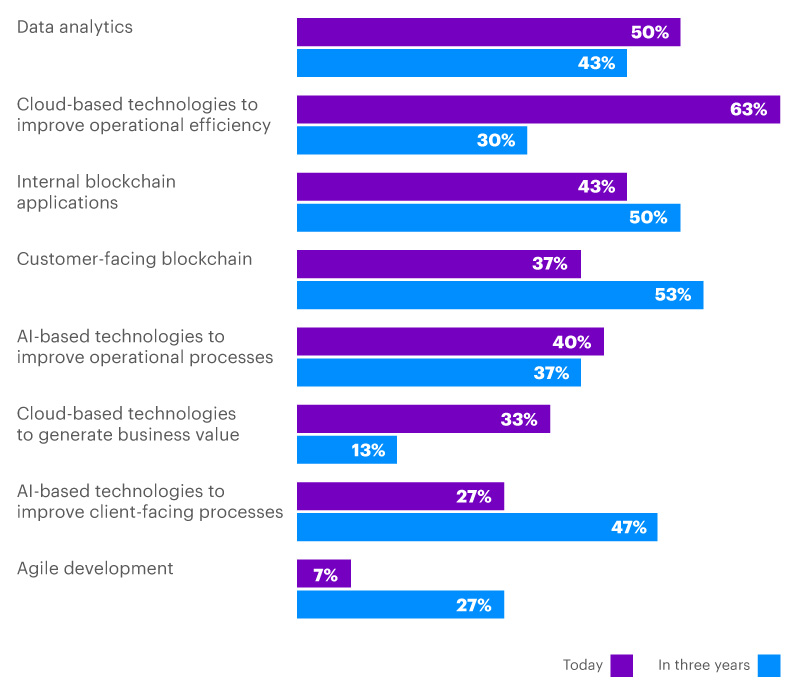 Digital Transformation is Remaking Insurance - Source: Accenture
---
In the end, the logical questions you need to ask yourself are;
Is my insurance organization responding to your customers' increasing demands for flexibility and personalization regarding insurance policies and services?

Are you willing to change your mindset in order to survive the tide of disruption that the changing economy will bring to your industry?

Is real-time, customer-centric insurance a potential capability that your business can deliver in the short term?

Do you have an appropriate IT strategy for the next 5 years to capitalize on all the emerging trends?

Do you currently have the right IT infrastructure to meet your customers' demands or deliver a winning digital experience?
According to a survey conducted by Accenture earlier this year; the insurance industry is expected to be digitally transformed by 2024. But the main challenge that is considered to be a hurdle towards fully embracing this transformation is overcoming the legacy systems and mindsets in place. Insurers need to innovate, become preventers, and establish partnerships with their clients and strategic IT solutions providers that specialize in building effective digital experiences and deliver complete enterprise digital experience value stacks that include marketing automation, capability building, and cloud platforms.
Need Support?
Talk to our experts to explore how your website performance is impacting your business and identify solutions.
Digital
Insurance
FinTech
Digital transformation
SEO
Drupal 8
Mautic
Marketing
Search Engine Marketing
Marketing Automation