8 Winning Travel and Tourism Marketing Tactics
Firas Ghunaim
July 5, 2020
Many countries in the world prioritize the travel and tourism sector due to its extensive impact on stimulating other economic sectors related to the tourism value chain. Such related sectors include transportation, healthcare, financial services, retail, hospitality, shipping, car rentals, restaurants, food and beverage suppliers, and much more.
All the aforementioned sectors and businesses are directly dependent on attracting inbound tourism to their destinations. Attracting inbound tourism and destination marketing is the key and sole objective of a travel and tourism website.
1. Connect Stories With Travelers
Your destination or region will undoubtedly have many experiences to offer travelers. These attractions and activities are probably being actively promoted via images, videos, articles, downloadable ebooks, guides, digital maps, VR, and lists.
A common challenge for travel and tourism websites is that they cannot sustain a seamless and hassle-free experience for their visitors due to the nature of their content-heavy marketing effort.
Their sites were becoming increasingly unstable due to outdated technologies and an increasingly difficult content management system (CMS) that often resulted in content managers breaking pages. Page load times were unacceptably slow for this heavily image-based site
Image management was increasingly difficult without categorization facilities as the library grew.
Drupal 9 is developed with user experience at the core of the technology. Building your travel and tourism digital experiences using an enterprise-level multilingual CMS ensures that your marketing efforts and immersive multimedia promotional content is enjoyed by your target audience in a seamless manner - regardless of how heavy your platform may be with content.
Learn Why Varbase CMS Is the Best Multilingual Enterprise-Grade Drupal Website Builder
2. Be Responsive and Flexible
The global outbreak of Coronavirus (COVID-19) caused many governments to issue restrictions on travelers. The Hashemite Kingdom of Jordan was one of the countries that issues a severe lockdown to mitigate the threat of COVID-19 spreading.
With travel and tourism being the main strategic sector for their economy - the Jordan Tourism Board (JTB) actively promoted local travel and tourism within the kingdom's borders as soon as restrictions on travel were relaxed. The JTB also added an "Immersive Experiences" domain to make their various major attractions accessible for everyone via VR.
Being responsive is more than just being available from any device; it's also about having the technology that provides you with the flexibility needed to adapt to factors out of your control. The time to upgrade your website performance to a superior CMS is now - as more people contemplate traveling as soon as the travel ban is lifted.
As uncertainty appears to linger in the air regarding how soon we can freely travel borders, VR can become a popular alternative for people to enjoy particular experiences that your destination may offer. However, this will require you to assess your IT infrastructure's capacity to accommodate such solutions.
Building your destination's digital ecosystem and interconnected web of channels on Drupal 9 will enhance your capacity for ongoing growth and the ability to scale your digital experience when necessary to keep up with the trends and UX best practices.
3. Stimulate Trips To Emerging Travel Attractions
Create the ultimate network of digital experiences via Drupal's multisite functionality.
Your destination marketing team can create, update, publish, and promote content for every attraction's website or domain from one centralized CMS. Each attraction's digital presence can be managed and promoted to its target audience from a centralized content publishing process that enjoys a seamless workflow based on tiered permissions for content creators, editors, and marketers.
What does that mean? 
No more duplicate content issues.
More lean and efficient marketing teams are needed.
No more time wasted by the marketing team(s).
Superior content development and marketing results.
Your marketing and technical team need not waste their time by duplicating the effort and time it takes to recreate or re-upload content to each relevant website or domain under your destination brand's name.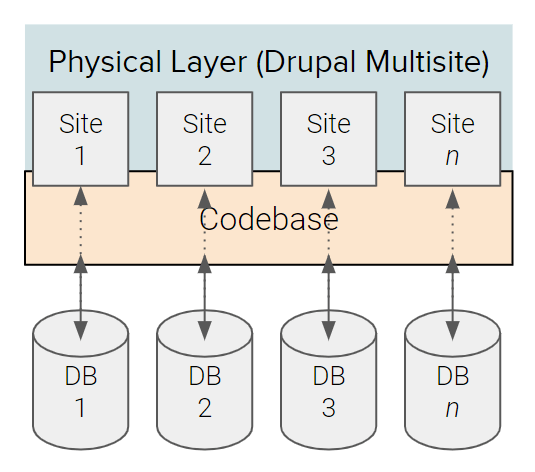 With multisite functionality; your websites can enjoy:
Seamless content publishing and management workflow process
Tier-based content moderation permissions for users
Best-in-class cybersecurity - continuously upgraded and updated
Mobile-responsiveness
Branding (if required) and UI/UX design systems
Ability to create dynamic, flexible layouts with Drupal's Layout Builder
But the multisite architecture solution can be used for related domains as well.
For example, many official travel and tourism websites such as VisitFlorida.org have audience websites that can all share best-in-class security, content publishing workflows, UX features, and mobile-responsive layouts, all controlled and moderated by one centralized CMS and admin team.
4. Focus On The Digital Traveler Needs
The goal of any tourism site is to inspire visitors to travel and explore a particular region - from activities to geography - through relevant content across their existing website.
For the majority of travelers, the travel and tourism website they visit will be the first major impression of the experience they expect to have at the destination being promoted on that website.
Connecting stories relies on finding the right audience wherever they are and whenever they are searching for what your destination can offer them. This means you need a rich content-heavy digital experience that constantly evolves into a deeply personalized user experience for each user and website visitor.
You must ask yourself key questions like:
Can any traveler easily access our website from any device or smart assistant?
Can any traveler easily understand what we want them to understand on our website?
Can any traveler communicate with us easily via our website or connected apps?
Can any traveler easily navigate our website and/or destination?
Can any traveler interact without any barriers or any communication while visiting our destination attractions?
Drupal 9 will allow you to connect those content-rich experiences and stories with travelers anywhere, anytime, and across all devices thanks to the endless capability to integrate with all necessary tools, solutions, and technologies to sustain an up-to-date digital ecosystem.
5. Personalize User Experiences
One simple method to achieve this is to enhance your communication via personalization.
Utilize the power of automation to deliver an exceptional experience to specific audience segments.
For example; gathering insight and data into how each user and visitor interacts with your digital platform informs your marketing team on how to optimize each landing page for higher conversion and engagement rates.
Utilizing essential integrations such as marketing automation will enable your marketing team to send dynamic and personalized marketing messages in the form of tweets, text messages, notifications, and emails to each website visitor based on their behavior on your website.
This insight into your website traffic will allow for a clear idea of how to optimize your landing pages for richer user journeys, higher engagement, and conversion rates.
The potential and opportunities are infinite with insight-driven marketing automation; ultimately you will be able to create advocates and champions of your destination by ensuring that travelers and tourists enjoy their travels from A to Z.
Winning Micro-moments: Mrs. Smith is on a 2-day business trip and she wanted to visit the main attractions close to her accommodation within the limited free time she can enjoy. Mrs. Smith can be a member of an audience named "One night only business trip" and can receive tips regarding which attractions she must visit within the city.

Moreover, she can be provided with quicker access to attractions and jump the queue via an online ticket code specific to members of this audience segment.
6. Hassle-Free Digital Experiences
Drupal 9 digital experiences are the most advanced travel and tourism websites that continue to deliver better on-page speed performances eliminating any frustration that website visitors can experience across any device.
Travelers seeking deeply specific search results for their holidays or business trips can easily find results quicker on Drupal-powered websites and digital platforms due to Drupal's on-page SEO superiority and integration with advanced search engine modules such as Apache Solr.
Your marketer's published content has a much higher chance of ranking higher on search engines due to built-in SEO tools in the CMS that allows your content editors to upload marketing content optimized for better SEO performance across all devices regardless of the format of the content.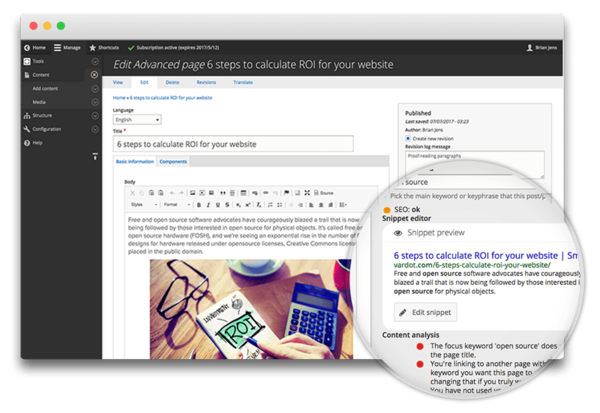 7. Incremental Growth and Critical Integrations
Are you set up for continued implementation and continued delivery of essential managed support services that ensure your performance at optimal levels? If not, you are already behind in sustaining standards of quality. 
Travelers are always looking for the most convenient value-based offer they can find. Their needs are evolving as are their perception of what an ideal UX should be when interacting with brands online. Enterprises have realized that they must transform into a breathing digital organism that consists of an interconnected network of relevant touchpoints and channels that their target audiences engage in.
Creating an evolving digital experience that constantly delivers on those evolving needs will require a reliable IT support partner that ensures that your website is constantly supported with essential UX-related features such as upgraded security and search engine modules.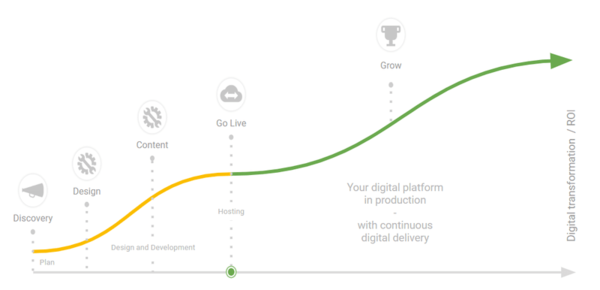 Is your destination's first impression an outdated website or rather an immersive digital experience made for the digital world? Is your travel and tourism website integrated with essential 3rd party apps that should make up your interconnected web of touchpoints that your target audience can and will interact with you from?
In fact;
Do you have a booking management system where travelers can make their entire accommodation plans quickly?
Do you have a secure payment gateway that accepts all currencies and payment methodologies?
Do you have an integration with essential marketing automation solutions that personalize your marketing messages for each website visitor based on their behavior and history of actions on your website?
Do you have an integration with automated chatbots that are increasingly being relied upon for FAQs?
Does your chatbot speak in tongues to cater to a globally diverse audience of travelers and tourists?
Can your marketing team easily build new content-rich and dynamic landing pages when required?
Through our decade-long experience with building digital experiences for global enterprises; we have realized that they valued reliable hosting, support, and maintenance above all criteria when selecting a vendor.
Support and maintenance by a dedicated and proven IT partner will be key to your long-term digital transformation plans and growth strategy.
Digital transformation is a commitment and a process that demands clarity and commitment.
8. Investing In Digital Tourism
Disruption will continue to occur, and expectations of your target audience will continue to shift.
You must align your digital and growth strategy with the technical requirements needed to ensure your ongoing sustained success. Investing in the right technology means that you will never need an expensive rebuild every time a critical update/upgrade is required.
Keep an eye on the future. Drupal's ability to integrate easily with any technology, solution, tool, or required 3rd party app makes it the ideal enterprise-level technology and CMS for digital experiences focused on personalized UX.
If your vision is ambitious and clear, you cannot build it on an inferior IT infrastructure that will only deliver short-term wins and long-term losses. Protect your future by making smart decisions today.
If you wish to consult with our travel and tourism IT solutions development experts, you can book a free consultation to discuss your opportunities and potential to drive more tourists to your destination.
Travel and Tourism
Digital transformation
Digital Experience
Drupal 9
Drupal Planet
Drupal 8
Design & User Experience