5 Enablers of an Effective Development Team
Omar Alahmed
March 31, 2019
We have been delivering high-quality digital products and services for almost a decade now and we have realized that our continued growth and success were due entirely to our client's positive references and word-of-mouth.
It was evident that our target audience of clientele valued trust and reliability over anything else when it came to deciding upon an enterprise solutions provider.
They wanted to invest in a team that delivers exactly what their digital business requires, hassle-free and on time.
A perfect launch and project delivery requires an effective development team. Here are 5 qualities and factors that can enable you to build such a team:
1. Passion
You need to hire selectively.
As a technical lead on various projects; I stress the importance of hiring new team members based on their attitude toward the job.
Developers don't always face common issues as there are always fresh challenges that arise with different projects.
I need to know that my team members can take initiative and go the extra mile to search for a solution to any challenge that may arise.
Not all developers are like that.
A developer that has a passion for his craft will always look for personal growth by welcoming the new challenges that pop up during any project.
She or he will have a heightened sense of clarity, deliberation, communication, coordination, and focus to deliver the best digital project possible.
People thrive if they love what they do and this truth applies to our field more than anywhere else in my opinion.
2. Specialized Expertise
Each project at Vardot will typically feature both senior and junior developers (front and backend) directed by a software architect to ensure that best practices are delivered.
This is what I refer to as a balanced team with all areas of expertise covered. At least technically.
Having a complimentary team of specialized developers allows for various key advantages such as a focused dedication toward delivering your relevant tasks on schedule.
When a specialist handles their area of expertise within the development process; the room for error is minimal.
More importantly, such a complementary team of specialists allows us to deliver projects faster than anyone else without compromising quality.
We can avoid the common risks and disadvantages that other teams typically face; such as longer development hours, project delivery delays, and expensive errors that arise due to gaps in knowledge and a lack of competent implementation.
An effective high-performance development team must have focused dedication toward delivering on schedule.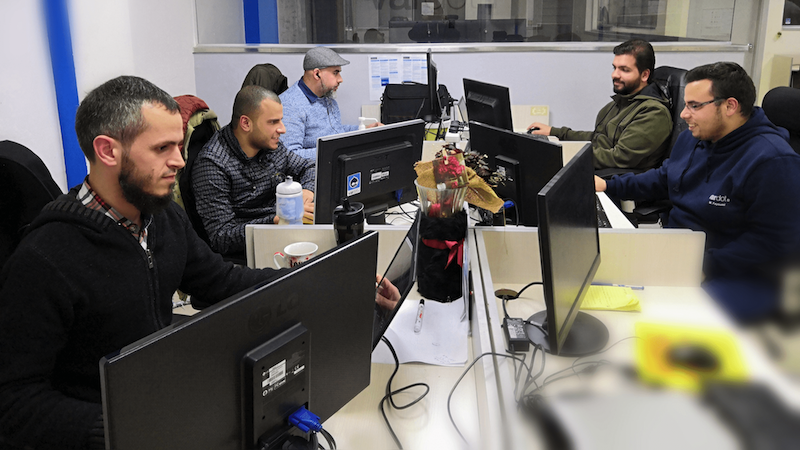 3. Proactive Knowledge Transfer
An effective developer is one who always tries to better himself or herself. An effective development team is comprised of team members that transfer knowledge to one another.
As members of the open-source community; we encourage and practice the principle of open communication and collaboration to always enhance ourselves and our ability to create better digital products.
An example of that is our Slack channel for the Varbase development team; a community of users who are consistently providing feedback and solutions for the improvement of Varbase.
On a more personal note; I enjoy reading about all the latest news about Drupal directly from Dries Buytaert (founder of the Drupal project) who also shares pretty insightful content relevant to Drupal.
Other resources I usually like to learn from include: OSTraining and Smashing Magazine.
This proactive attitude towards attaining knowledge and sharing it will allow us to consistently deliver engaging digital experiences for our clients based on fresh best practices.
4. Coordination
I can't stress how important this factor is in ensuring that you have an effective development team.
You can have the best development skills in the world but that will not help you deliver quality digital products or services on time without a sense of organization and coordination.
Managing the project delivery process is a key aspect of ensuring that the IT development team runs smoothly.
You need to have a technical lead or better yet a project manager that can speak the language of both worlds: the client's and ours.
The project manager must be able to understand the technical aspect of the project to be able to effectively communicate and translate the technicalities to the client in a clear manner to avoid any unwanted delays or errors that typically arise from a client's misunderstanding.
Of course, the same applies and vice versa.
The project manager must be able to effectively translate the client's needs to the development team into relevant technical requirements to avoid confusion and waste of time from our end.
5. Culture
Finally, but not least important; the culture.
Your development team and their relevant support departments (e.g.) Quality Assurance and DevOps; must believe 100% in the standards set.
They must believe the mantra of 'no such thing as our lesser work' and this stems directly, as always, from leadership and management.
At Vardot, we have a culture that focuses on quality assurance pre, during, and post-project launch.
Quality assurance shouldn't stop where the clients and their end users may be concerned (usually the front end). We conduct peer reviews to inspect the backend to ensure that the project is scalable and secure and that no scenario would impact its expected performance.
We reward each other for taking initiative, and being creative and always encourage our developers to be bold enough to make mistakes.
For us developers... mistakes are essential to gain the invaluable experience we need.
A culture that enables us to achieve such experience and allows us to thrive will serve as the foundation and platform needed for this development team to earn the trust of any client that values quality and reliability.
---
The aforementioned factors and qualities are not just opinions; after all, implementing them every day enabled us to become one of the top 10 Drupal solutions providers in the world and the best Jordanian B2B solutions provider in the MENA region.
Always at your service and happy to realize your digital business goals. Contact us here if you have any questions.
---
Omar Alahmad is a Technical Team Lead at Vardot and the first Drupal 8 Grand Master in the MENA region.
Awards
Drupal 8
Design & User Experience
Website Launch
Drupal