3 Things That Optimize Higher-Ed Experiences
Firas Ghunaim
September 10, 2019
The objectives of any university and/or school should be to enhance the communication and problem-solving skills of their students. Such dreams have become easier to achieve thanks to the advances made in digital technology and the purposeful utilization of relevant technology to enable their students to think both creatively and critically.
Integrating that technology and the latest trends into curriculum development and instruction delivery is but one example of higher education institutions winning the digital education experience game.
Employing the needed technology in the right place will allow universities and schools to achieve strategic goals such as:
Saving costs and reducing time spent on administrative tasks by automating repetitive processes and eliminating redundant ones.

Controlling information and moderating content published on their website(s).

Enhancing the user experience and relationship between the student body and faculty staff.

Optimize links between the various digital platforms operated by the institution.
Disregarding the digital experience standards expected by potential students has harmed many institutions and has cost them dearly in their bid to continue recruiting students and more importantly, retaining them. 
Higher education institutions that have realized that early on made the strategic decision of committing to the intellectual development of both students and faculty. The majority of the top universities in the world opted for Drupal in a bid to transform their website into a digital experience that engages potential students.
Deliver superior campaigns, content and results in minutes with Vardot Marketing Automation Solution.
How to Optimize Higher-Ed Experiences?
1. Utilize Marketing Automation
Recruitment is one of the key objectives around which higher education institutions build their marketing strategy and budget around. Sadly, many believe that they have the digital front covered by simply building a website in an SEO-friendly manner.
Search engine optimization (SEO) is not a recruitment strategy. SEO is no longer enough to convert potential leads into customers. It's simply the first stage. What's the point of being discoverable on search engines only to offer way below the expectations of potential students about information about the campus, faculty, courses, and life around town?
Just like other businesses operating in various industries; higher education institutions must employ proactive marketing automation tactics and solutions that extend their reach and message in a personalized manner to every potential recruit out there.
That's right. Personalization matters and has been a cornerstone for digital business success in the past recent years.
Instead of spending hundreds of thousands on international recruitment trips, you can personalize your message in various formats across all channels and devices by choosing the ideal marketing automation platform. 
You can easily identify and convert anonymous visitors to your website and create targeted segments that allow you to automatically communicate an effective message personalized to every lead or website visitor via easy-to-setup forms & landing pages for non-technical experts.
Save the money spent on traditional methods of recruitment and be prepared for the more tech-savvy students who are already scouting your university's website for appealing content and information.
Make sure that they find what they're looking for and that they get a pleasant first impression.
2. Personalization
That first impression is made via your website. Does it provide an effective user experience?
Through increased access to the internet and high levels of connectivity; the world has become a much smaller place and as a result, your target audience has become significantly larger. You have to make sure that your website caters to a global market via engaging personalized content and lead-generation tools.
A major ingredient of personalized content and user experiences is language. You must ensure that your website is search engine optimized in an ongoing manner in all the languages that your target markets speak.
"Every language !?!" I hear you exclaim… Yes. It's easier and simpler than you think.
Your website can be translated into every language there is easily if you choose the appropriate CMS and personalization solution to build your digital presence. If you intend to reach an international audience of potential students, a relevant user experience (UX) in their language will be essential to ensure you optimize your chances of recruiting them.
Your university or school can reap the benefits of a UX that delivers your student's needs. Such needs include access to resources at the library via bots. Another example would be granting your students access to classes (i.e. webinars, notes, e-learning, etc.) through digital platforms connected to your website.
For example, some school and university instructors realized that some of their students do not learn at the same pace as their classmates and decided to create online study groups where they spend more time with those students in a bid to ensure they aren't left behind. A dedicated platform can be created for such one-on-one interactions.
The aforementioned needs and features are what your students on and off campus expect of you. To deliver them, you will need a strong and resilient Digital Asset Management (DAM) system and CMS in place to handle all the multimedia content without negatively impacting the performance or quality of your website. 
3. Optimized Higher-Ed Experiences
Better yet, you can build microsites dedicated to providing these features without having a nightmare controlling or moderating the content publishing and management process. With Drupal, you can have centralized management over a large number of sites. For example, you can create:
A library microsite

A student/faculty life community microsite

An e-learning microsite platform

A microsite for labs

A microsite dedicated to research & journals
All these microsites will share the same database, configuration, and even branding if you choose. The best part? You can keep building as many microsites as you want without much technical help or expertise needed. For free. That is the beauty of Drupal.
User experience isn't limited to the classroom and studying.
For example, a major challenge for universities has been their ability to retain students. One of the critical reasons appears to be that students fail to adapt to their new surroundings and make meaningful connections in their new destination. One popular solution is to create a digital community that guides and assists new students to easily adapt to life on and off campus.

 
When to Initiate Transformation?
Suppose you are still in the consideration stage or haven't even begun moving towards enhancing your higher-ed experience. the time is now. Many universities and schools have begun leading the way a couple of years ago because they realize that they need to change.
"But change is expensive and inevitable… so why bother?"
Digital transformation is not an option it's your ticket to highlight why your university or school is the ideal destination for students. Don't balk at the cost of this change. 
Managing a university's entire web presence, website content, and website compliance with standards and accessibility across an entire campus is a monumental job. Drupal is used by 7 out of 10 top universities and educational institutions around the world. That makes a convincing argument for rating Drupal as the best platform for higher education websites.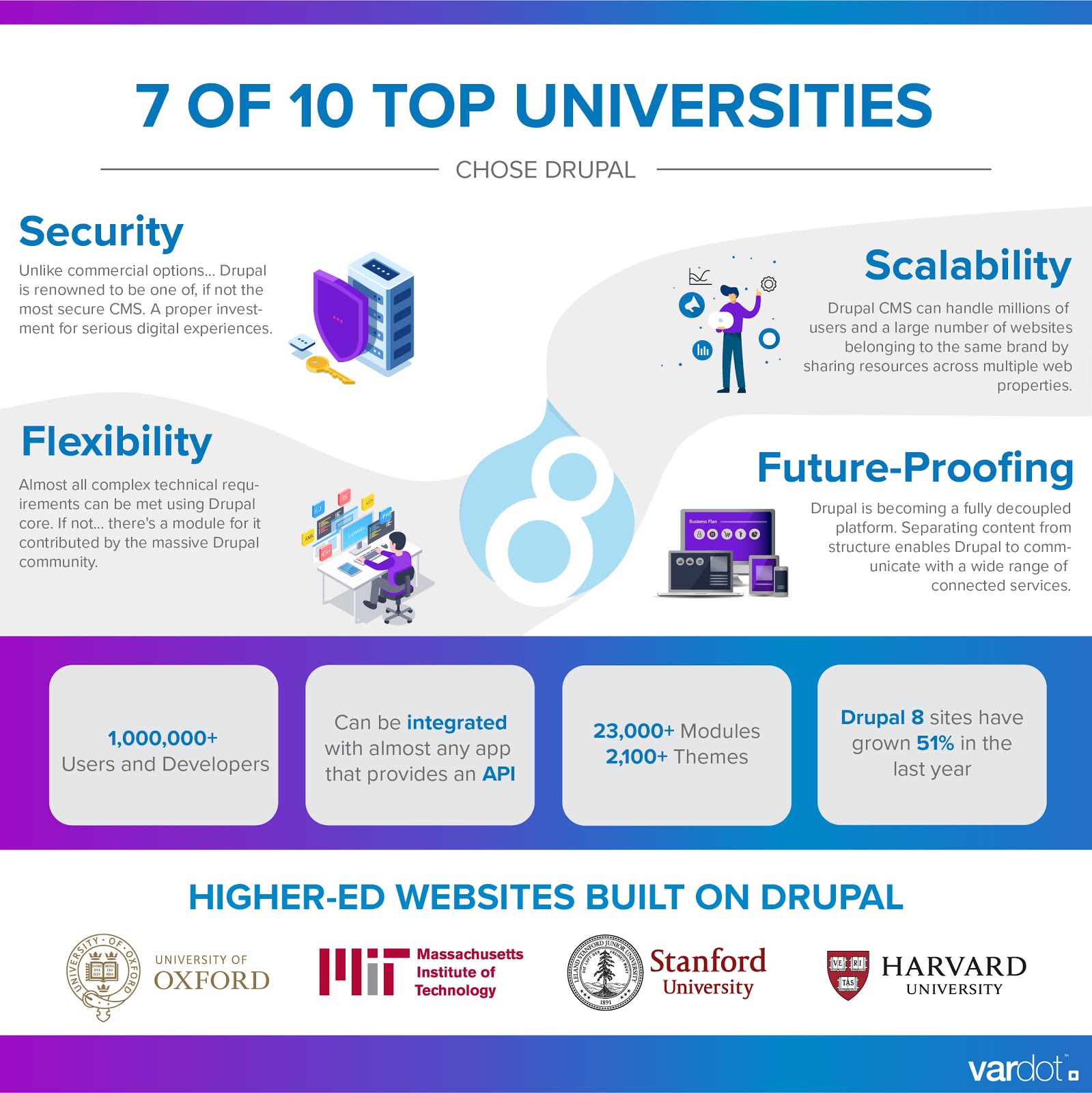 It's time for leadership to commit and act strategically by investing in technology that lays the foundation needed for all the desired future growth and disruptive trends that may impact higher education.
Discuss internally and identify exactly where you see your institution in the short and long term. Consult your internal technical staff regarding relevant solutions and options. If not; evaluate vendors and service providers who specialize in crafting higher education digital experiences.
Everyone knows that transformation can be a challenging process. We can assist you in your journey toward transforming your university or school's performance in today's digital world. Contact us here for a free website performance audit.
Personalization
SEO
Drupal 8
Higher-ed & Schools
Digital transformation