A Sophisticated Platform Deserving of the Crown Prince's Initiatives
A smooth functioning, aesthetically pleasing website with balanced navigation features for HRH Al-Hussein bin Abdullah II of Jordan
Image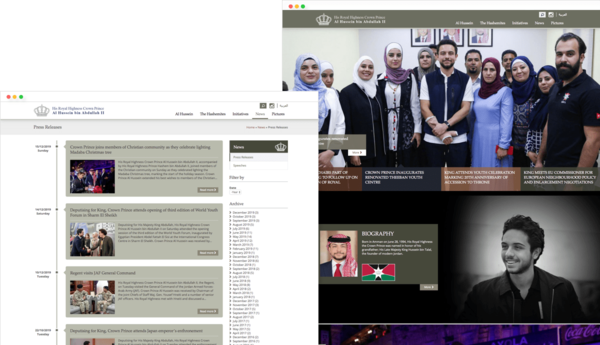 Using open-source technology, Crown Prince Al Hussein's website is a multilingual platform that provides crucial information regarding his work and activities in Jordan and internationally.
Thanks to its cutting-edge design, visitors to the Crown Prince's website can easily find and navigate content relating to breaking news, speeches, and op-eds, as well as information regarding his initiatives, including Hearing without Borders, Haqiq, Qusai and the collaborative program between Jordan and NASA Ames Research Center, which provides internships for Jordanians interested in pursuing careers in technology.
And the website was designed not only to house content pertaining to the Crown Prince's endeavors but also to make said content accessible in an intuitive and interactive way while optimizing it to have considerable digital reach.
Harnessing the power of Drupal, its sophisticated content management framework, the website is fully integrated with the Crown Prince Al Hussein's social media accounts—including his Instagram and YouTube channel—and features a newsroom and photo galleries, providing users with a rich multimedia experience.
And not only was the website carefully designed to function smoothly, it was also built to look good while doing it.
Specific attention was given to aesthetic quality—namely by integrating unique branding focused around the Crown Prince's flag, a Royal Standard consisting of segmented rays of black, white, green and red bands that are connected by a white seven-pointed star encompassing a silver crown.
Additionally, the website features a beautiful rendering of the Hashemite Family Tree illustrating Crown Prince Al Hussein's direct lineage from the Arab Chieftain Quraysh as the 42nd-generation direct descendant of Prophet Mohammad (Peace Be Upon Him).
As a result of the website's balanced navigation features, accessing crucial information regarding Crown Prince Al Hussein's socially driven initiatives—including sports, education, youth empowerment and employment and specialized care for special needs citizens—is an easy and rewarding experience.  
To achieve this result and build a website deserving of the Crown Prince's notable activities, Vardot employed Drupal 7, and a sophisticated enterprise-level hosting provider as the bedrock for the platform, ensuring that it performs at the highest-level and is optimized for the latest developments in web technology.