A Hub of Integrated Sources of Knowledge and Research
Enabling knowledge sharing to improve the livelihood resilience of rural dryland communities with a rapid multi-site launching system.
Image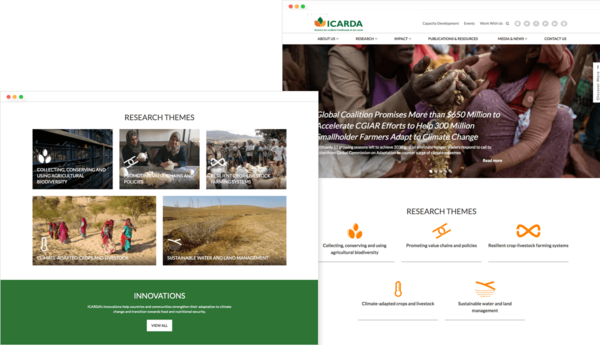 ICARDA is an international organization undertaking research for development.
They provide innovative, science-based solutions for countries across the non-tropical dry areas. The research aims to reduce poverty and enhance food, water, and nutritional security and environmental health, in the face of global challenges, including climate change. 
In mid-2018; ICARDA partnered up with Vardot to build their new web presence and digital experience on Drupal 8.
Image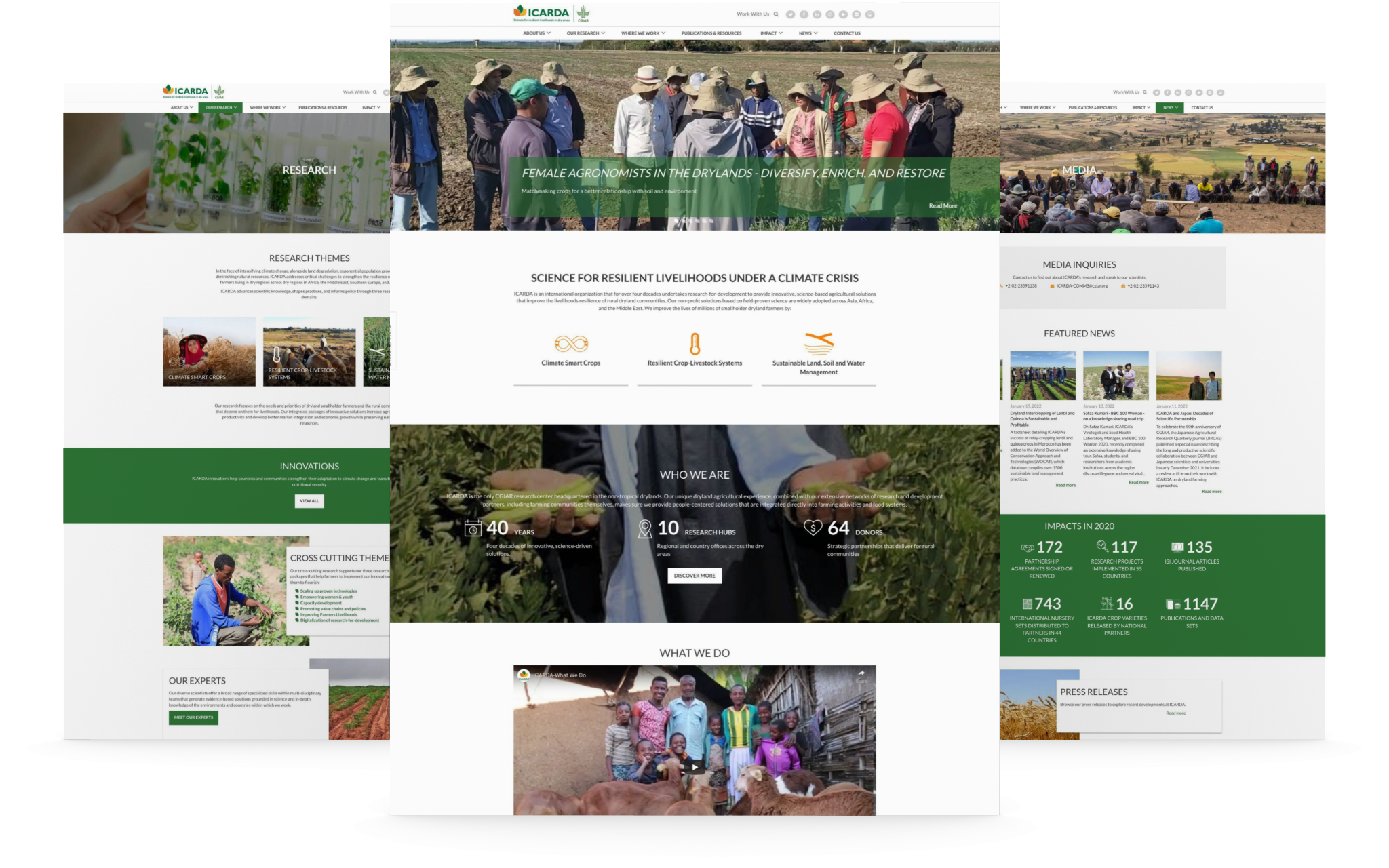 Critical Integrations
The performance and user experience were vastly enhanced thanks to the capability of Drupal 8 to integrate 3rd parties seamlessly.
ICARDA runs a massive network across the globe and they need to update their website content as timely as possible. Such content would include:
Vacancies
Employees and Experts
Publications
Projects
Donors
Regional Offices (New offices and their updates)
Vardot built the new Drupal website enabled with Feeds integration; which means that ICARDA is now able to auto-update the aforementioned content across the globe. Using frequent cron jobs, no update goes missing or without publishing.
Another highlighted integration was that of their internal resources system which included all their internal data and digital assets such as their database of staff members and their profile with the new site using LDAP protocol. The LDAP integration with the new Drupal CMS enabled seamless and secure website access for all employees (old and new).
Moreover; this integration enables automated web admin or user role assignment or mapping based on the restrictions/permissions assigned to each job title already established in their internal resource management system.
This flexibility in user role management proved to be a major boost to ICARDA's content publishing process.
Smooth Migration
As an international organization that relies on transparency and getting its message forward; ICARDA couldn't afford to risk its content and database of digital assets being diminished or worse, lost.
Vardot migrated all files, digital assets, and content without any data loss. Such data includes their projects, profile information for over 500 ICARDA staff members and over 1,200 articles of content spread across research and publications.
Refreshed User Experience
From page loading speed to broken links and pages; UX was a major challenge for ICARDA's legacy website. Vardot studied every aspect of ICARDA's needs to ensure that its targeted audience can enjoy a personalized user experience and journey throughout the site.
The legacy website didn't offer a search engine that meets the current searching behavior of users. Inconvenient on mobile, inaccurate with results and unresponsive to any common spelling errors. In fact, many times; the search was entirely broken.
Using Apache Solr; Vardot introduced a new filter to provide users with a convenient, personalized results page that enables them sort results based on various relevant criteria. This basic feature didn't exist before and caused frustration for the user.
Their "Publications" section required a dedicated search feature that enables their readers to easily browse, navigate and find the publications they wish to read. Advanced search filters and tools such as auto-correct spell checking enabled for much friendlier user experience.
We also introduced dynamic menus to the user experience. Their menu can highlight the latest content updates in a seamless manner.
Of course, needless to say, the website was built mobile-first and responsive. The Paragraphs module implemented in the website allows the web admins to easily create new web pages personalized to that web page relevant audience. Styles are pre-defined in Varbase and match the best practices for media and content consumption behaviors.
The new Drupal website also benefited from a fresh coat of paint. The aesthetic of the legacy website was outdated and needed a revamp which included essential UX features embedded in the new site.
For example; the map visual of ICARDA's regional offices which have been integrated with Google Maps. Each time a new regional office is set up anywhere in the world; the website admin can simply enter the location of the office and it will easily pop-up on the smart map.
Micro-Site Development
As aforementioned; ICARDA's team develop a microsite for each of their temporary projects. However, this proved to be costly in terms of time, money and manpower with varying results.
Thanks to the Domains module; ICARDA's team can now develop dynamic microsites for any of their temporary projects without the need for technical knowledge or expertise. ICARDA can build all the microsites they want for free using preset and predefined UI configurations. No need to commission the services of a web development agency to build one each time a project requires one. Media management for those microsites will be centralized from the Drupal CMS and all microsites share the same database with access provided based on permissions.