Awa2el Educational Community
Building collaborative communities around education.
Image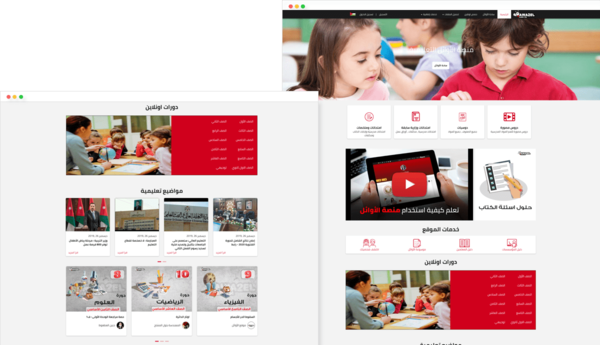 Awa2el is the largest collaborative educational community in the Arab World with over 85,000+ members comprised of students and instructors. Awa2el's media library of lessons features over 3,000+ academic material personalized to the academic syllabus that the students are studying in schools currently.
The platform enables both students and instructors to engage and interact with one another in a personal and social environment which grants freedom and convenience to grasp knowledge in a dynamic manner that traditional classrooms are deprived of.
An exciting project that made education accessible to all.
Social Transformation
Despite the growing base of community members, Awa2el was largely falling behind in terms of user experience and technology. 
We transformed Awa2el into a collaborative educational community; users were able to:
Engage in contextual and topical discussions
Follow subjects and instructors
Join relevant study groups
Share and post on community pages
We were able to add these social features and enhancements thanks to Open Social; created by Goal Gorilla. You can learn more about how Open Social enables social Drupal solutions here.
However, we didn't stop there.
At Vardot; we deliver digital experiences that people enjoy. So we personalized Open Social to match the target audience needs.
We Arabized Open Social in addition to enhancing social engagement with gamification features that reward the users with points for their interaction with their fellow Awa2el community members.
Structured Search
Users had a very difficult time finding the specific content they needed due to the outdated media library on the previous platform. Searching was a mundane, lengthy and overall horrible user experience.
After migrating the platform from Drupal 7 to Drupal 8; we were able to introduce a more structured internal search engine that enabled users to find what they wanted based on a number of relevant search filters and criteria.
Optimized Mobile-First Performance
Awa2el's previous platform was plagued with major bugs, errors and performance-related issues that hampered the overall UX for users. Since we upgraded the technology used and transformed Awa2el into a social platform; these issues were a thing of the past.
New users can easily register with single sign-up social features via Facebook with potentially other social media platforms to be available later.
The older platform used to crash and have major server issues every other 2 days. Not anymore.
The new platform can handle any traffic size and content load without compromising on performance quality and standards across all devices.
Successful digital businesses require solid and next-gen foundations. Contact us to discuss your transformation.