Introducing the American University in Cairo's New Website
June 23, 2015
On June 23, 2015, the American University in Cairo [AUC],  formally launched its newly redesigned school website. The AUC's new website was developed by Vardot — an Amman, Jordan based web development firm — using Drupal as its content management system, and was intended to set a new standard of quality and innovation for online higher education platforms in the Middle East and North Africa.
The AUC is an independent, English-language liberal arts university located in Cairo, Egypt,  where it provides 7,000 students access to American-styled learning programs at both the undergraduate, graduate and professional levels, along with a continuing education program.
The university had good reason to need a cutting-edge website: it has an international reputation as one of the region's most dynamic institutions. In 2014, the QS World University Rankings placed AUC as the top university in Egypt, 3rd in Africa, and its school of business among the top 200 in the world—but unfortunately its old website suffered from several glaring deficiencies that made it incompatible with online education standards.
The AUC's legacy website featured an abundance of debilitating flaws, including:
Usability challenges for content creators 
An absence of styling consistency
A lack of responsive design  
A lack of digital asset flexibility
Inadequate social media integration and community engagement
Limited availability of Google Analytics Reports for section/ content owners
Hidden user needs
Unclear development roadmap
A lack of true personalization 
The combined effect of these factors compelled AUC to go back to the digital drawing board—and with Vardot's help the university now has the online education platform its students, faculty, and administrators deserve. 
Taking advantage of Drupal 7 and the sophisticated capabilities that make it an ideal CMS for building education-focused web platforms, Vardot built a fully responsive website designed specifically to streamline navigation, reduce the amount of cluttered and confusing pages, and integrated it with social media channels to promote outreach and facilitate dialogue amongst the website's users.
In short, AUC's new website is a shining example of what an online education platform should be, and includes all the tools and features necessary to allow tech-savvy students to thrive in an increasingly digital world.
Image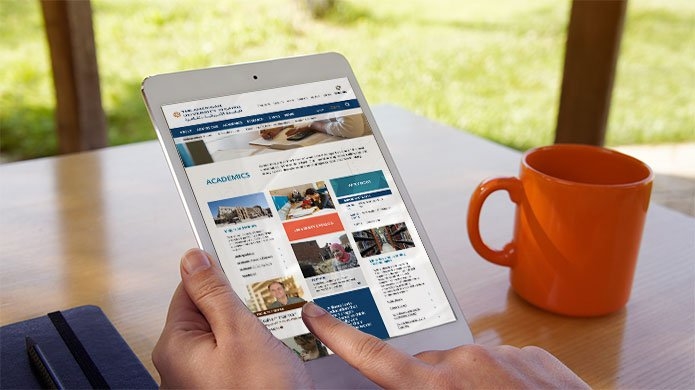 The AUC can now proudly count itself amongst the ranks of schools, universities, and online learning platforms that are turning to Drupal as the CMS of choice for education related websites. The university also joins Georgetown University School of Foreign Service, the Modern American School, King's Academy, and the Ewan Institute as online educations websites built and maintained by Vardot. 
For more information regarding the project and Vardot's work developing education-focused websites, please feel free to email us here, and we'll promptly answer any questions you have. 
More News
PRESS RELEASE
August 2, 2017