Vardot 2021 Year in Review December 29, 2021
As we edge towards the end of 2021 and prepare to welcome 2022 to the party, it's time to look back through the last 12 months' numbers here at Vardot for our Year in Review.
And it's been quite a year!
2021 hasn't been an easy year; emerging from the depths of the pandemic into the "new normal" has brought with it its own challenges. However, this year has brought more than its fair share of highlights, which we can reflect positively on as we head into the new year. In acknowledgment of our efforts, we've been recognized by Clutch for maintaining a wonderful 4.9-star rating out of five!. We're also thrilled to mention that according to the same clutch report 16 out of 16 clients were 100% willing to refer Vardot as a premier enterprise web solutions provider.
We're excited to keep this momentum going and maintain ourselves as a top provider in our field!
We couldn't have gotten this far without our wonderful clients.
Check out a recent review below!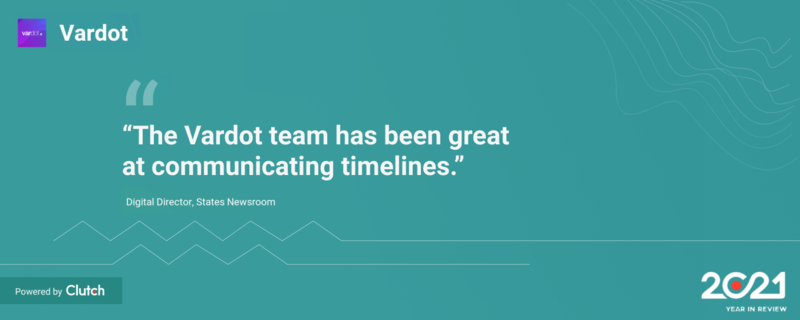 We do everything we can to help our clients succeed, and knowing that they appreciate our work so much is incredible. We will continue to improve and innovate, always keeping our clients ahead of the curve.
Vardot is a dedicated Drupal agency providing digital experience solutions from inception to production. With a global presence and offices in Santa Clara, California, Amman, Jordan, and Cairo, Egypt, we take pride in being one of the largest Acquia certified and Drupal specialized teams in the world. Vardot covers the whole digital experience projects life cycle, from strategy to post-launch maintenance, support, and growth to guarantee continuity and dynamicity.
Since its inception in 2011, Vardot delivered over 200 open-source digital experience and transformation projects in more than 20 countries. Vardot services are trusted by several United Nations agencies, Doctors Without Borders, Boston Consulting Group, Georgetown University, Fitness First, King Khalid University, and many others.
More News
PRESS RELEASE
December 10, 2018
PRESS RELEASE
June 23, 2015