The Top 14 Best Websites for Designers and Artists
Rashed Azzam
May 26, 2021
Visual art should be showcased and seen. It's a simple rule that's been working for thousands of years! And during our digital era, the rule is still on, but at a different level. People are now more than ever interested in watching visual content from the comfort of their yards or living room.
And as an artist, you should be attractive, neat, and creative online to get as much attention as possible! This starts with creating good artwork, but displaying this content properly is just as important.
So, this short article is a collection of the best websites for designers and artists where professionals like yourself can create a portfolio and show off their creative work and make it seen by interested people. Some are so simple and free, and some require small monthly premiums and extra features!
Let's get started already!
Here are the top 14 websites for designers and artists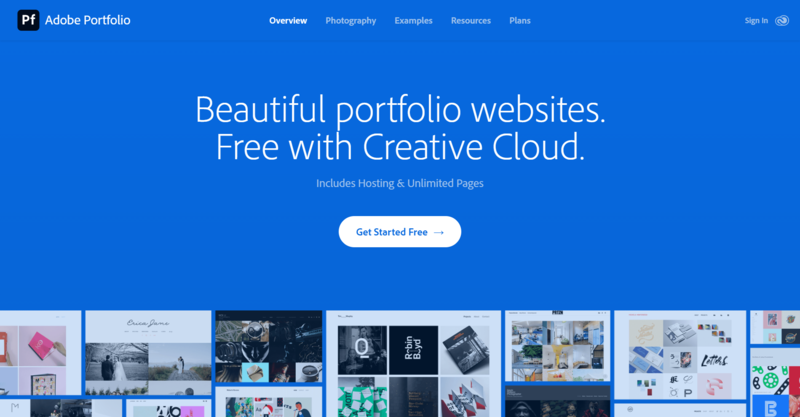 Adobe is the world's largest company when it comes to the creation of digital visual art production tools. This can only mean that the company offers a great and neat portfolio website for designers and artists.
One of the most amazing and unique things about Adobe Portfolio is the new thumbnail feature. You can now make your designs appear in black and white, and then fill them with color as soon as the mouse stops over one of the pieces. This will engage visitors more and make them take enough time to ponder the details and the beauty of your art before moving to see other ones.
Moreover, you can add audio-visual content too! Yes, you can now upload -for instance- videos of you working on one of your challenging projects to show how dedicated you are to what you do, or share a quick video talking about yourself and your passion for your art.
The platform is very simple and easy to work with for almost everyone. And of course, no coding is required. You can choose any layout from tens of options, and customize that very layout to suit your style and vision, and the website will take care of everything else automatically.
Another amazing thing about Adobe Portfolio is that you can log in to it using your Behance account (if you have one) and all of your former creative work will be automatically imported. This will save you so much time if you're new to Adobe Portfolio and have already been a Behance user.
Adobe Creative is free for individuals who have a Creative Cloud subscription, and it costs around $62 per month. This subscription gives you access to Adobe software tools such as Ps, Ai, Ap, etc… And you can of course link the portfolio to your domain name.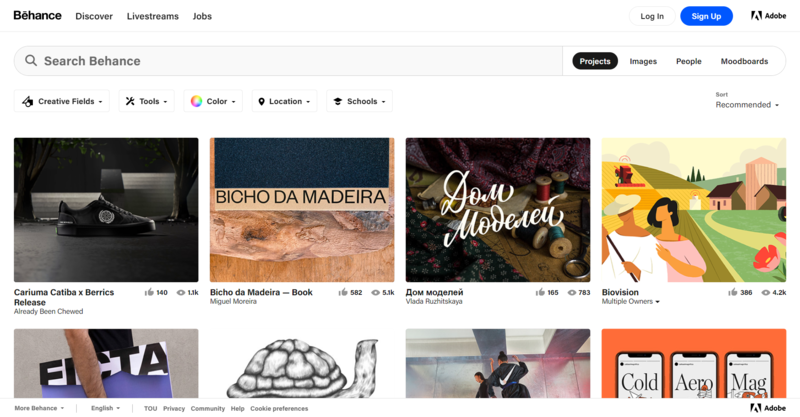 Another leading designers' website goes toe to toe with the former. It's super easy to sign up for and use and doesn't necessarily need to watch tutorials or spend time trying to figure out how it works. Sign up, and get your portfolio seen by the website's visitors!
Yes, the website gets you, visitors, for free! Behance is an extremely vital and active social network in the world of visual art. It is full of graphic designers, photographers, editors, etc… And many people publish job offers on Behance or simply hire someone they find their portfolio attractive. So, go there and get yourself some cash!
An amazing feature of Behance is how its algorithms work to recommend portfolios for users. While you navigate the categories (Photography, Graphics Illustrations, Photoshop, Lightroom, etc…) the algorithm understands what you like the most, and thus recommends content relevant to your taste. As a result, other users (who may happen to need a designer like you) can find your portfolio and communicate with you!
Wait, did we mention that the platform is FREE? Yes, you're not paying anything while you're getting yourself some job offers!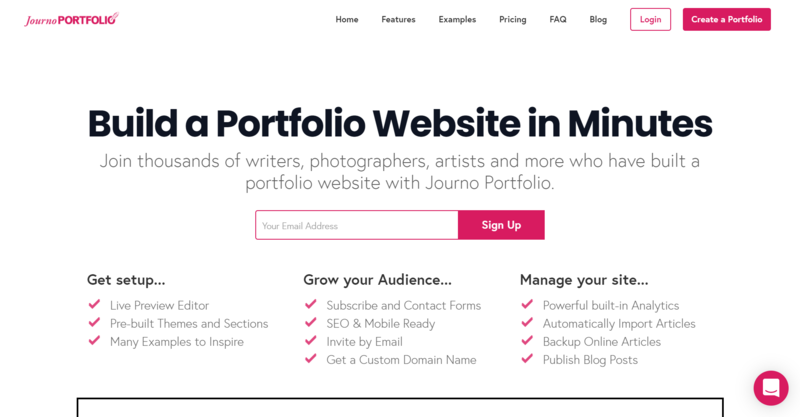 The name gives the impression of a writers' website, but JournoPortfolio can work just as well as a portfolio for creatives. In fact, you can smartly make use of the writing option to comment on the pictures and illustrations you upload.
For instance, write a quick note on how you were inspired to make that piece of art, how long it took, and why you like it, or you can add links to websites that featured your creative art and/or testimonials of former clients.
This website is free, but it can be upgraded to a premium version. The free version lets you upload up to 10 files, while the premium ones give unlimited uploads. If you find yourself interested in a premium version of JournoPortfolio, then go for your 7-day free trial to see how it works and if it suits you well, then upgrade if you like it. Premium packages range between $3.99 and $8.99 per month. It was cheap, and it's good!
Needless to say, no coding, no informatics, and no tech expertise are required.
In most families, the youngest boy will learn from his old ones and be as good as them quickly! This is precisely the story of Fabrik! New to the game, but knew well from his old fellow designers' websites.
Fabrik started as a portfolio site for digital production companies including Absolute Post and Academy. And then it started gaining the attention of thousands of designers and filmmakers alike.
This means that you can not only upload pictures but also audio and videos! The website is simple and handy; you can choose from thousands of layouts and customize them, and they're also very navigational. That is because this website also gives you personalized templates based on your category (As in the attached picture).
The website gives a free 14 days trial, then you can choose from the plans: $8 for personal use, $10 for professional, and $20 for unlimited.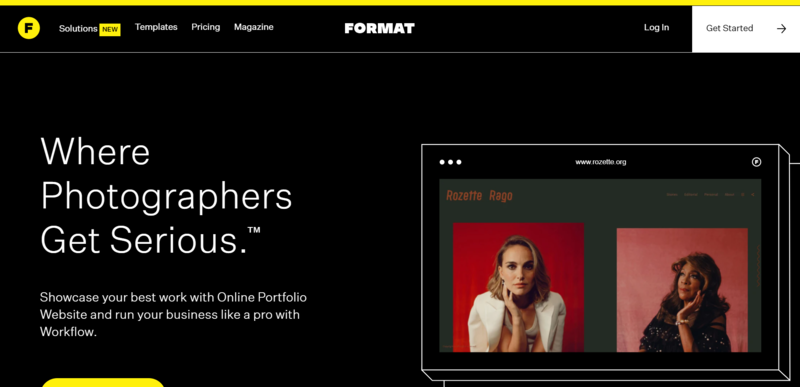 This is like the old brother in the family we just mentioned earlier; Format has been in the industry for 12 years now, and it has been evolving and growing ever since. It is one of the largest portfolio websites for designers and creatives nowadays, and it's still attracting more professionals every day.
There's no limit to how many images you can upload, and the website respects the newest trends of UX and therefore allows its users to do some in-depth modification of the displaying templates. It also enables you to protect your content with watermarks, or keep something private and share it with specific people by giving them an access code.
The website gives you a free 14 days trial, then it's $15 per month.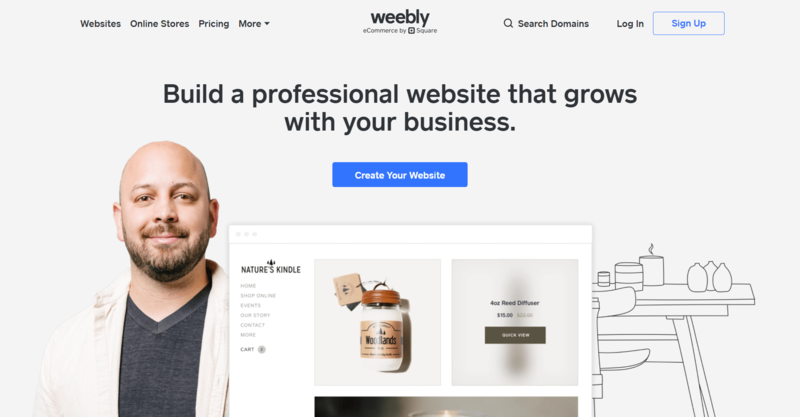 Once upon a time, three college friends wanted to showcase and promote their work online. But all of the portfolio websites they tried weren't as appealing as they wanted them to be! So, the three friends decided to create their own website; and now it's for everybody!
Weebly is one of the largest portfolio websites for designers and artists globally. It's very neat and still adds more features every few weeks. Its drag-to-place and upload features make it quick and simple for people who don't want to invest a lot of time trying to edit the display of their portfolio. So, take a couple of hours and get yourself a portfolio forever!
The basic package is free, and it is pretty awesome! But you can upgrade to a premium version for £18 per month.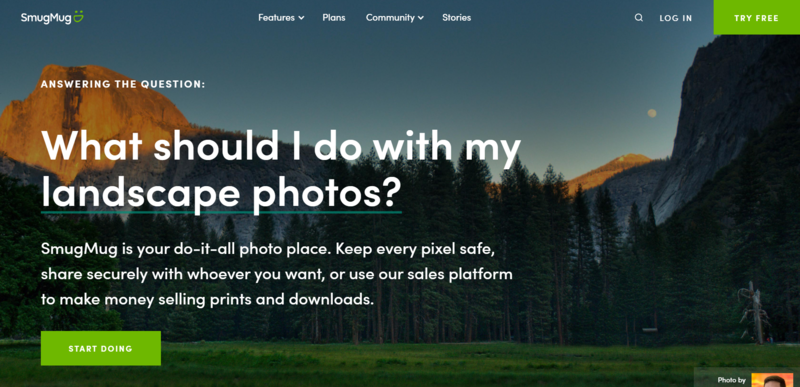 The first thing that attracts you is the strange name that leaves a good impression. And once you join the website, you know it's not only the name!
Smugmug is like a freelancer's website for designers because it doesn't only enable its users to showcase and share their photos, but also to sell them to interested customers! You can choose one of the plethoras of displaying styles, and still personalize your choice.
Smugmug allows you to protect your images from theft by adding your logo or watermark on the images and requesting a donation or a specific price (you set the price) for people who'd like to download and use your pictures.
The premium version starts at $7 per month, while the professional package is $50; which is very expensive even compared to the Adobe Creative Cloud package!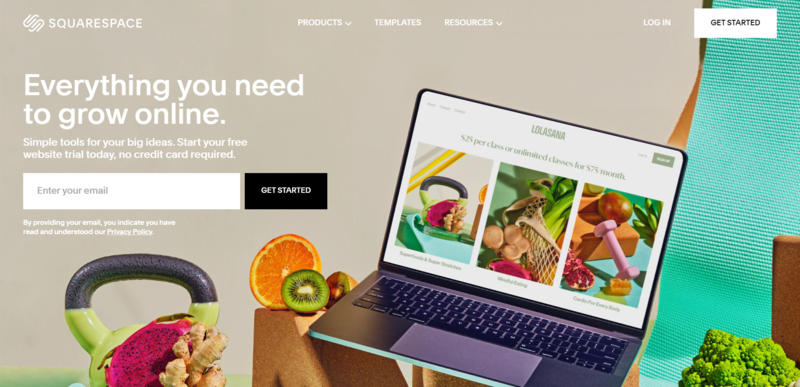 The most special feature of Squarespace is probably its approach to enlarging its users' social media networks. The website attracts hundreds of thousands of users on a monthly basis. And if you have good content that visitors like, you'd start getting more followers on your Instagram and other networks; which is essential for branding yourself online.
The website is known for its wide range of template choices and numerous artistic font styles. The fonts include all of Google's and Adobe's free fonts, which gives you more than enough to get creative within your portfolio.
Squarespace comes at a relatively good price: $12 for personal use and $18 for business owners; monthly of course.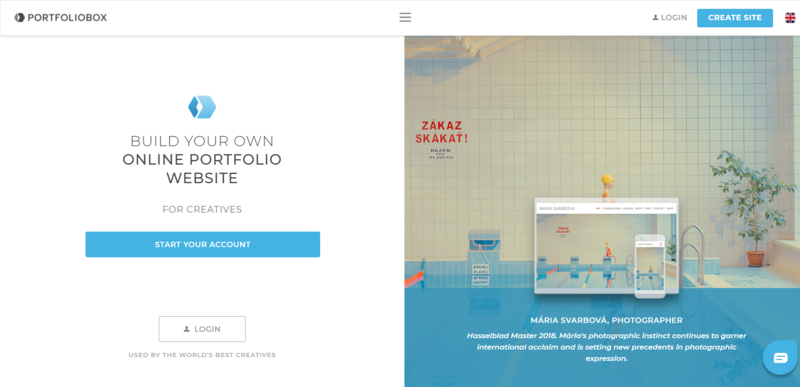 More than a simple portfolio, Portfoliobox can actually host e-commerce and blog websites and solve many problems. And of course, its handiness and simplicity make it perfect for beginners and pros alike. The website doesn't necessarily require any coding, but you can apply some if you wish to!
The website gives a free domain with the portfoliobox.username.com, but you can link it to your own domain name from Namecheap or Google easily and quickly.
The platform is free with some restrictions, but the premium version is pretty cheap and gives unlimited access to all the features and unlimited storage for only $8 per month!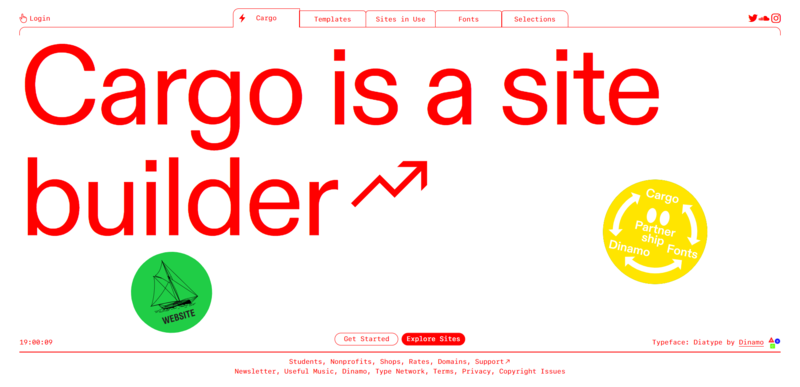 If you're looking for a cheap, effective, simple, and neat choice, Cargo is one of the best websites for designers ever. The website works very similarly to WordPress or Google Docs but enables more creativity in terms of displaying visual content.
The platform enables you to choose from tens of smooth sliding templates for free, and more come out every month or so! And you can update your gallery with a single click; sometimes basic edits here and there might be required, but with no hard work or elbow grease.
The basic version offers 12 projects and no more than three pages layout, but Cargo gives additional features including unlimited upload storage at around $13 per month.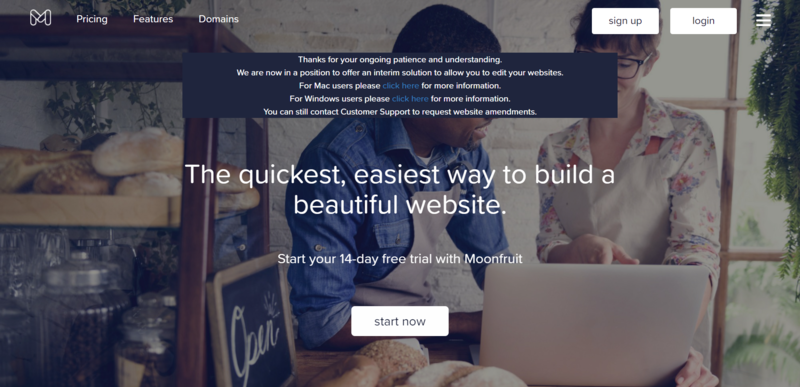 With a white canvas and minimalist approach to portfolios, Moonfruit aims to emphasize the attention of visitors to your content, nothing but your content! Yet, the developers leave room for you to be creative and mess everything up to suit our style and visual philosophy.
A unique feature that makes Moonfruit stand out is the animated background choice. If you're a motion graphic designer or video editor, feel free to seduce visitors with some interesting visual content in the background.
The free trial ends after 14 days, then you can start at a very low price of $5 per month but with very limited storage of half a GigaByte, or go pro for around $7 per month.
You don't want to join Dribbble if you're not so good! This is an extremely vibrant network of tens of thousands (if not hundreds) of creative artists and designers all over the world. Be yourself a photographer, designer, or video editor, you'd certainly find something new on this website, which makes it a great backup for inspiration and learning as well as for networking with people with the same interest.
When it comes to Dribbble as a portfolio, the website needs 0 expertise in coding, and it's extremely optimized to help your content rank in the Google SERPs. But its templates don't preserve large-sized and high-quality images. So, we advise you to display your awesomeness on another platform while using Dribbble for networking.
The premium version is so cheap at $5 per month. And it includes features such as chatting with other users and potential clients and getting hired.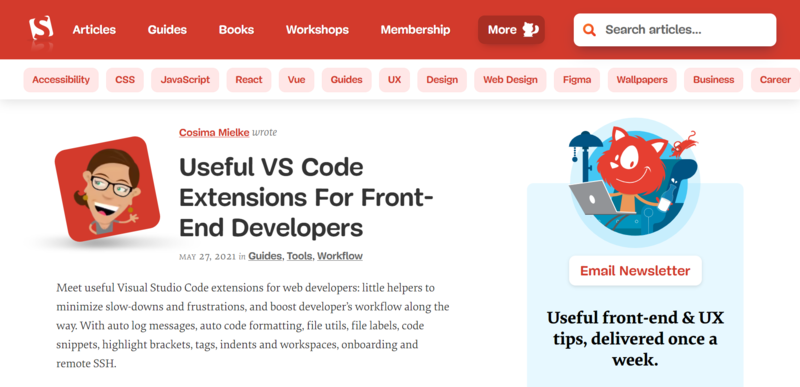 Smashing Magazine is one of the largest websites that's now conquering the world of eBook Publishing. The website is now considered a resource of professional designers and visual artists for thousands of business owners. 
The displaying templates aren't many, but they leave room for unlimited creativity. So, even with the limited templates, you'd still come up with unique formats for your own portfolio.
The German website has been killing it in the game since 2006, and its network is growing rapidly ever since. So, why don't you join and show off a little?
Membership in Smashing magazines starts as low as $3 per month for basic use with limited features, but you can upgrade to get access to all of the website's features (be it as a publisher or a visitor) for $9 a month or $90 a year.
Wireframe is a simple wireframing tool that enables you to create professional-looking websites to display your art online. The website offers no less than a hundred different ready templates, and you can modify them without any coding or development.
It also is a large network where you can communicate with web developers and business owners all over the world, and therefore it can be a source for jobs when if your content attracts a lot of visitors.
Wireframe offers a free 7 days trial, then it's $7 per month.
Freelancer Websites with Portfolio Option
A lot of people are becoming freelancers, and a lot of business owners now prefer hiring people online rather than in the real world. This might be the whole reason why you need a portfolio actually! So, why don't you take advantage of freelancing platforms that offer free unlimited portfolio storage?
One of the largest networks now is Upwork. It is mainly a freelancing website where designers can upload their works and showcase them, and they can also bid on projects published by business owners. Then they can hire you with a single click!
Other platforms that work the same include Freelancer, Peopleperhour, and Toptal.
You can also use Microsoft's PowerPoint on onedrive.live.com. It's very simple and it can be of help when you want to share specific content with specific clients while explaining to them how you can solve their problems or satisfy their needs. You can create slides featuring your former artworks while adding short paragraphs explaining how you can achieve the same for your new clients, then share the link with them.
Conclusion

You must've made up your mind now and know where you want to display your art. The next step to take is to prepare the best pieces and start uploading them after signing up on one or more of the aforementioned designer websites. Most of the time, The process wouldn't take longer than a few hours, but if you have too many artworks that need preparation and extensive thinking, the process may take days. Yet, the bright side is that you have to do it only for one, and it's going to be there forever. Good Luck!
If you want to browse more valuable design content, check our Complete Atomic Design Guide:
This article is an update of 5 Essential Websites Every Designer Should Know.
Design & User Experience
Web Design