New Drupal Website Launch Checklist
Ahmed Jarrar
April 8, 2018
As the old adage goes, the devil is in the details. Websites are complex ecosystems that have many moving parts—it takes more than an eye-catching layout and clever text, as you'll soon realize as we go through this article.
Here are a few pointers to get you started on the wild web:
Drupal CMS
First and foremost, jumpstart your web journey with great software that allows for hassle-free content management—easy writing, fast performance, and reliable security.
Drupal, one of the most well-known platforms for web content management easily ticks all the right boxes, creating a strong foundation that will power your venture into digital. Through modular solutions that create integrated digital frameworks, this free and flexible open-source platform gives you the power to tailor fit your tools specifically to the needs of your business.
Compared to other platforms that force your business to work around their set systems and tools, Drupal does things your way. Limitless solutions coupled with a flexible content architecture means boundless opportunities for you and your business. Worry not about its capacity to handle heavy traffic, either, as it has proven its spectacular performance with many Drupal-powered big enterprise websites, like General Electric and Pfizer, and high traffic websites, like GRAMMY Awards and NBC Olympics.
As an open-source platform, it also undergoes continuous and concentrated innovation from its open-source community, making sure that it constantly meets your business' increasing needs.
Content and Search Engine Optimization
With all the information available on the Internet, it can be difficult to stand out. Websites are a dime a dozen, and people have thousands of options to choose from.
Where to begin?
Build a strong foundation for engaging content and a cohesive search engine optimization (SEO) strategy. Find out what people are searching for, and target keywords related to your brand. In addition to that, structure your site so that it is easy to navigate—both for your customers and search crawlers. Lastly, make sure your site is properly indexed so Google can find you right away.
Rather than merely producing content, figure out what content people need (which you'll find out by doing keyword research) and deliver it. The more questions and queries you can answer, the more likely potential customers will engage you.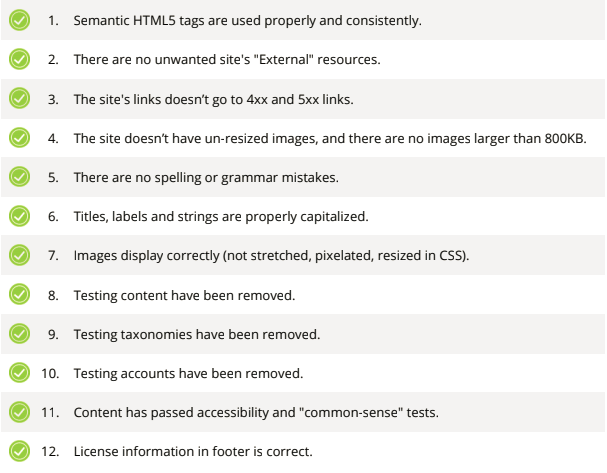 Design Review
More than how a website looks, the focus should be on how a website works. Create a pleasant user experience for your customers by studying how the different elements of your website interact with each other.
To test, do side-by-side comparisons of the proposed layouts and approved designs, and perfect every intricate detail (i.e. fonts, header styles, color schemes, etc.) that could possibly affect a user's browsing experience.
Another very important element to consider is the images because they play such a huge role in the overall aesthetics and experience of the website. Make sure your images are properly and legally licensed and compress them so that they load quickly.
Always communicate with your website's design team to iron out details. Talk about any and all matters that need to be attended to before moving on.

Analytics
Ideally, something as crucial as setting up your website's analytics should be done right the first time. You don't want to spend unnecessary time, money, and energy redoing something that will be an imperative part of your platform's core. Additionally, and perhaps more importantly, historical reports that provide valuable insight for future strategic decisions wouldn't be available for perusal should you make further revisions and alterations down the line.
Google Analytics provides a set of potent tools that should cover all the necessary bases for your website needs.

Website Browser Testing
Now that you've set up all the elements of the website, it's time to test if it works the way it was designed. Perform tests on each and every website functionality to check for bugs and errors in performance, and adjust the codes accordingly.
Monitor website performance through specialized trackers such as Google PageSpeed and Pingdom Tools to match customer expectations with actual website user experience.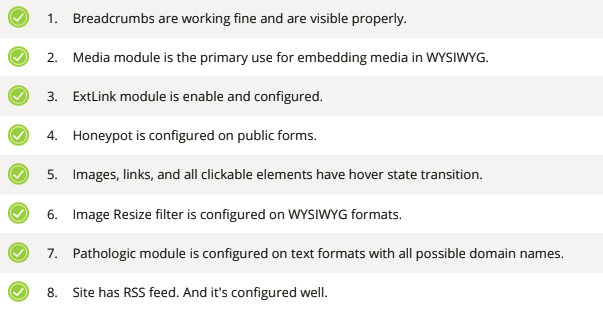 Final Pre-Launch Step
Before going live, test the more technical aspects that play an important role in the overall website performance. Go through each one of those aspects because even a small detail overlooked can be a costly mistake in the long run.
Set up all domain registrations and third-party item connections to proper accounts; list down all unmet deliverables and plan for completion; download the current website using WebZip to back up your old site and revert to it if things go wrong; and confirm appointments with your go-to contact person for technical and IT matters.
After ticking all the pre-launch items, it's finally time to go live and get your website up and running, but make sure not to do it on a Friday.
Post-launch
Once you take your website live, it will undergo a propagation period of a few hours for indexing and updating. While this is going on, what shows up on mobile might not necessarily mirror what your desktop screen displays, but this is nothing to worry about, as all devices will eventually parallel each other's screens once the propagation period is over.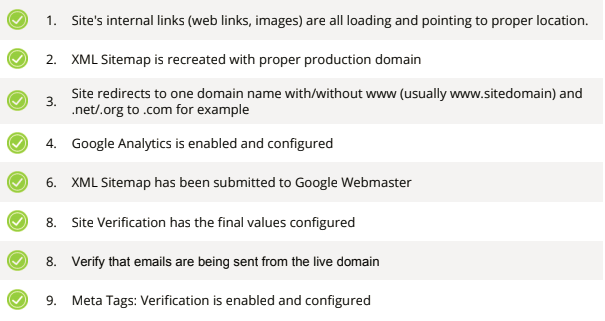 Announcement and Marketing
Now that your website is finally running smoothly, it's time to announce this milestone to the public. Hype up your new website and continuously build up interest among stakeholders through constant and consistent promotion in your various consumer touchpoints (i.e. email, social media, newsletters, etc.).
Finally... A Gift For Your New Drupal Website Launch
When you fail to prepare, you prepare to fail. But when you prepare, you set yourself up for success.
Props to you for doing your proper research on the best ways to launch your new company website. Just remember to go through this launch checklist faithfully and, in no time, sit back and relax as you watch incoming site traffic come in droves and your overall business performance soar.
Make sure to download our checklist which will enable you to cover all the important and essential aspects of a smooth new Drupal website launch:
Website Launch
Tips
Drupal
Drupal 8
Drupal Planet