Is Drupal the Best CMS for School Websites?
Raghad Eid
August 2, 2022
Drupal is an open-source content management system (CMS) that allows you to build fully customizable school websites without worrying about proprietary license fees. Every content team needs a website with an easy-to-use CMS that allows for flexibility, accessibility, and security. For schools, this is crucial for streamlining all content processes, allowing for different access permissions, and enabling the front-end experiences needed for multiple user groups. 
Although there are many options available, Drupal has some unique capabilities that make it ideal for your school's website. Let's find out why.
Is Drupal a Smart Choice for Your Education CMS?
Drupal is a great option for many valid reasons. Firstly, it's free. Unlike proprietary CMS offerings, with Drupal, there is no initial outlay for the code or the database. There are also no monthly license fees. Who doesn't want a robust, user-friendly CMS for less?   
In addition, Drupal has over 40,000 freely available modules and over 2,500 themes. Modules are the building blocks that enable you to create and continuously upgrade your CMS. Think of modules like Lego blocks. You can build a fully customizable website out of your own carefully selected combination. In tandem, themes will handle the front end of your website, creating the look and feel you want. 
This Lego-like approach means that as your community grows, your school's website can grow with them. Getting to know the available Drupal modules will help you build your website with all the functionality your organization needs. It is a small upfront time investment that will pay off down the line when you have a CMS that is tailored to your school's needs. 
Alternatively, you could choose to work with an agency partner that offers Drupal web development services. They can help guide you more quickly through the process of matching modules to your requirements. Picking the most suitable modules for your specific needs is a pretty important place to start.
Drupal Modules 
There is no shortage of free and paid Drupal modules to choose from, so it's best to define your requirements upfront. That way, you can narrow down the options and find the ideal module match. Each school website will have its unique requirements, however, there are common features that any education CMS should deliver. Let's take a look at some popular Drupal modules that all schools would find useful.
Site Load Speed: Out-The-Box and Add-on Modules
For any school with a content-heavy approach, site load speeds become an important factor. If your site loads super slowly, new users will bounce out and your current community will quickly become frustrated and less engaged. Sites with a lot of interactive or rich media content will face this issue unless they are well optimized. 
Drupal has a few out-the-box optimization modules that will help speed up your school's website load times.
Page Cache Modules
The Internal Page Cache module helps to optimize page load speeds for anonymous users. This ensures that new users like potential parents have the best digital experience.
Dynamic Page Cache module works to speed up load times for pages with rich media or interactive content. As a school, this type of content will be key to engaging your community, particularly students who will be more used to the videos on TikTok than long reams of copy. This Drupal module will optimize load times for both anonymous and logged-in users, so it is super practical as a baseline option.
Content Distribution Network Modules
With many different user journeys and audience types to cater for, a school website will usually be pretty content heavy. The fastest way to deliver websites with interactive content is to use a Content Distribution Network (CDN). There are free Drupal CDN add-on modules available that will work along with the page cache modules to supercharge your site's load times. This CDN module works by changing the individual file's URL, so it is downloaded from the CDN and not your web server. 

WYSIWYG Editor Modules
Streamlined content creation and editing processes are critical for any organization, particularly schools, which will often have to publish or edit content for different audiences. WYSIWYG is an acronym for 'What You See Is What You Get'. This is a roundabout way of saying that anyone can create or edit content for your school's website. There is no need for a developer to be involved. 
As is the norm with Drupal, there are a few WYSIWYG options to choose from. Varbase has a great WYSIWYG module that facilitates simple and rich media editing. Designed by Vardot to provide the most advanced functionality with the least number of clicks, Varbase enables everything from simple text to embedded rich media and CTA creation. With its options for content creation and code editing, this WYSIWYG module provides easy-to-use solutions for every level of administration. 
Vardot's Best Drupal School Websites 
It is not always easy to imagine what it is possible to create from scratch. A good way to get inspiration for your website is to take a look at a few examples that prove the power of using Drupal.
American School of Dubai 
Some of the best examples of an education CMS that has been built specifically for schools is the website built for the American School of Dubai. A modern Drupal CMS site that successfully caters to multiple audiences. 
With audiences from current students, faculty, and parents to prospective students, researchers, and alumni, the site had to be customizable to different user journeys. 
The ability to create multilingual, interactive content that promotes user engagement and time on site is only one of the core advantages of using Drupal. This is useful functionality for any school website with an international or varied audience.
Full scalability and flexibility, enabling ASD to launch multiple microsites.
An extensive on-Site SEO performance checklist tool, enabling ASD to create landing pages optimized for search engines.
In addition, the site is fully responsive, catering to students who are more likely to be mobile content consumers.
American Community School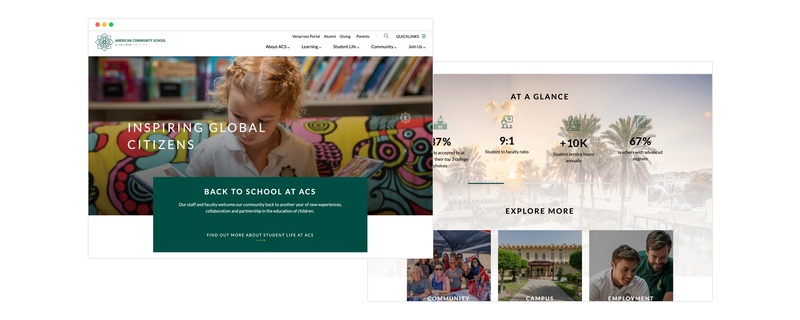 Drupal enables engaging content, but it also has other benefits for both administrators and users. A great example of a school website upgrade is the current American Community School site. Rebuilt from scratch with a Drupal CMS, the new site streamlined the existing content administration process, increased traffic, and improved user engagement. 
Varbase Layout Builder enabled more interactive content creation with simple drag-and-drop functionality. 
For the user base, the new site had dedicated student and parent portals, allowing for easier, secure access to relevant information and communities. 
Not only was time saved for the school's content creation process, but more users also spent more time on their site, with a 27% increase in page views.
Choosing Drupal for Your Education CMS
Drupal is a cost-effective and highly scalable option. It allows different levels of administrators to create content from simple text to interactive media pages. The number of building block modules and design-oriented themes available makes it highly customizable to your school's individual needs. These are some of the reasons that over 70% of higher education institutions use Drupal for their CMS. 
Schools have similar CMS requirements to higher education institutions. From having to cater to a varied audience and different admin access levels to the need to create content that students both need and want to see, schools require a CMS that delivers in terms of flexibility, accessibility, and price point. 
For these reasons, it is worth considering a Drupal CMS. If you are unsure of your school's website requirements, a Drupal web development partner can help you match your needs to modules. They can also handle the ongoing maintenance and upgrades for you, leaving your team free to focus on content that keeps your communities informed and engaged.