Harnessing Insights: Vardot's Impact on Elevating The Cook Political Report Online Strategy
Unleashing Digital and Editorial Excellence: Transforming The Cook Political Report's Into a Streamlined User-Centric Website
Image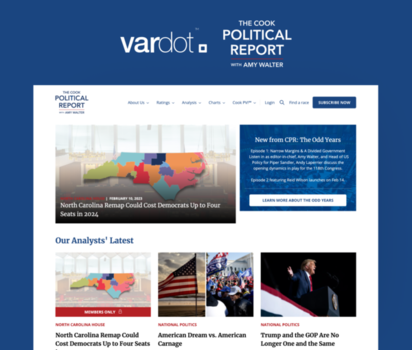 The Cook Political Report (CPR), a prestigious and independent online newsletter led by Amy Walter, offering expert analysis of U.S. elections. With a rich history dating back to 1984, when it was founded by the visionary Charlie Cook, CPR transitioned to an all-online format in 2004. 
Today, it stands as a trusted source of insights on the Presidency, Senate, House, and governors' races. Guided by the renowned Amy Walter, CPR utilizes the Cook Partisan Voting Index (PVI) to assess the Democratic or Republican leanings of each district.
This project has been named a finalist in Acquia Engage Awards 2022 and EXCEL Awards 2023
Image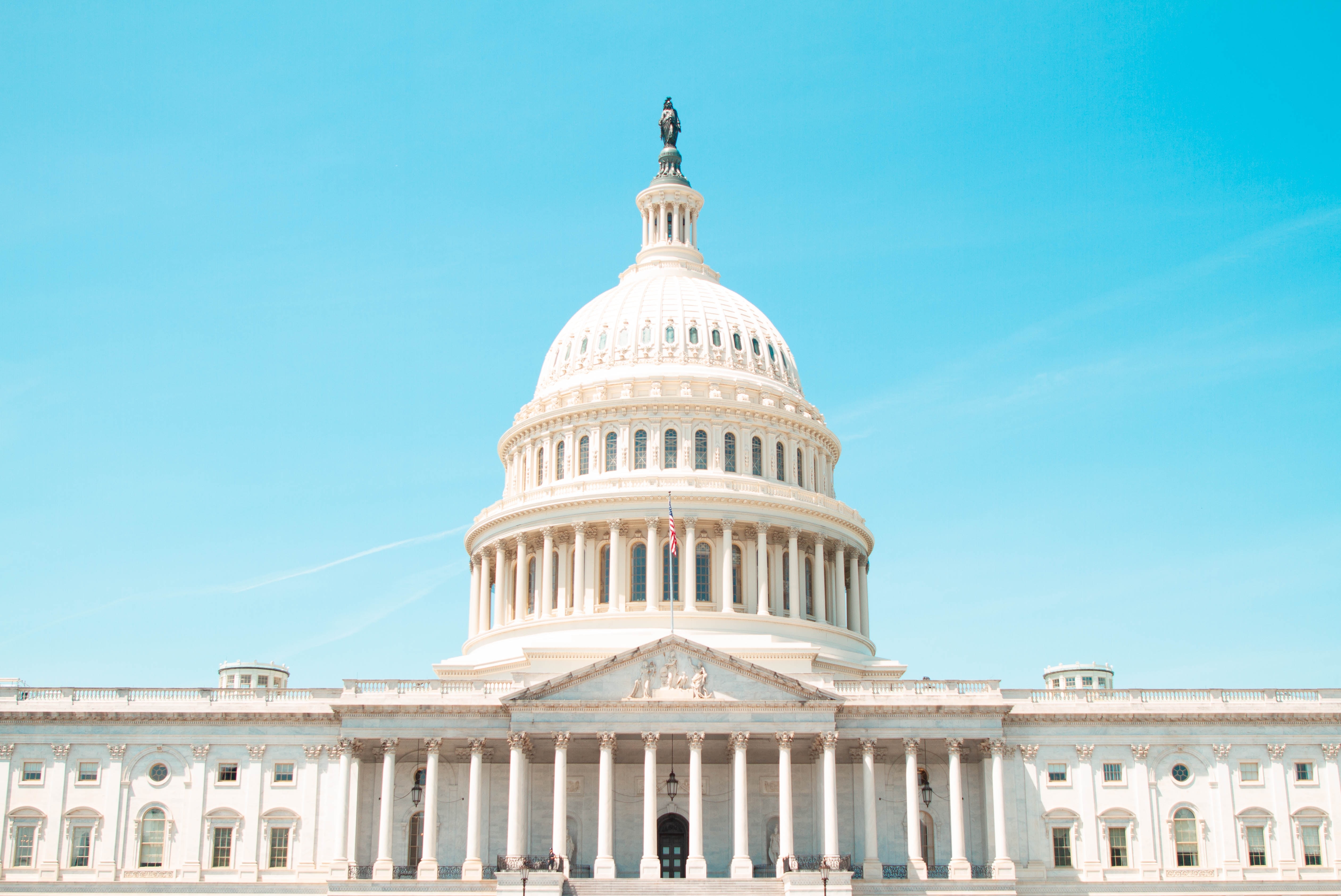 Unleashing CPR's Potential:
With its older format, CPR's website faced a great challenge of lost opportunities caused by a gap between readers and subscribers. This was mainly caused by improper user-experience design which confused the readers and made it harder to convert them into long-term subscribers. CPR needed a revamped website, powered by the latest technologies Drupal can offer with a tightly woven UX to captivate and transform their users' journey.
 
To accomplish this, they turned to Vardot, seeking a partner to elevate their online platform. With this partnership CPR aimed to:
Boost conversion rates
Alleviate customer service burdens
Optimize SEO and website speed
Revamp the search function
Upgrade their site to Drupal 9
Harness the power of Acquia's platform tools
Image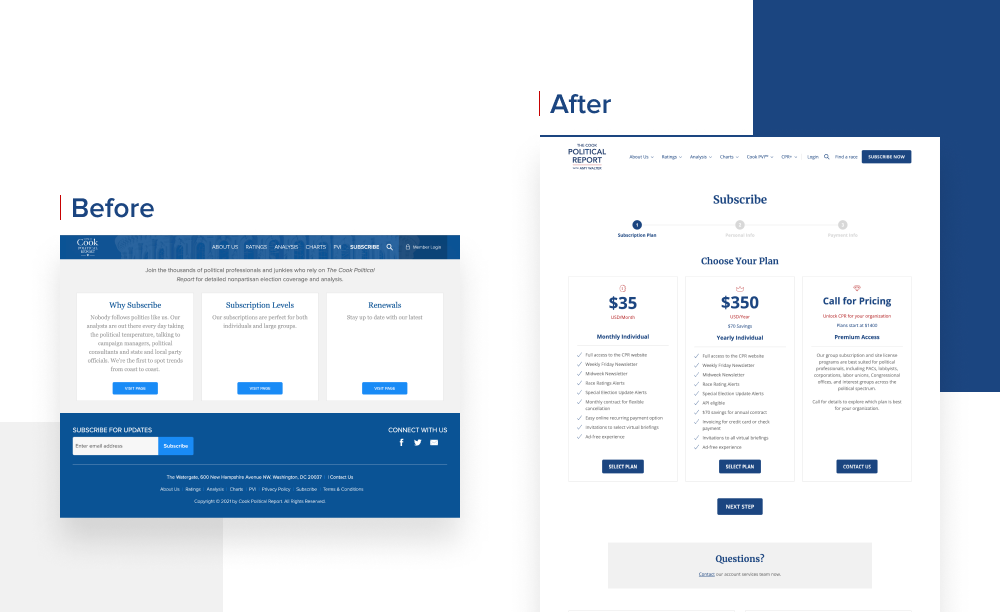 A Path to Success:
Vardot embarked on a transformative journey with CPR, fueled by a holistic approach. The first step was a meticulous site audit, unearthing invaluable insights into site health, traffic analytics, and user behavior through visual heatmaps. 

Building on this foundation, Vardot initiated a comprehensive redesign of CPR's subscription user experience (UX) and paywall content, revolutionizing the path to conversion. By continuously monitoring user behavior, Vardot fine-tuned the website to deliver a seamless and engaging experience. 
Leveraging Drupal 9 capabilities, they empowered CPR's editorial team and users with enhanced tools and accessibility. To supercharge the search experience, Vardot implemented Acquia Search, transforming it into a reliable, lightning-fast, and comprehensive backend.
The process included setting up Integrations with third-party tools such as SF Marketing Cloud, and enhanced integration with Recurly streamlined customer service operations, ensuring smooth sailing for CPR.
 
Image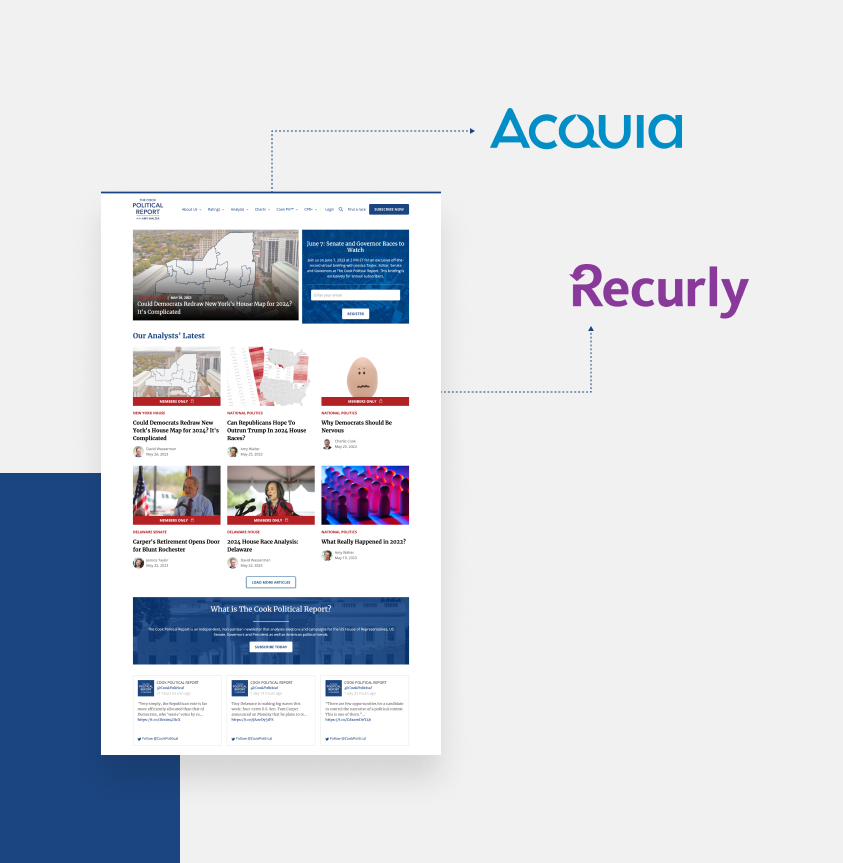 Image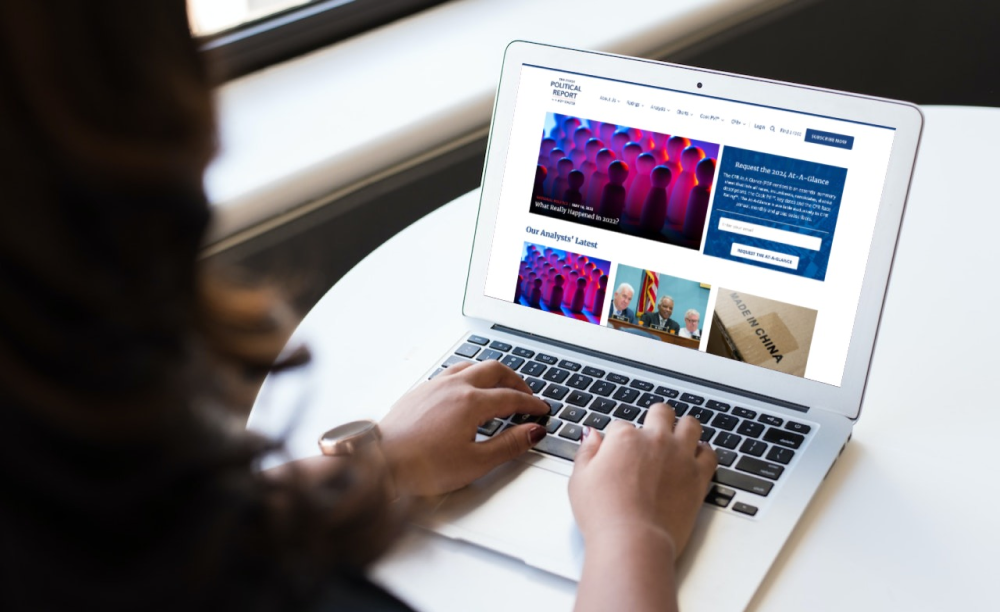 The revamped Cookpolitical.com landing page now offers expert U.S. election analysis with captivating visuals, enhanced SEO and a Solar-powered search module that enables users effortless exploration of CPR's vast content of current and archived collection.
Cooking the Winning Recipe:
The collaboration between Vardot and CPR ignited a blaze of remarkable results. Beginning in September 2021, the website overhaul kicked off with an intensive site audit, followed by Vardot's unwavering monthly support. The specialized development and design work aimed to fortify CPR's Drupal installation and enhance website security.
The impact was profound, evident in the optimized paywall implementation that seamlessly incorporated SEO and UX elements. Subscribers were greeted with an exceptional user experience, characterized by effortless onboarding, hassle-free cancellations, and intuitive site navigation. The rebuilt landing page was not only visually stunning but also boasted enhanced utility and SEO optimization. Thanks to the Solr-powered rebuilt search module, visitors could effortlessly access and savor CPR's treasure trove of current and archived content.
Image