Vardot Named a Finalist in 2021 Acquia Engage Awards

October 13, 2021
Annual awards honor organizations creating innovative digital experiences that impact customers, employees, students, and citizens
Today, Vardot would like to announce that it has been selected as a finalist for the 2021 Acquia Engage Awards in media and entertainment. The Acquia Engage Awards recognize high-impact digital experiences that organizations around the world are building with the Acquia Open Digital Experience Platform (DXP), including Acquia Drupal Cloud and Acquia Marketing Cloud. Winners will be announced on Tuesday, October 26, on the first day of Acquia Engage. 
Acquia received a record number of submissions from customers and partners. Finalists each demonstrate an advanced level of functionality, integration, performance, and user experience. Winners will be selected by a third-party panel of judges.
"The creativity and business results on display with this year's Engage Award finalists is impressive and inspirational," said Lynne Capozzi, Chief Marketing Officer at Acquia. "We're honored to feature their many stories, and to showcase their responsiveness to customer needs, inventive use of technology, and return on investment."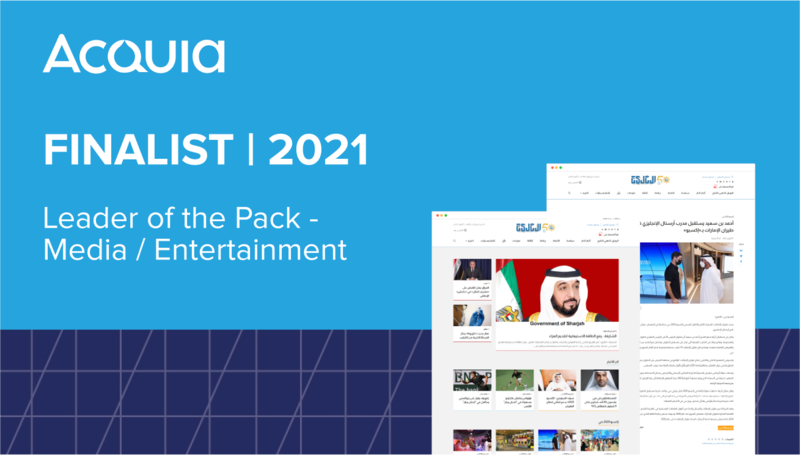 The nominated project for Vardot was the top newspaper website in the UAE, Dar Al Khaleej. Dar Al Khaleej wanted to provide their readers with a convenient and cutting edge newspaper experience personalized across all devices - and they identified Drupal as the ideal technology to support their transformative ambitions.
This is where Vardot came in. Dar Al Khaleej has sought out Vardot's award-winning Drupal web design and development services to build the new Al Khaleej website using Drupal and Varbase CMS. 
We are extremely proud of the work and the success metrics achieved in building, launching, and supporting Dar Al Khaleej news platform, and are very happy these efforts have been crowned by this nomination.
About Vardot 
Vardot is one of the premier providers of enterprise Drupal implementations in the world with over 200 successfully launched digital platforms and a reputation for being one of the best web development, web design, and migration services providers in the world. A Drupal Association Support Partner, Promote Drupal Initiative Sponsor, and a prominent contributor to the Drupal ecosystem, it is consistently ranked amongst the Top 5 Drupal providers in the world. Learn more at https://www.vardot.com. 
About Acquia
Acquia empowers the world's most ambitious brands to create digital customer experiences that matter. With open-source Drupal at its core, the Acquia Digital Experience Platform (DXP) enables marketers, developers, and IT operations teams at thousands of global organizations to rapidly compose and deploy digital products and services that engage customers, enhance conversions and help businesses stand out. Learn more at https://www.acquia.com.
About Dar Al Khaleej
Dar Al Khaleej Printing & Publishing is a publishing house based in Sharjah, United Arab Emirates. The company was established in 1970 with the launch of the daily Al Khaleej newspaper. Al Khaleej is now one of the most popular Arabic-language newspapers in the UAE. Learn more at https://www.alkhaleej.ae.
News/Media
Digital News
News
More News
PRESS RELEASE
October 11, 2022