How to Choose Your Enterprise Drupal Hosting Provider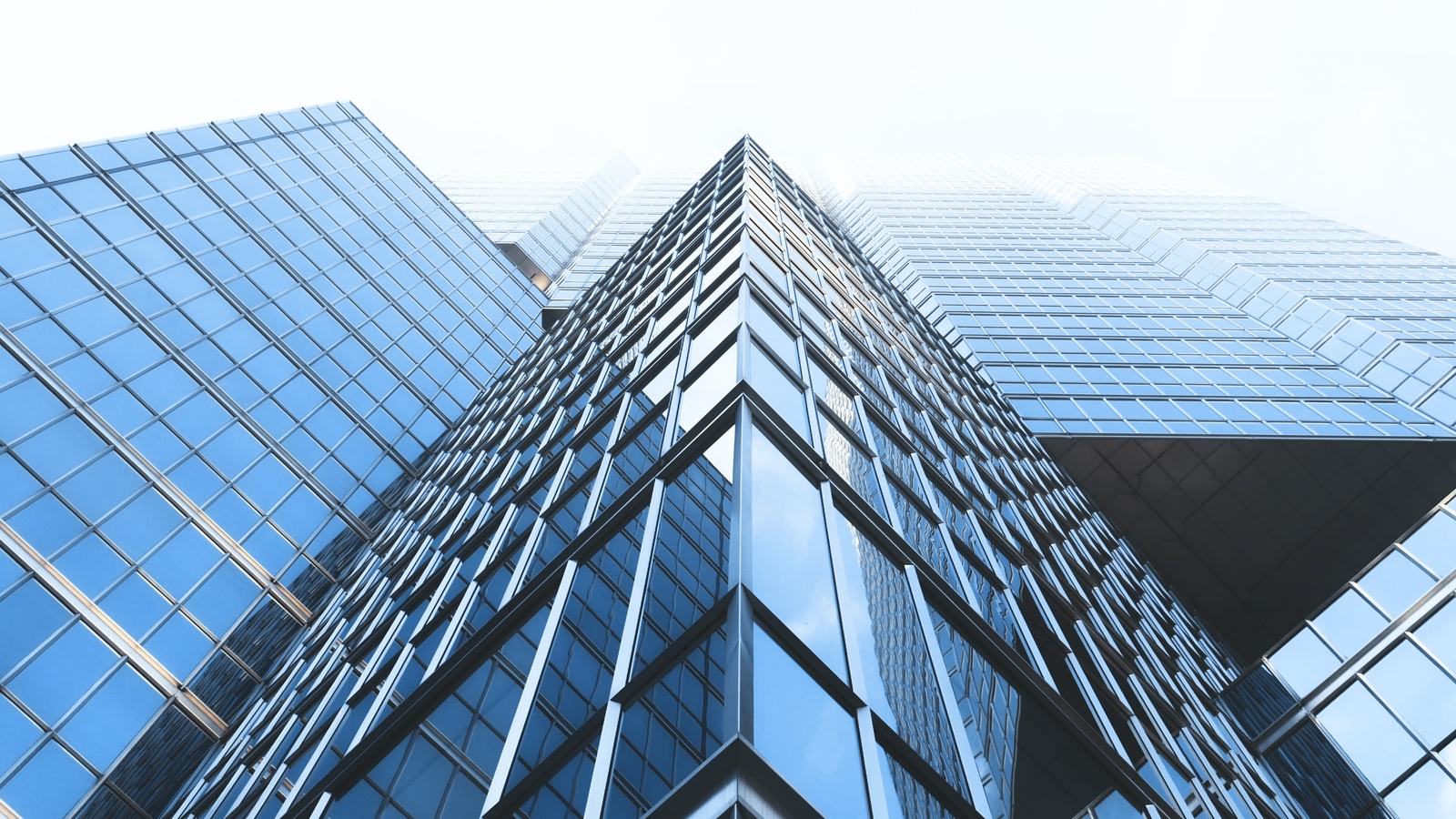 For any enterprise looking to build a new Drupal website or even upgrade their existing Drupal solution, hosting is an important consideration. Choosing the best Drupal enterprise hosting solution can reduce costs and effort in the short and long term. Choosing the wrong solution can also create a considerable amount of wasted time and expense for your organization.
What is Enterprise Drupal Hosting?
Drupal is the open-source CMS software that is supported by a global network of developers. Serving as the technology of choice for organizations from government agencies to global humanitarian organizations and large media houses, Drupal provides best-in-class digital experiences and security.
Enterprise hosting is a hosting solution designed for organizations. Ideally, it should be price effective enough for small organizations and provide the ability to easily scale for very large, complex, or fast-growing businesses. 
There are several options for hosting your enterprise Drupal site, so you will need to define your requirements and make the right choice. A few things to consider upfront are:
All Drupal Sites:
Does the hosting solution support Drupal specifically?
Does it have migration support?
Does it provide daily backups and restore options?
What is the uptime % in the SLA agreement?
What level of automated maintenance is provided?
What security policies and procedures are in place?
What general compliance processes are in place?
Is the billing to pay as you use, or more fixed?
Larger and High Growth Organizations 
Is there autoscaling support? 
Is there Content Delivery Support entitlement?
Is there multisite support from one dashboard available? 
Another aspect of the requirements phase is choosing between traditional web hosting and cloud hosting. While traditional web hosting has been around for much longer, cloud hosting offers improvements that are worth understanding.
What Is the Difference Between Web Hosting and Cloud Hosting?
Whether you are a small, medium, large or high-growth enterprise, you will need flexibility, security, and good uptime percentages to maintain a successful web presence. Hosting is a key aspect of your digital ecosystem that can prove costly if you select an option that can not deliver on your requirements. 
Web Hosting
Traditionally, shared or dedicated web hosting was the main hosting option available to organizations. Both dedicated and shared hosting are handled by physical servers with the client buying the bandwidth, CPU, RAM, and drive space needed to cater to their site and its traffic. Usually, larger organizations would use dedicated servers, while small to mid-organizations would use the more affordable shared server option.
The drawback to both of these options is being tied to rigidly set resource limits on everything from bandwidth to drive space. This means that high, sudden, or unpredicted traffic increases are impossible to cater to without having to switch plans or configure hardware. For any organization, this creates unnecessary amounts of administration and costs around any progress in traffic growth. For businesses launching new products or running large campaigns that will have a significant but temporary impact on traffic, the flexibility to scale their requirements up and down isn't there.

This cap on available server resources is particularly problematic with shared web hosting options. As the shared server's total capacity is split equally between the websites, any sudden spike in traffic to another site will negatively affect the performance of your site. In addition, any security breaches made via another site on your shared server will affect your site too. With no control over the security protocols of other websites, this introduces a high-risk factor that is almost impossible to mitigate.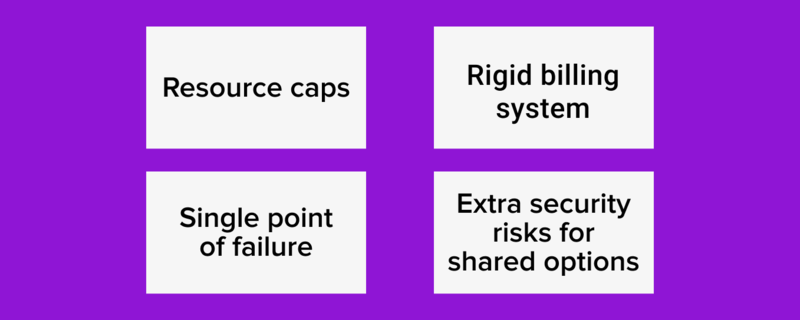 Outside of security and performance issues and the lack of flexibility to easily scale your website's requirements up or down, is the issue of a single point of failure. Whether you are a multinational with premises, a dedicated server, or a small NGO on a shared server, if your server goes down, your site will likely go down too. Unless you have a maintenance-heavy infrastructure with connected load-balanced backup servers, your single server is a single point of failure.
Cloud Hosting
Luckily, technology has progressed and there are newer, more flexible, reliable, and secure solutions. Cloud hosting, unlike web hosting, makes use of a network of cloud servers instead of a single server. This creates several advantages over traditional web hosting options.
Drupal Cloud Hosting: Benefits
Reliability: sites and applications are hosted on a network of servers, meaning that hardware failures or single server failures do not cause any downtime. In addition, traffic is segregated and secured across separate network interfaces.
Flexibility: Sites are hosted across a cluster of networked servers, meaning that if you suddenly have a spike in traffic, your site will just be allocated more resources from another networked server. Similarly, if you have a drop in traffic, you will just be allocated fewer resources within the network. Tied to this is the pay-as-you-use billing model, which adds the financial flexibility to scale alongside the increased flexibility of the technology.
Security: Initially, as with any new technology, there was skepticism about the security of Drupal cloud hosting. Due to the decentralized nature of hosting across a network, it is usually more difficult to launch an attack than on more than one server. Attacks like the notorious DDoS can be more easily mitigated by using the cloud network's resource advantages than with the limited resources of a single server.
Efficiencies: Organizations can increase uptime while reducing time to deploy and costs by switching to high-performance Drupal cloud hosting.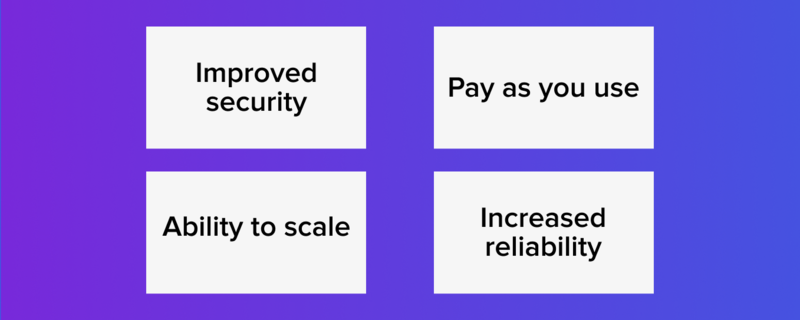 Which Drupal Cloud Hosting Provider Should I Choose?
Knowing what you need from a Drupal hosting provider and getting guidance on matching those requirements to the best solution is one of the most critical decisions an organization will make about its digital experience platforms. Ultimately, delegating this process to a trusted Drupal development partner is often the most time and cost-efficient way to solve your ongoing hosting requirements. 
Drupal-Optimized Platform as a Service (PaaS) Cloud Hosting
Vardot has a decade of experience building, hosting, and maintaining enterprise Drupal sites for our clients. Our partnerships for Drupal cloud hosting include Acquia Cloud, a global hosting provider that caters specifically to Drupal sites. Acquia Cloud hosting is the only platform built by Drupal developers for Drupal developers. We also work extensively with Platform.sh and Pantheon, both respected Drupal-optimized cloud hosting platforms. This ensures that your Drupal website is being managed by hosting experts with extensive experience and expertise. 
Acquia Cloud Hosting Features
Although there are many Drupal-optimized cloud hosting providers, and we work with a range of the best, none have the Drupal-specific expertise that Acquia does. Acquia Cloud is a well-established hosting platform and provides several unique features, including:
Fully managed Drupal Cloud platform hosted in an Amazon Web Services environment with 24/7 global support. 
Specialized in end-to-end Drupal and decoupled Drupal solutions with NodeJS support.
Independent and built-in security audits are designed to maintain compliance with global and industry security standards.
Continuous delivery tools for faster, more flexible deployment.
Content Delivery Support options matched to your caching strategy.
99.95% uptime standard SLAs with the option to purchase premier 99.99% uptime
As you can see, the key areas where web hosting and even general cloud hosting fall short are addressed by Acquia Cloud. But what exactly does this mean to your organization?
Acquia Cloud Hosting Benefits
A fully managed Drupal hosting option means that your Drupal development partner can do what they do best, create exceptional digital experiences, without worrying about configuring or automating the platform.
Specialized Drupal hosting experts can support your Drupal development partner more efficiently than a generalist cloud hosting provider could.
Drupal is regarded as the most secure example of open source software by organizations from many government institutions to large banks. With a specialist Drupal development partner and a dedicated Drupal hosting provider, your website's security would be enterprise-grade.
Integrated Continuous Delivery tools mean that your development partner can easily and quickly deploy reliable code across all stages of the development cycle.
Content Delivery Support options enable faster load times, reduced bandwidth costs, and provide DDoS attack mitigation.
Acquia Cloud's 99.95% - 99.99% uptime is one of the highest of any Drupal Cloud hosting provider, making it ideal for government institutions and media platforms.
Acquia Cloud hosting is regarded as the gold standard for Drupal websites, but hosting is only a part of the delivery, upgrade, and maintenance process. If you are looking for the best Drupal hosting solution that provides technological and billing flexibility, increased reliability, and enterprise-grade security, it is a good idea to partner with Drupal experts for your development requirements too.
Acquia Certified Developers
Choosing a good development and maintenance partner for your Drupal site is as important as making the right hosting decisions. These two aspects of your website's requirements are related at every level. Without a good Drupal development partner, your investment in expert Drupal cloud hosting will likely be wasted. The logic works both ways.
Not all Drupal development teams are Acquia Certified, Developer teams. Acquia Certification is the premier professional certificate for both Drupal and the Acquia platform. 
As the official benchmark for Drupal developers, the Acquia Certification is an authentication of expertise that clients can trust as indicators of extensive knowledge and high levels of competence. Look out for industry compliance certifications for information security management too, as your Drupal development partner will be responsible for your client's data. 
If you have decided on a Drupal site and cloud hosting, it is worth considering Acquia Certified Developers to mitigate any risk of disconnects between your hosting infrastructure and your development teams. Seamless integration and end-to-end expertise will allow you to comfortably delegate the effective management of your Drupal website.
As an Acquia partner, Vardot has one of the largest teams of Acquia Certified Developers in the world. 
Want to find out more about flexible, reliable, and secure Drupal enterprise hosting and development? Let's get you started.
Acquia Cloud
Drupal hosting
B2B
Enterprise Solution
Enterprise Transformation
Enterprise Web Solutions