Digital Hub Enterprise-Grade Experiences
A solid digital foundation that enables them to create multiple websites for each business in the future.
Image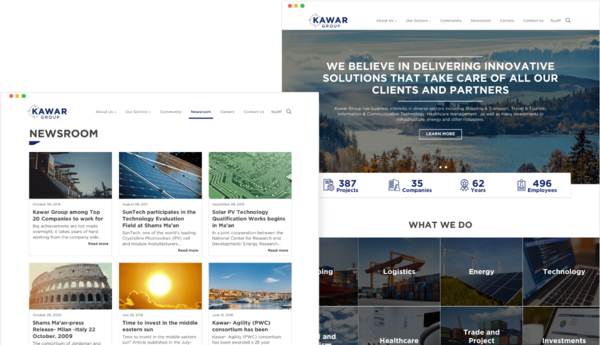 Founded in 1926, Kawar Group is a leading investment and operational holding company with business interests across Shipping & Transport, Energy, Travel & Tourism, Information & Communication Technologies, Healthcare management, as well as investments across a diverse set of industries.
Kawar Group's strategy was to find the right technology that allows them to build multiple sites for their multiple brands and businesses using the same CMS - enabling efficiency, reduced cost, and centralized control over content management. Kawar Group chose Drupal and Vardot to realize this plan. The first phase of the plan was to develop a new Drupal 8 site for the group.
Image

Trusted Partner
Our Acquia Certified Drupal 9 development and design solutions are trusted by the media industry and global enterprises alike. Don't believe us?
What They Needed:
Focused Digital Growth
Kawar Group is investing in its digital presence and wanted to have a dedicated website for each of the group's businesses. Each website under the main Kawar Group site should share similar branding and details as the Kawar Group site.
Upgrading from Drupal 6 to Drupal 8 means they can benefit from Drupal's multisite functionality.
Multilingual Content Publishing
The client needed to make sure that their communication was effective to all target audiences. In particular those in the Arab world and European markets.
Third-Party Integrations
We ensured that 3rd party apps (such as MailChimp and Akhtaboot) critical to Kawar Group's business were easily integrated with Varbase. The integration will be seamless for all the new websites in the pipeline as well.
Integration with social media channels was also a requirement.
Best Practices
The client needed the website to be built as per the highest standards of web development. The legacy website structure was poor which impacted their SEO performance negatively. 
Accessibility and security best practices were also a priority.
What We Delivered:
Less administrative costs. More efficiency.
We enabled Kawar Group to build multiple sites for their various brands and business using the same CMS; Varbase. This enables them to achieve focused digital growth and tailor user journeys on each website in an effective manner.
All sites that Kawar Group develop now can be built and designed using Varbase - no extra costs or technical expertise required. These sites will have a centralized content publishing and management process - meaning that they don't need dedicated admins or marketing teams for each website.

 
Superior CMS Performance
As mentioned earlier; we built the new Kawar Group website using Varbase - the world's most popular Drupal 8 distribution and digital experience builder.
Kawar Group needed to ensure that they communicate effectively in all the global markets they operate in. Hence; they chose Varbase due to its ability to ensure that its content is translatable to all known languages while being optimized for search engines in all those languages.
Varbase also ensures that their website content (regardless of format) will be displayed to the end-user in an optimized manner and responsive to any device screen size.
Tiered roles and user permissions are tailored to their marketing and website admin needs, making access to backend secure and the content publishing process centrally moderated to ensure the quality of standards when it comes to content creation.
Graphic Harmony
A critical issue for Kawar Group was the UX and UI design phase. They realized the need to build a harmonious feel to the brand whilst ensuring that it doesn't get in the way of functionality and user journeys.
Our design team provided Kawar Group with options that delivered easier navigation, better functionality for key features in the website whilst maintaining the unified look and appeal that the client needed.
Vardot provided Kawar Group's website admin and content creation team with various text and font styles to ensure that they will always enjoy flexibility when it comes to the aesthetic aspect of their content publishing.  
Enhanced User Experience
Kawar Group's new website visitors now enjoy easier navigation of the website content. A powerful search engine enables them to search for multilingual content easily. The search is provided through the Apache Solr search engine. Advanced search will be provided via search options from UI.
Animated sliders made highlighted features front and center for the website visitors in addition to easier social media sharing thanks to the seamless social media integration that Varbase can offer.
A highlight feature of the new website was the storytelling aspect found in the Our History section. The timeline was built using the A Simple Timeline module.