Al Jazeera Media Cafe
An interactive experience for journalists and fans.
Image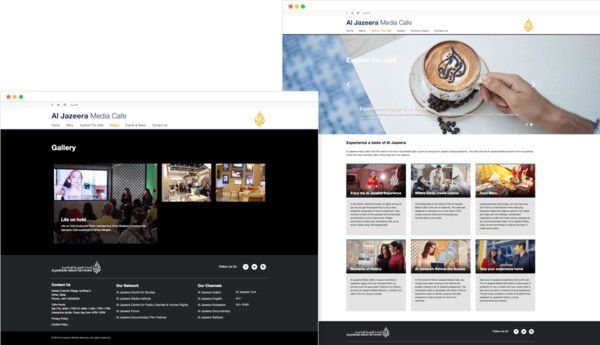 If you visit Doha, you definitely should pass by Al Jazeera Media Cafe.
There you can experience not only a nice food zone but also an interactive media studio, a live broadcast unit, and a museum exhibit. Al Jazeera made an innovative business plan, and an important part of it was the creation of a modern SEO-friendly website.
Vardot made it come true.
The goal of the project was not only to build a responsive site but also to do it in the shortest time possible. With a hard deadline scheduled for launching the Cafe, Vardot worked with Al Jazeera to implement the website using the enhanced Drupal distribution, Varbase. In a period of one month, the website was ready and in line with the timing of opening the Al Jazeera Media Cafe.
Vardot also helped Al Jazeera in integrating the website to read the cafe's menu through an API, which helps in effortless updating of the website's menu, ingredients of delicious items and mouth-watering photos of the cafe's specialty items.
Read more about this project in our blog post.