Top 10 Free Drupal Themes
Dmitrii Susloparov
July 24, 2017
As of July 2017, there are 1500+ themes registered with the Drupal project. The sheer number of choices makes the selection of a theme difficult for most newcomers to Drupal. Some Drupal themes are free while the rest are known as being premium, i.e., they are available for a fee. Sometimes you can save more money by investing in a paid theme, but this topic we'll cover in another article.
This one lists the top 10 free Drupal themes, each of them in our opinion is a great choice for a beginning site builder.
Are you a Drupal newcomer? Use our learning guide to become a guru!
Best Free Drupal Themes: Selection criteria
The main question when compiling the list of our proposed themes was how to make the comparison fair and objective. After much discussion, we decided that a theme must satisfy the following basic criteria for it to be considered in the list of top 10 Drupal themes:
It must be free.

It must run on either Drupal 7 or Drupal 8 (or better, both).

It must be actively maintained and developed.

It must be covered by the Drupal security advisory policy.
Coverage under the policy does not guarantee that a theme is free of vulnerabilities. Rather, it means that the theme has been reviewed for any publicly known vulnerabilities by the Drupal security team.

It must be for a general purpose.
Some Drupal themes are designed for specific industries, e.g., restaurant. For the purpose of this list, only general purpose themes are considered.

It must be responsive.
A responsive theme adjusts its layout to accommodate different screen sizes and resolutions. This is a basic requirement for today's mobile platforms.
It must run out-of-the-box.
There are themes, and there are theme frameworks (also known as base themes). A theme framework is like a blank canvas with tools which a theme developer uses to build a custom theme. The top 10 list only contains Drupal themes which one can use out-of-the-box as feature-complete themes.
In the course of conducting this study, it was observed that a small number of organizations have each generated a relatively large number of themes, albeit good ones, that are only marginally different. If an organization makes multiple but similar quality Drupal themes, only representative themes may be selected for inclusion in the following theme set. The individual or organization responsible for a theme is identified below in brackets.
Anyway, we have kept you in suspense for too long already. Based on the above criteria, the top 10 free Drupal themes are:
BlueMasters (by More than Themes)

Corporate Clean (with More than Themes)

Danland (by DanPros)

Business (by Devsaran)

Nexus (by Devsaran)

Zircon (by WeebPal)

Business Responsive Theme (by Zymphonies)

Drupal8 Zymphonies (by Zymphonies)

Fontfolio (by Marios Lublinski)

Integrity (by knackforge)
Below, we discuss each theme in more detail.
BlueMasters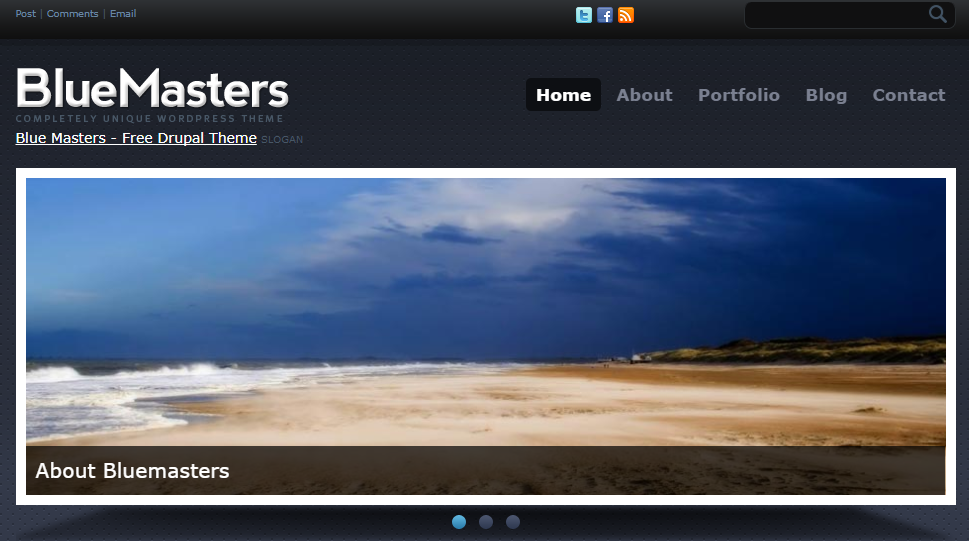 BlueMasters is a popular WordPress theme that has been ported to the Drupal platform by More Than Themes. We recommend this theme, not just for its features only, but that it is maintained by More Than Themes, a solid well-reputed organization in the Drupal community. The theme supports a maximum layout of 12 regions. A region is the primary layout unit to which a component block can be placed. Therefore, the more regions a theme supports, the more customizable it is. With this Drupal theme, you can display a slideshow on the front page, and partition information into either 2 or 3 columns on a web page. In addition, you can organize and access your contents via multi-level drop-down menus. BlueMasters, however, is only available on Drupal 7.
Corporate Clean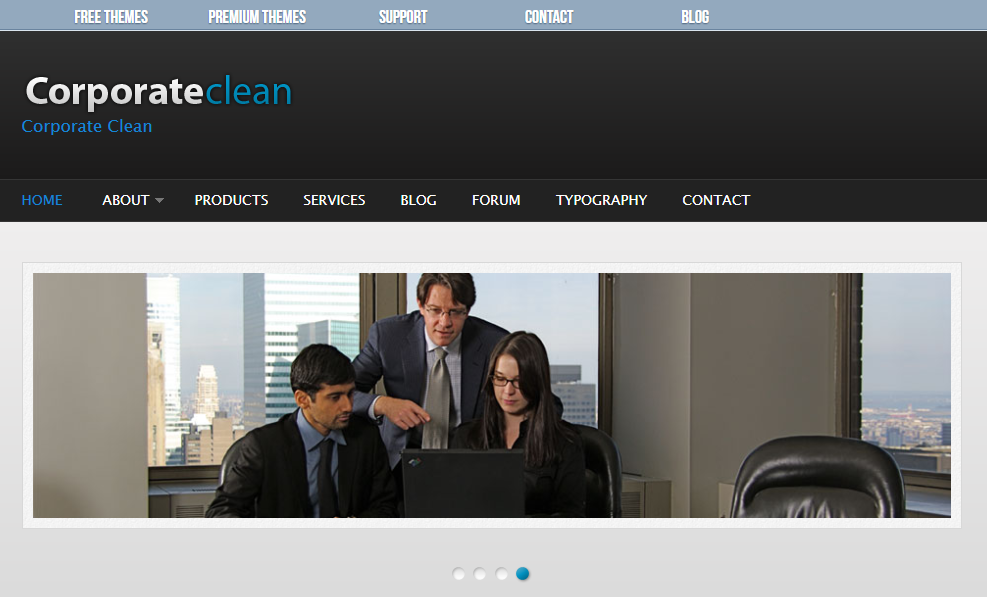 Like BlueMasters, Corporate Clean is a theme ported to Drupal by More Than Themes. We recommend this theme because it offers a unique feature that is missing in many free Drupal themes, namely, a color scheme selector. Most free themes have a fixed color scheme which means that you cannot change the color of a button or the page background. With Corporate Clean, you can adjust the color of some screen elements. This theme supports 1-column, 2-column as well as 3-column layout. Multi-level drop-down menus and slideshows are also supported. The Corporate Clean theme only runs on Drupal 7.
Danland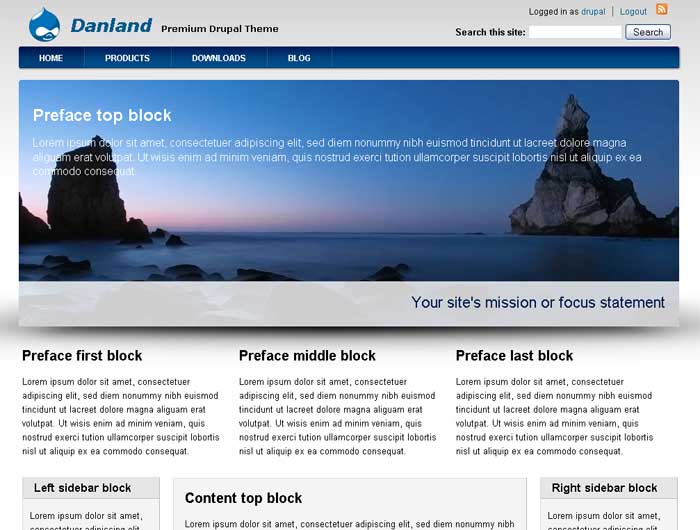 We recommend Danland because, among the Drupal themes on this top 10 list, it gives you the most flexibility to fine tune the layout of your web page. Specifically, it supports a maximum of 26 regions, the highest number on the list. The layout can have 1, 2, or 3 columns. Danland runs on Drupal 6, 7, and 8.
Business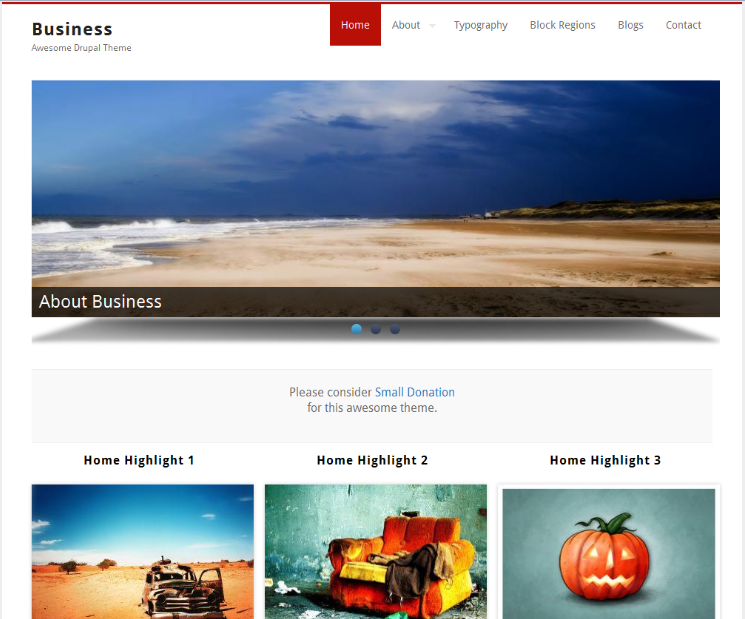 In terms of the major features, the Business theme is at par with other themes on the list. We recommend the theme because of the finer feature details. For example, the slideshow feature allows the display of up to 5 images. Note that some free Drupal themes only allow a maximum of 3. Also, the Business theme has a color module, which is missing in most free themes. You can specify one of 6 fixed colors for web components. The Business theme is available for Drupal 7 and 8. However, the Drupal 7 version is not responsive and is currently in maintenance mode only. The Drupal 8 version, on the other hand, is being actively developed and is fully responsive.
Nexus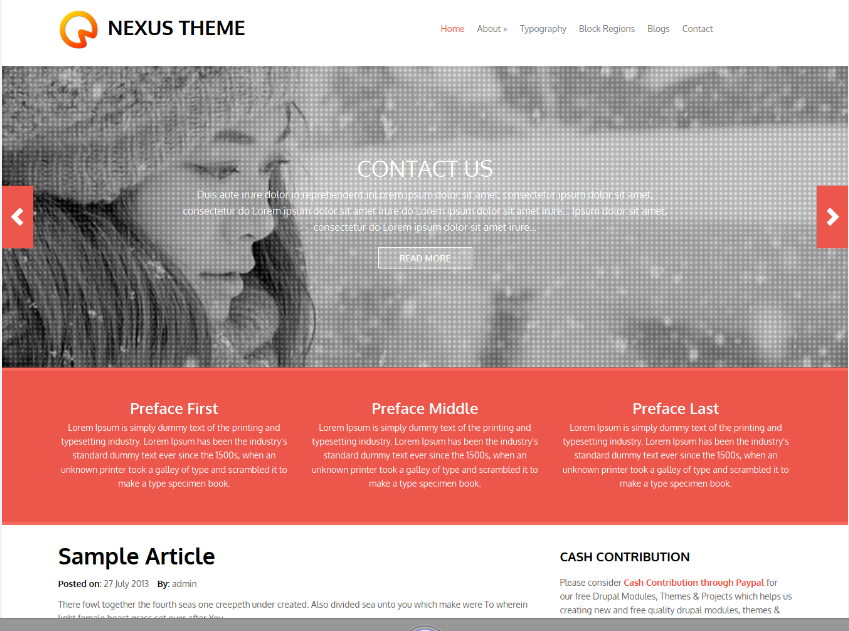 Nexus is arguably the most visually appealing theme on the top 10 list. The clean design together with the solid support by Devsaran, its maintainer organization, put Nexus on the list. The theme runs on both Drupal 7 and 8 with the Drupal 8 version being a pre-release version only. The layout can have a maximum of 15 regions, which is average on the top 10 list. You can specify a 1-column or 2-column design on the layout. The slideshow feature supports a maximum of 3 images.
Zircon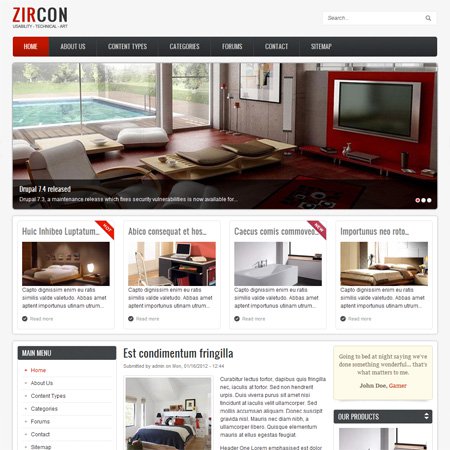 If your Drupal website is rich in images, then you should definitely consider using Zircon as the theme. You will be delighted by its slideshow, slider, as well as carousel features. You can run Zircon on both Drupal 7 and 8. However, the current Drupal 8 version has remained as a release candidate since November 2015. The Zircon layout supports 18 regions in 3 columns.
Business Responsive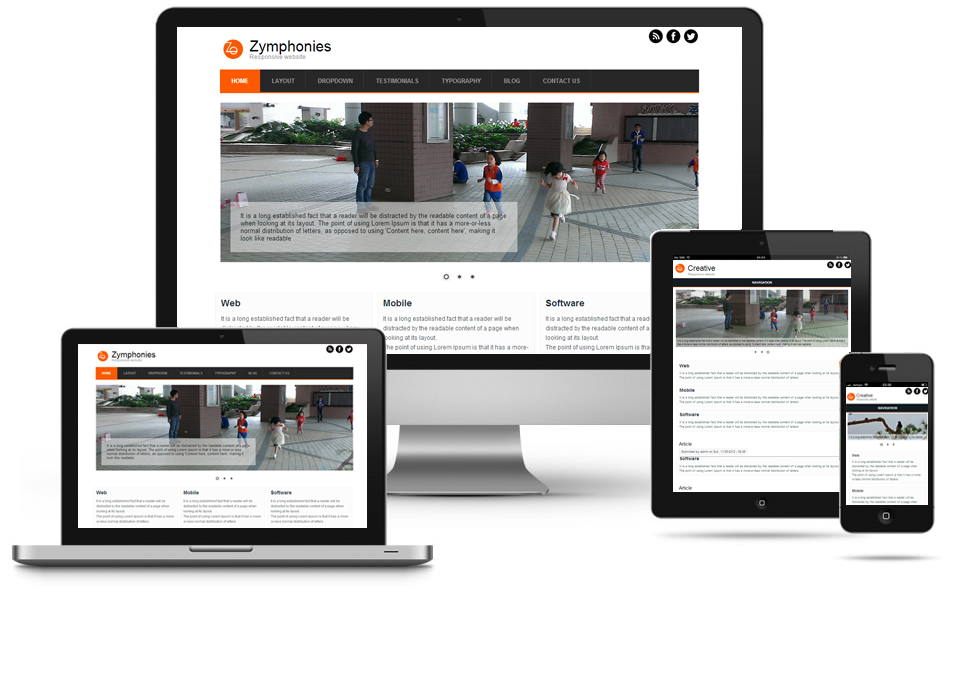 Not all themes on the top 10 list support Drupal 8. Even for those which do, some are in pre-release status only. If you are looking for a stable Drupal 8 theme, you should consider the Business Responsive theme which has reached the 1.0 stable release status. This theme supports 17 regions in 1-column, 2-column, or 3-column layouts. It also has a slider feature, but installing the feature requires some manual steps after installing the theme. This theme supports the use of social media icons for popular platforms such as Facebook, Twitter, Google+, LinkedIn, and Pinterest. You can install this theme on both Drupal 7 and 8.
Drupal8 Zymphonies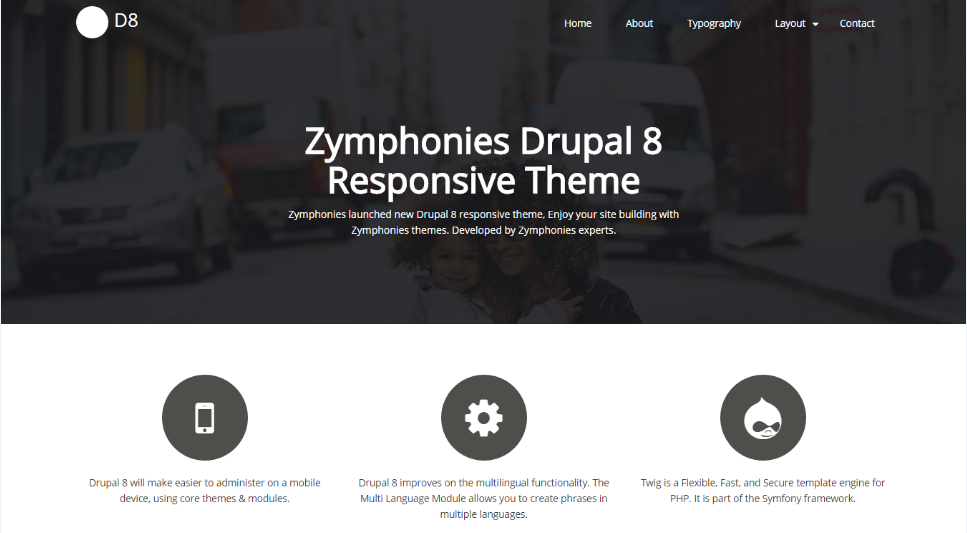 If you want a stable Drupal 8 theme that offers more bells and whistles than the Business Responsive theme, Drupal8 Zymphonies comes highly recommended. This theme is, fittingly, only available in Drupal 8. It shares many features with other themes on the top 10 list, such as multi-level menus and 1/2/3-column layout. It distinguishes itself by offering 22 regions for placing blocks, the second highest on the theme list. Also, you can customize the Zymphonies credit link, all supported social media links, and the title and description fields in the main banner.
Fontfolio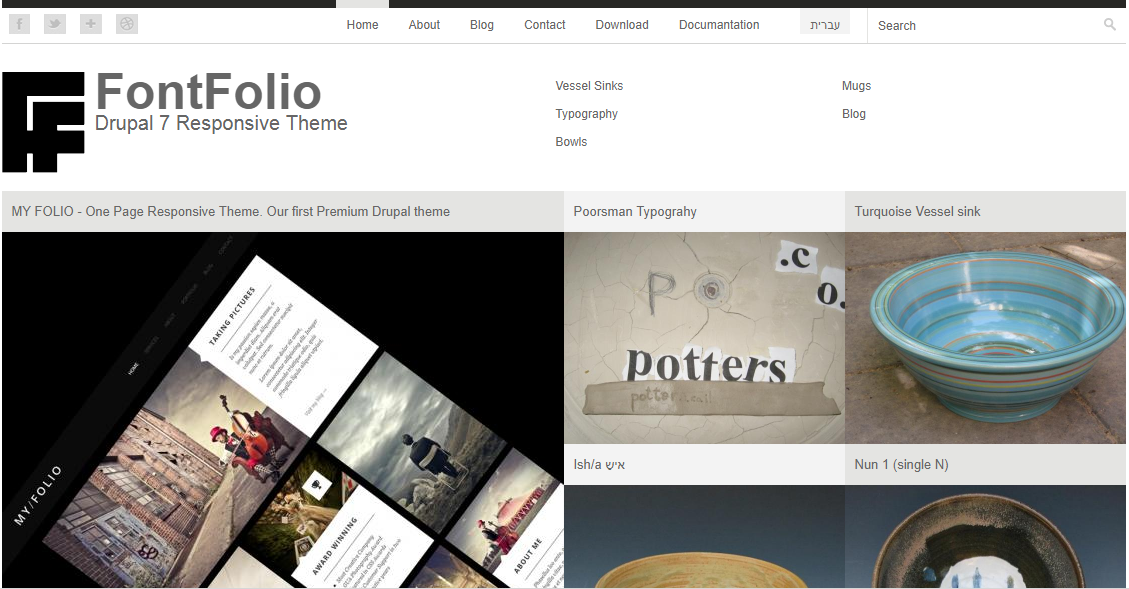 If your website is multilingual, you should definitely consider Fontfolio because it offers easy setup for links to web pages in all supported languages. Like BlueMasters, this theme is a popular WordPress theme that has been ported to Drupal. Fontfolio can run on both Drupal 7 and 8. Note that some existing features of the Drupal 7 version are still under development for the Drupal 8 version. Fontfolio supports a maximum of only 8 regions in its layout, the fewest on the list. Yet, overall, it is a simple but elegant Drupal theme that includes a 2-column responsive design.
Integrity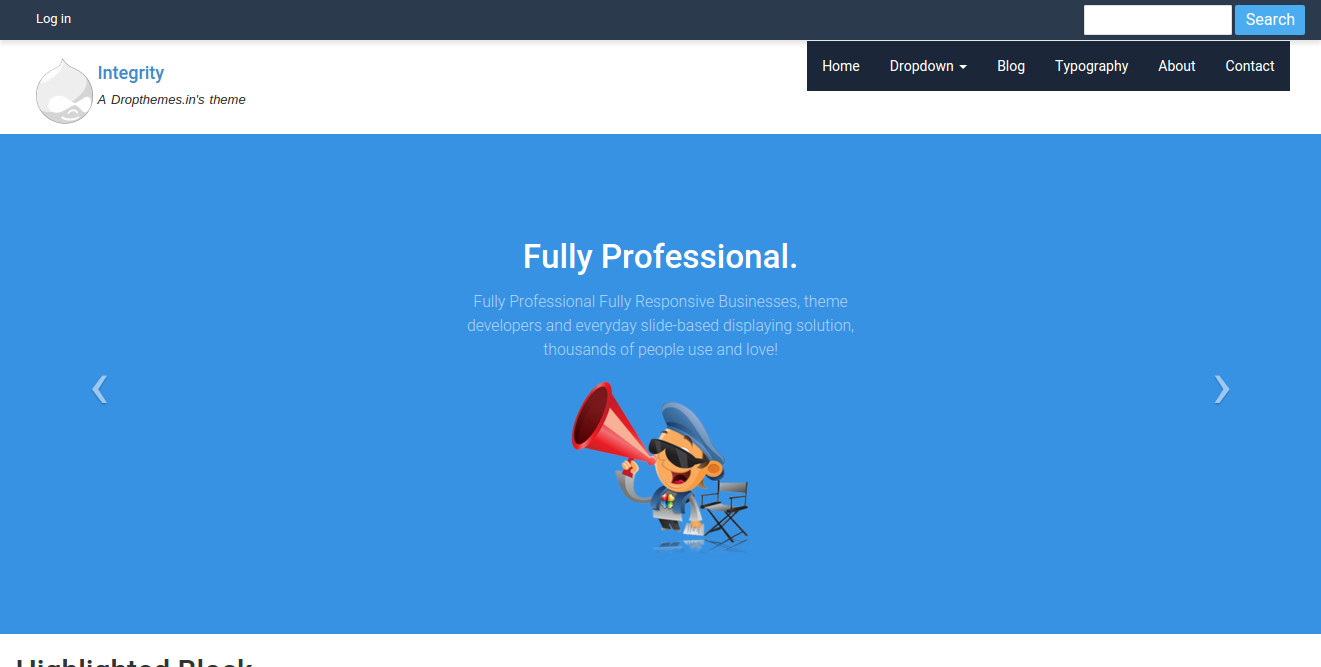 If you want a simple no-frills theme that just works out-of-the-box, Integrity may be your choice. It is a Drupal 8 only theme. Its feature set is, in general, at par with the rest of the themes. Integrity supports multi-level menus and slideshows that display up to 5 images. The layout includes a 3-column design. The theme has defined 17 regions into which Drupal blocks can be placed.
Summary & Conclusion
Drupal has a wealth of good free themes. Each of them is ideal for Drupal users who have relatively simple requirements and want to try something other than the default theme. If a free theme cannot fully satisfy your particular requirements, then you may want to use its premium alternative or even to hire a professional Drupal agency that can assist you with your needs.
Which theme do you like the most among our top 10 choices? Perhaps, you have your own favorite theme that is not on our list. What are the goals of your project and what kind of theme are you looking for? Share with us your thoughts in the comments section below!
Read more: How to Choose the Right Open Source CMS for Your Website (Infographic)
Drupal Planet
Drupal
Theme