Top 10 Free Drupal Themes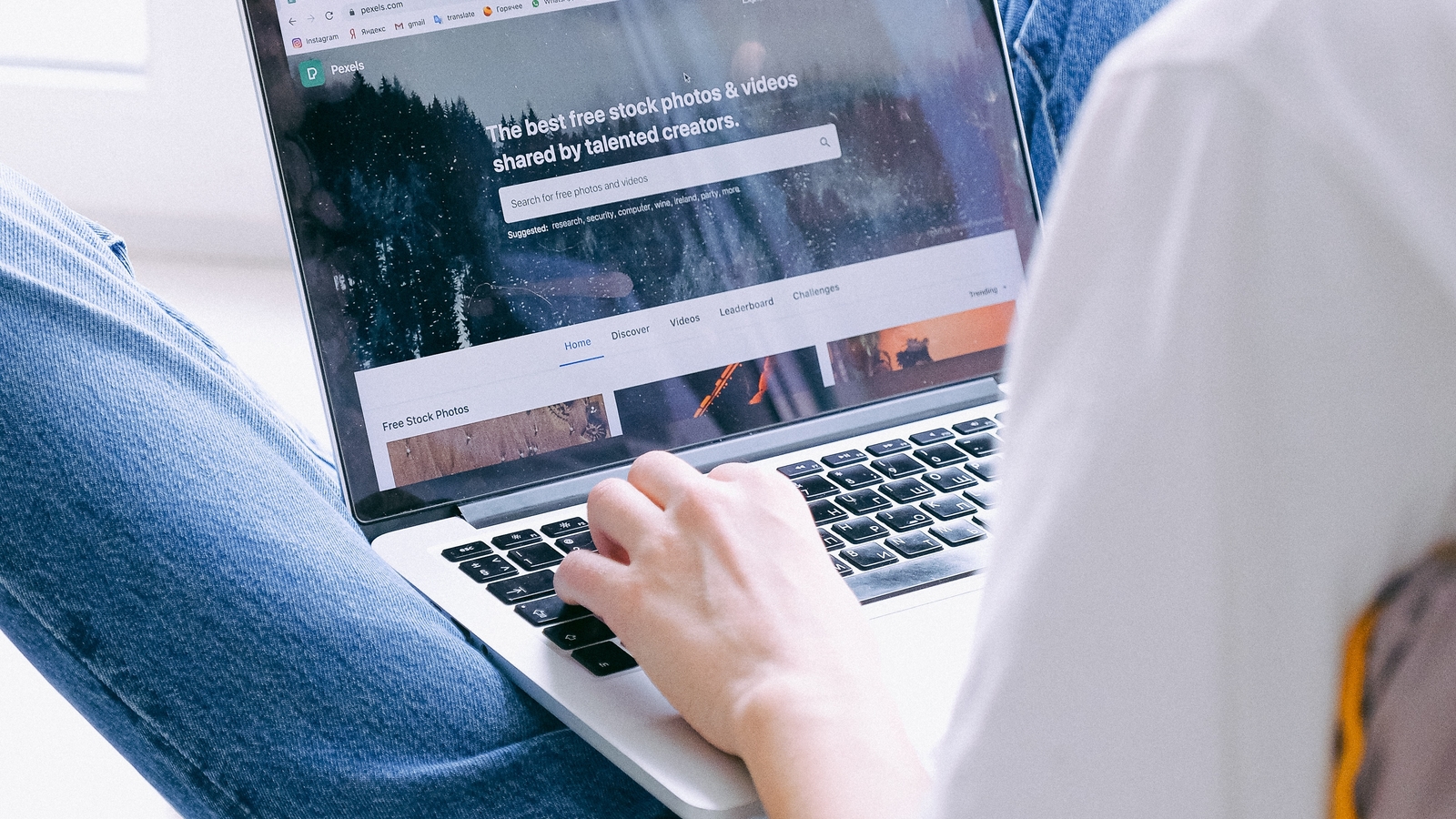 Rashed Azzam
November 24, 2021
As of November 2021, there are +2040 registered Drupal themes.​ The sheer number of options makes the selection of a good theme as exciting as it is tiring too! Especially for newcomers who have little to no expertise with Drupal themes. Of course, not all these themes are of equal quality. And while some Drupal themes are free, the rest are known as being premium, i.e. They are available for a fee.
This article will list the top 1-0 free Drupal themes, each of them in our opinion is a great choice for a beginning site builder. But if you don't mind investing a small part of your overall budget, we recommend our article on the best 20 Drupal themes to use in 2022.
Are you a Drupal newcomer? Use our learning guide to become a guru!
Best Free Drupal Themes: Selection Criteria
To prepare this list, it was inevitable to make the comparison fair and objective to all the tested free Drupal themes. So, after much discussion, we decided that for a theme to make it to our list, it must satisfy the following set of strict and fairly objective criteria: 
It must be free.
It must run on either Drupal 7 or Drupal 8 (or better, both).
It must be actively maintained and developed.
It must be covered by the Drupal security advisory policy. Coverage under the policy does not guarantee that a theme is free of vulnerabilities. Rather, it means that the theme has been reviewed for any publicly known vulnerabilities by the Drupal security team.
It must be a general-purpose theme. Some Drupal themes are designed for specific industries, e.g., restaurants. For the purpose of this list, only general-purpose themes are considered.
 It must be responsive. A responsive theme adjusts its layout to accommodate different screen sizes and resolutions. This is a basic requirement for today's mobile platforms.
It must run out-of-the-box
Don't Confuse a Fully Featured Drupal Theme With a Base Theme
Not knowing the difference between a base theme (or a Framework) and a fully-featured one may result in picking the wrong theme. In a nutshell, a base theme is like a blank canvas with some advanced tools used by a themer (theme developer) to build a custom theme. An example of a great base theme is Vardot's Vartheme BS4 (soon to Vartheme BS5).
The top 10 list is limited to the fully-featured but free Drupal themes which one can use out-of-the-box as feature-complete themes. No theming and no coding is needed with our list!
While conducting this study, we noticed that few organizations produced a relatively large number of themes; Although good, they barely differed marginally. If an organization makes multiple but similar quality Drupal themes, only representative themes may be selected for inclusion in the following theme set. The individual or organization responsible for a theme is identified below in brackets.
Anyway, we have kept you in suspense for too long already. But here sing the Sirens!
Based on the aforementioned criteria, the top 10 free Drupal themes are:
Below, we discuss each theme in more detail with attached previews!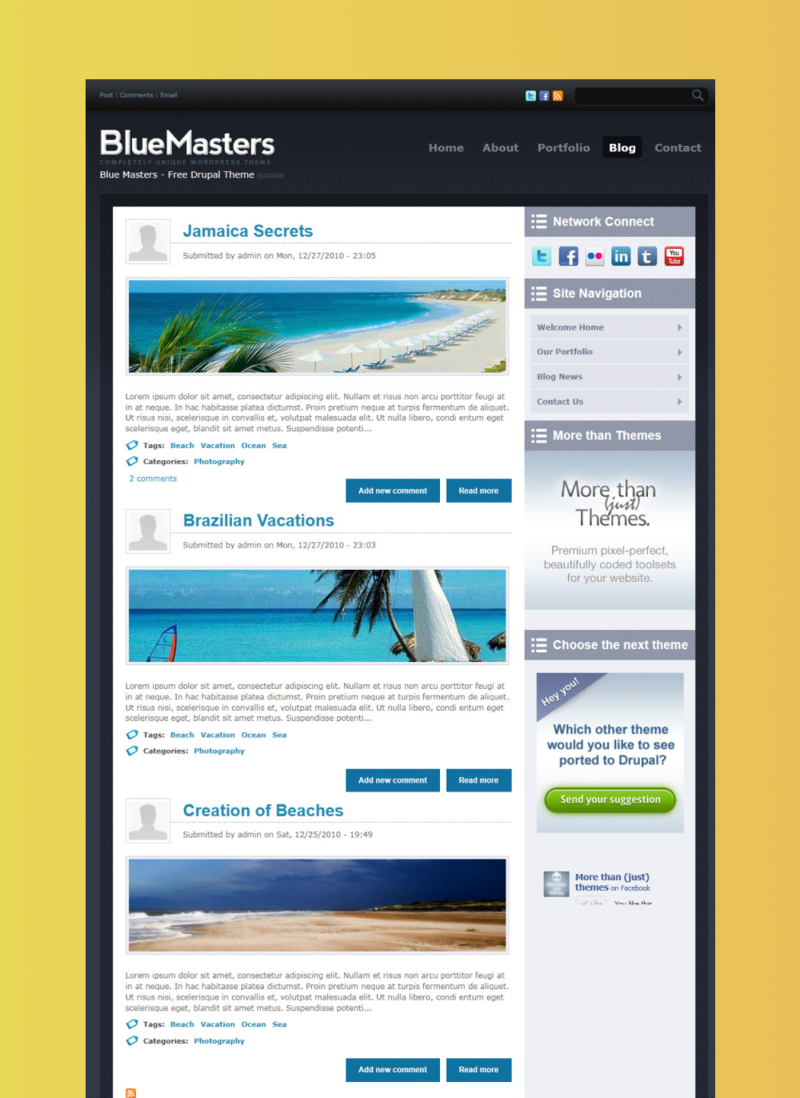 It's developed and continuously improved by More Than (just) Themes; a solid well-reputed organization in the Drupal community. The theme was first built for WordPress. But thanks to its immense popularity, the community was elated to receive the Drupal version of the BlueMaster theme for free in 2010. The latest theme update was dated 18 November 2021! This means that the developing theme still works on improving this free theme.
The theme supports a maximum layout of 12 regions. A region is the primary layout unit to which a component block can be placed. Therefore, the more regions a theme supports, the more customizable it is. With this Drupal theme, you can display a slideshow on the front page, and partition information into either 2 or 3 columns on a web page. In addition, you can organize and access your content via multi-level drop-down menus.
BlueMasters, however, is only available on D7 and D8. If your website is running on Drupal 9, we recommend you check one of the free options we mentioned in our pick of the best 20 Drupal 9 articles.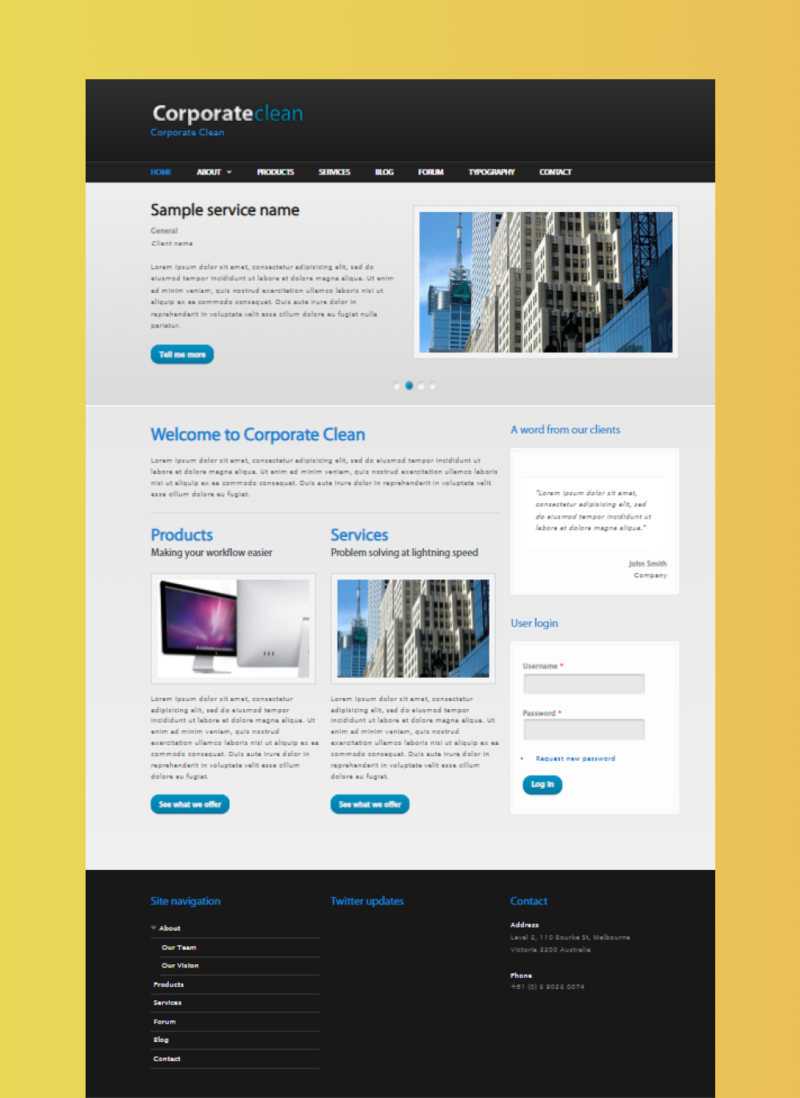 Like BlueMasters, Corporate Clean is a theme ported to Drupal by the well-rounded MORE THAN Just THEMES. This theme offers an outstanding feature that is missing in many other free Drupal themes, namely, a color scheme selector. Most free themes have a fixed color scheme which means that you cannot change the color of a button or the page background. With Corporate Clean, you can easily adjust the color of some screen elements.
This theme supports 1-column, 2-column as well as 3-column layouts. Multi-level drop-down menus and slideshows are also supported. The Corporate Clean theme only runs on Drupal 7 and 8.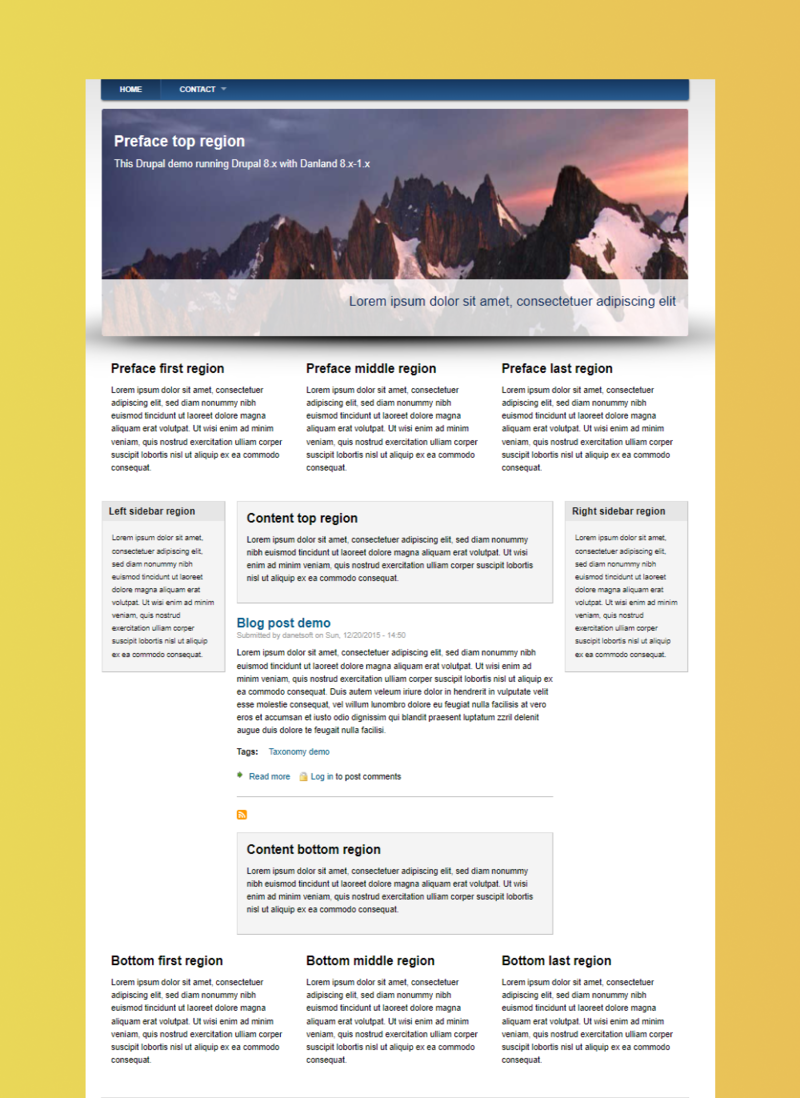 We recommend Danland because, among the Drupal themes on this top 10 list, it gives you the most flexibility to fine-tune the layout of your web page. Specifically, it supports a maximum of 26 regions, the second-highest number on the list. The layout can have 1, 2, or 3 columns. The standard installation features an image/photo slideshow feature. But its subtheme Danblog doesn't support this feature. The latter is more convenient if your website is meant to be less dynamic or distractive.
Danland runs on Drupal 6, 7, and 8. It functions safely on all browsers and it's pretty optimized for small screens such as phones and tablets.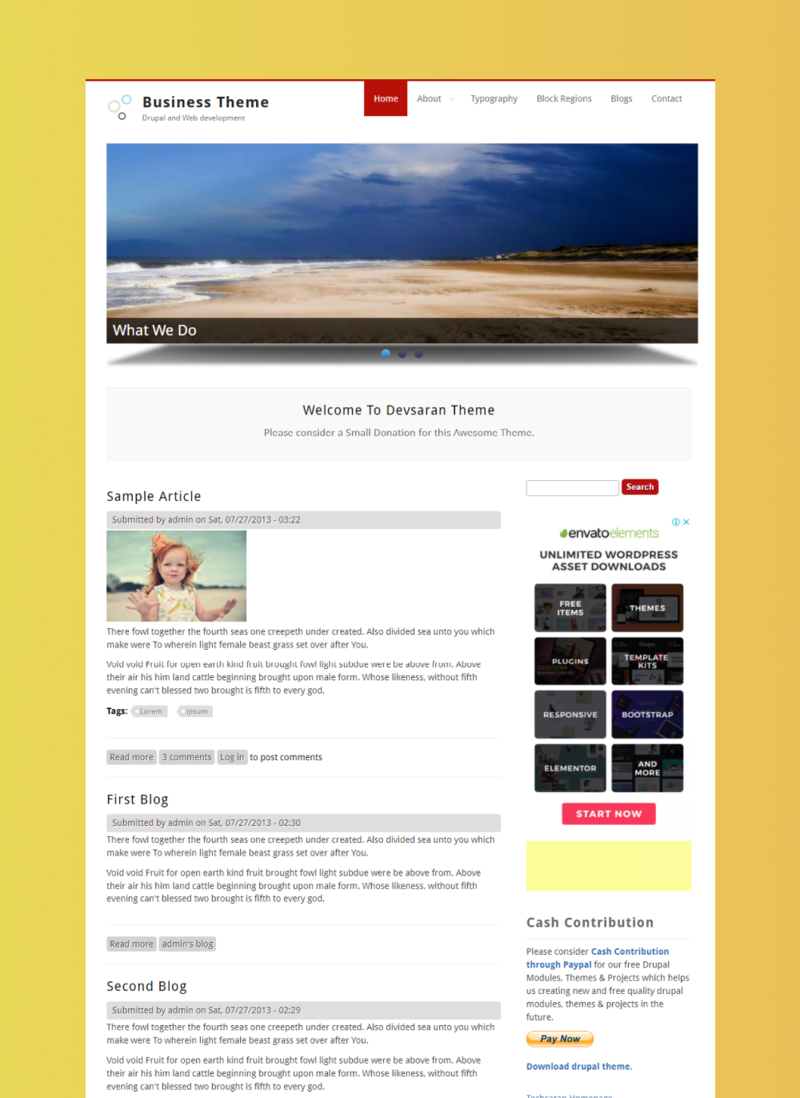 When it comes to the major features, the Business theme is at par with other themes on the list. It's highly recommended because of the finer feature details. For instance, the slideshow feature allows the display of up to 5 different images. Note that some free Drupal themes only allow a maximum of 3.
Also, the Business theme has a color module, which -as we mentioned earlier- is missing in most free themes. Still, you can only specify one of the 6 fixed colors for web components. The Business theme is available for Drupal 7 and 8. And more than 5000 websites are reported to be using this free Drupal theme.
However, the Drupal 7 version was not as responsive as required, but major updates were conducted as of 27 August 2021. But since no official reports were issued so far by the theme users, we recommend you only use it with D8 or look for a different theme for your D7 website. 
Businesses can have a max of 12 regions, slightly below the average of this list. Yet, we believe it's enough for small to intermediate websites. This free Drupal theme has a configurable layout in which the slide bar can be right or left, and it features all the Google fonts.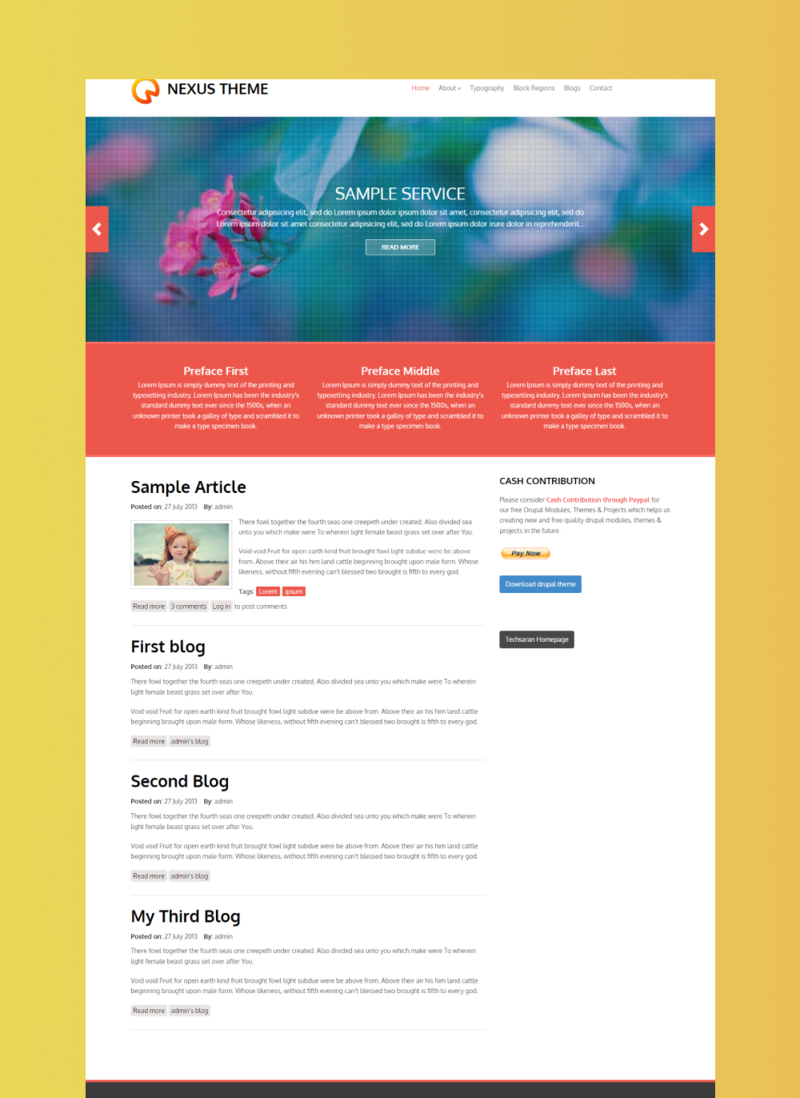 Nexus is arguably the most visually appealing theme on the top 10 list. The clean design combined with the solid support by Devsaran, its maintainer organization, grants Nexus a safe spot on the list. The theme runs on both Drupal 7 and 8 with the Drupal 8 version being a pre-release version only.
The layout can have a maximum of 15 regions, which is average on the top 10 list. You can specify a 1-column or 2-column design on the layout. The slideshow feature supports only a maximum of 3 images, which is lower than what Business theme can support (5 images).
Although the theme was relatively updated recently (November 2019), the Drupal Organization makes it pretty clear that they have lifted their support due to unfixed security issues. Still, more than 8000 websites are reported to be using this theme!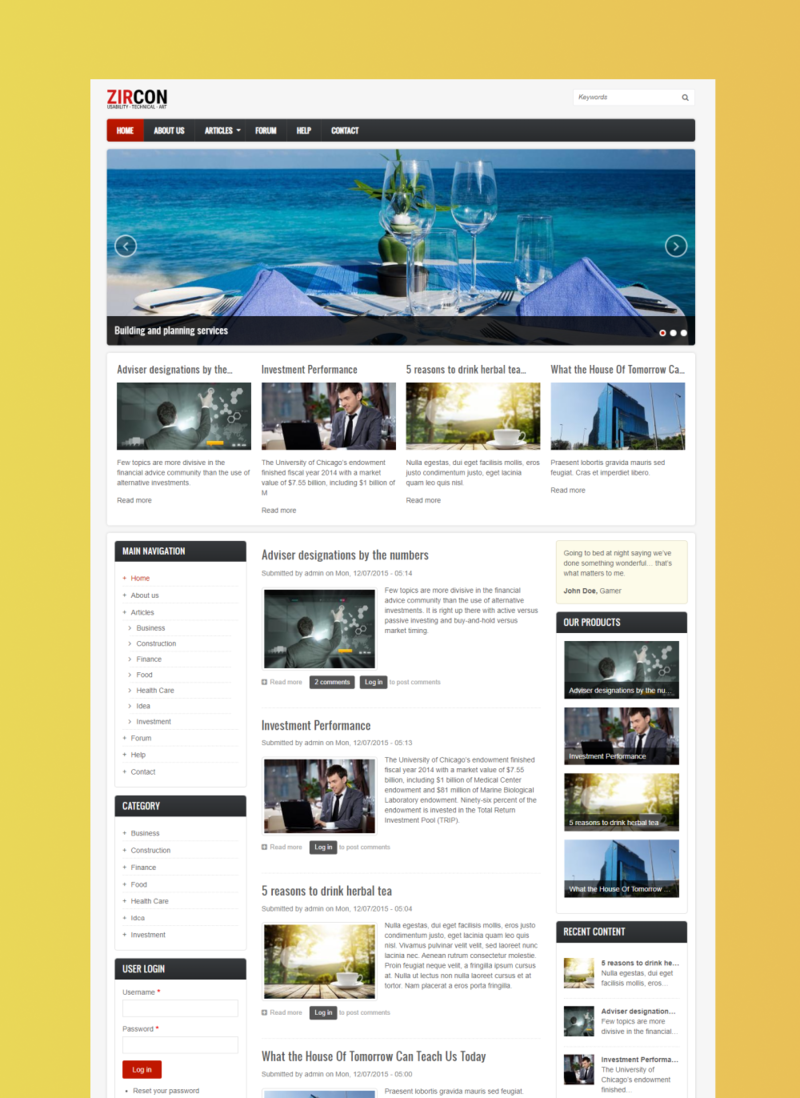 If your Drupal website is imagery-rich, then you should definitely consider using Zircon as your theme. You will be delighted by its slideshow, slider, as well as carousel features. You can run Zircon on both Drupal 7 and 8. However, the current Drupal 8 version has remained as a release candidate since November 2015.
The Zircon theme was updated in October 2021, which is pretty recent. Its layout supports 18 regions in 3 columns, and no less than 2000 websites are currently using it.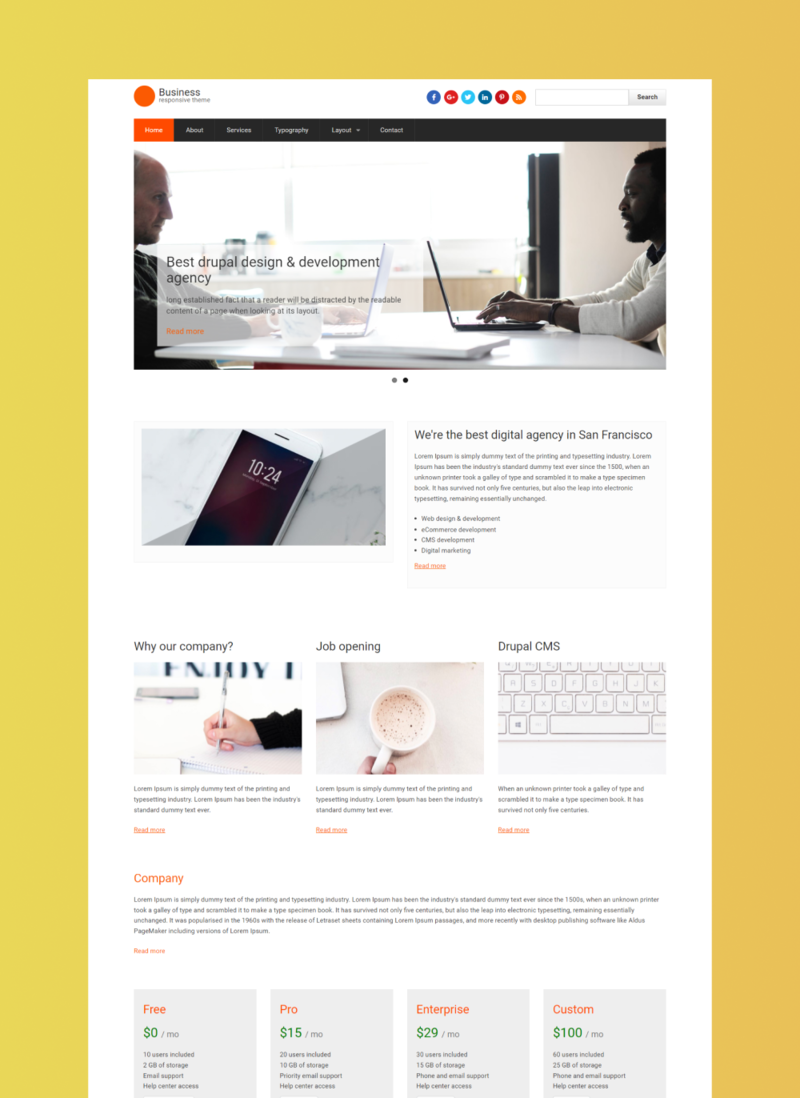 If you're looking for a stable Drupal 8 theme, then it's safe to say that the Business Responsive theme is a strong candidate This theme supports 16 regions in 1-column, 2-column, or 3-column layouts. It also has a slider feature, but installing the feature requires some manual steps after installing the theme.
This theme supports the use of social media icons for popular platforms such as Facebook, Twitter, LinkedIn, Vimeo, and Pinterest. The theme is also staying up to date by improving the integrated UX/UI features, to help website owners build a seamless digital customer experience.
You can install this theme on both Drupal 7 and 8 safely as more than 5000 websites use it as of the date of publishing this article. A worth noting fact, this theme is the only one whose user chart has been increasing during the past few years, rather than decreasing.
This one is a really stable Drupal 8 theme that offers more bells and whistles than the Business Responsive theme. Drupal8 Zymphonies comes highly recommended for Drupal 8 sites, because, as you may guess, it's D8!
This very phone-responsive theme shares many features with other themes on the top 10 list, such as multi-level menus and a 1/2/3-column layout. But it distinguishes itself by offering 22 regions for placing blocks! The second-highest on the theme list.
Also, you can customize the Zymphonies credit link, all supported social media links, and the title and description fields in the main banner. The theme is used by +4000 websites, and it's not losing its audience according to the chart. In other words, its users are pretty happy with its performance!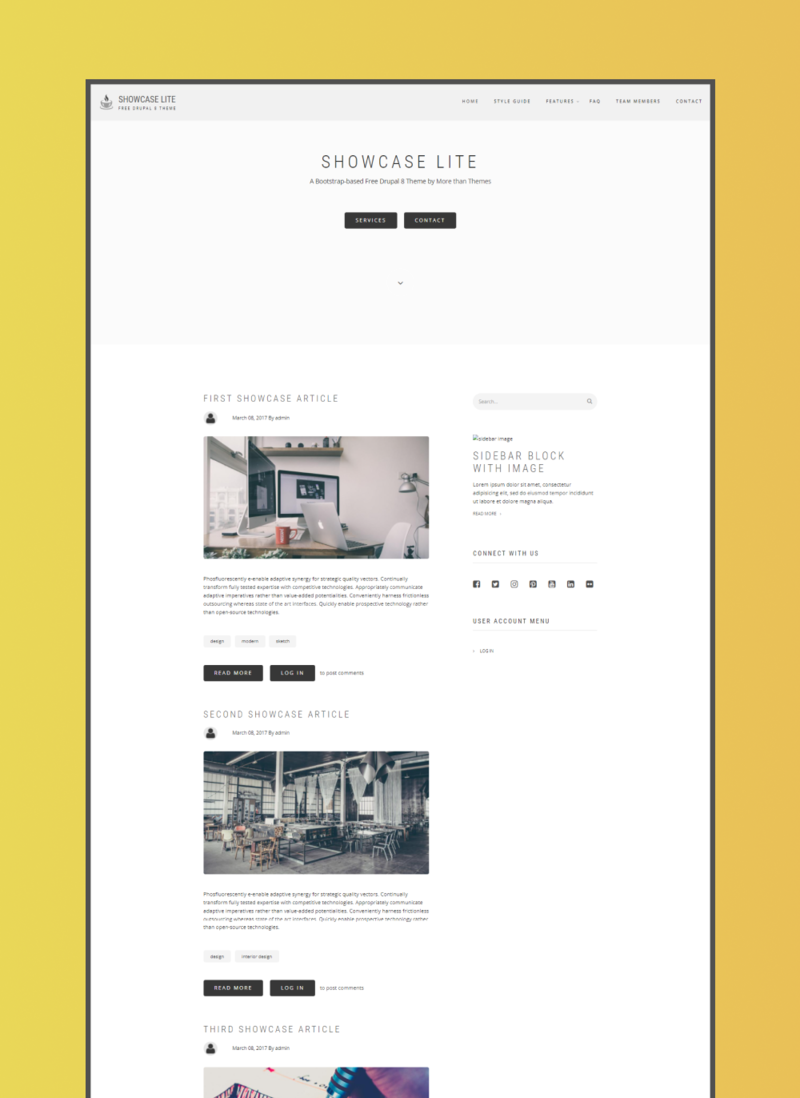 Though developed by Skounis, the Showcase Lite theme is supported by the amazing MORE THAN Just THEMES organization. This theme is built to perform perfectly well on the mobile phone; especially since ⅔ of the users perform research on their phones. Still, the developer didn't compromise its performance on bigger computers' screens; the theme performs perfectly well on any device you can think of!
Another powerful feature of this theme is its ability to support almost any font or typography style. It supports all of Google's fonts, in addition to the Font-Your-Face module that helps you make effects on your typography style.
Showcase Light features 1, 2, and 3 columns with 36 regions! Which is the highest number by far on the list.
The theme was first launched in 2017, and its chart has been hitting a peak ever since. More than 2130 sites are apparently happy to use it as of November 2021.
If you want a simple no-frills theme that just works out of the box, Integrity may be your choice. It is a Drupal 8 only theme. Its feature set is, in general, equal to the rest of the themes. Integrity supports multi-level menus and slideshows that display up to 5 images. The layout includes a 3-column design. The theme has defined 17 regions into which Drupal blocks can be placed. 
Summary & Conclusion
Drupal has a wealth of good free themes. Each of them is ideal for Drupal users who have relatively simple requirements and want to try something other than the default theme. If a free theme cannot fully satisfy your requirements, then you may want to use its premium alternative or even hire a professional Drupal agency that can assist you with your needs.
Which theme do you like the most among our top 10 choices? Perhaps, you have your own favorite theme that is not on our list. What are the goals of your project and what kind of theme are you looking for? Share with us your thoughts in the comments section below!
Read more: How to Choose the Right Open Source CMS for Your Website (Infographic)
Drupal Planet
Drupal
Theme