Essential Things To Know About Varbase
Dmitrii Susloparov
September 25, 2017
Why Varbase?
Varbase is a custom Drupal 8 base distribution developed by Vardot, a leading Drupal solution provider headquartered in Amman, Jordan with regional offices in Santa Clara, USA, and Cairo, Egypt. It is a software product embodying years of experience from building Drupal-based websites for high profile customers such as Al Jazeera, Georgetown University School of Foreign Service, and the United Nations Relief and Works Agency (UNRWA).
Learn Why Varbase CMS Is the Best Multilingual Enterprise-Grade Drupal Website Builder
What is Drupal?
Drupal is an industry-leading website building platform, renowned for its rich feature set and the ability for users to customize and extend core functionalities to satisfy their unique requirements. Its flexibility is due to its modular design, that is, Drupal functionalities are implemented in a large number of a relatively small core and contributed modules, rather than in a single enormous blob object. One key element for a successful Drupal project is to start it off in the right way: namely, select and configure the best modules to do what you want, or as close to what you want in order to minimize the customization work.
This can be a daunting task for most Drupal newcomers. For developers who have done this before, the task can quickly become a repetitive chore, as the same procedure is required at the beginning of each project.
Varbase offers Drupal site builders the important benefit of time-saving. As a Drupal base distribution, Varbase makes available, in a single download, Drupal core modules, as well as best-of-breed, contributed modules, themes, and pre-defined configurations.
Instead of starting from scratch, Varbase site builders leverage pre-installed and pre-configured industry-proven tools and modules. In addition to using the best modules that others had written, Vardot also contributed its own optimized modules to the distribution, for instance, Varbase SEO and Varbase Media.
From now on you can start building and customizing your website right away, instead of wasting valuable resources in 'reinventing the wheel'.
The new distribution was the direct result after many hours of interaction between Vardot developers and web editors, specifically to find out how to make the editor's job easier and more efficient. Varbase users benefit from that editorial experience as the knowledge was subsequently codified into the design of Varbase modules.
Committing to a base distribution and a website building platform is a long-term investment in user organizations. To protect their investment, users look for a base distribution that is being actively developed and supported long-term by a quality organization. Varbase as a product is fully backed by Vardot, an award-winning enterprise web solution provider. Since 2011, Vardot has been applying its Drupal expertise to build enterprise websites spanning many industries, including corporate, non-profit, news/media, and higher education vertical industries. You can view the past history and the future roadmap of Varbase on-line.
In addition to this, we've created a Slack channel where you can quickly get any information regarding the distribution or get our support in a timely manner.
Varbase Drupal 9 CMS Features
1. Mobile ready CMS
If a mobile visitor browses your website, only to find web pages served up using an oversized desktop resolution, it is very likely that the visitor (and potential customer) will bounce off and never return. Varbase prevents this event from happening by prepackaging custom responsive themes built using the industry-standard Bootstrap framework. The use of the carefully selected responsive themes guarantees that visitors will experience your website in a screen resolution that best fits the actual devices.
The distribution also provides site editors with the ability to preview web pages on their mobile phones. As a result, editors can examine a page using the same screen resolution before releasing it to the target mobile user base.
2. High scalability
As your website gains readership over time, the user experience of the site must not degrade because of the additional load on your Drupal platform. Specifically, the page load time must remain fast during peak hours in web traffic and also when your website experiences temporary spikes in traffic.
Varbase is designed to be highly scalable in order to deliver the performance required to withstand a steady climb as well as a spike in web traffic.
3. Easy media management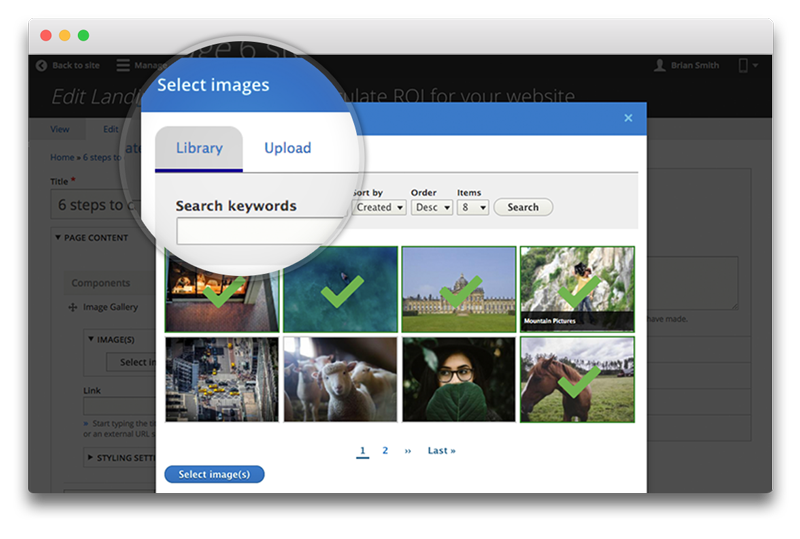 The distribution offers optimized HTML5-compliant media management via the Varbase Media module. Support is built-in to upload, via drag-and-drop, photos, images, videos, and even documents to an online media library.
Uploaded images and videos in the library can be assembled into sliders or carousels and displayed on your website. Varbase Media is designed to enhance both the aesthetic and the SEO performance of your media resources.
4. SEO ready
With a built-in SEO modules, search engine optimization is no longer hit-and-miss. Varbase provides a powerful SEO engine to grade the SEO readiness of your website, and to recommend on-page areas for improvement based on its vast SEO knowledge. Varbase enables the specification of meta tags and markups to describe your web contents. Furthermore, to further increase the visibility of your web pages, Varbase supports the generation of XML sitemaps.
If you are migrating your website to Drupal 8, Varbase can import all web pages from your legacy website, and set up page redirects from the old URLs to the new ones on the Drupal 8 platform.
Download SEO Guide
On-Site SEO Guide 2020
Identify all the best practices you need to implement in order to ensure that your website is optimized for search engines!
5. Social media savvy
If visitors like your web content, you want to gently encourage them to share it with their social media contacts, essentially creating a viral effect. Varbase makes the integration of social media within your website as easy as just choosing the target social networks, which automatically enables the corresponding social media plugins.
In addition, Varbase enables you to syndicate selected web contents to various social media networks, thereby maximizing their exposure and reach.
Summary & Conclusion
Varbase embodies the principle and practice of Don't Repeat Yourself (or DRY). It is a shortcut to developing your Drupal 8 website using out-of-the-box, best-of-breed modules, themes, and tools. Varbase is made available to the general Drupal community as a free and open-sourced software. Varbase users can download and modify the base software without incurring any licensing cost.
For organizations that require professional services, note that Vardot offers full-cycle Drupal services ranging from implementation, customization, support, training, to hosted management. Please don't hesitate to contact Vardot if you have any questions regarding our work!
Drupal Planet
Drupal
Drupal 8
Website Launch