The Full 2023 Drupal SEO Guide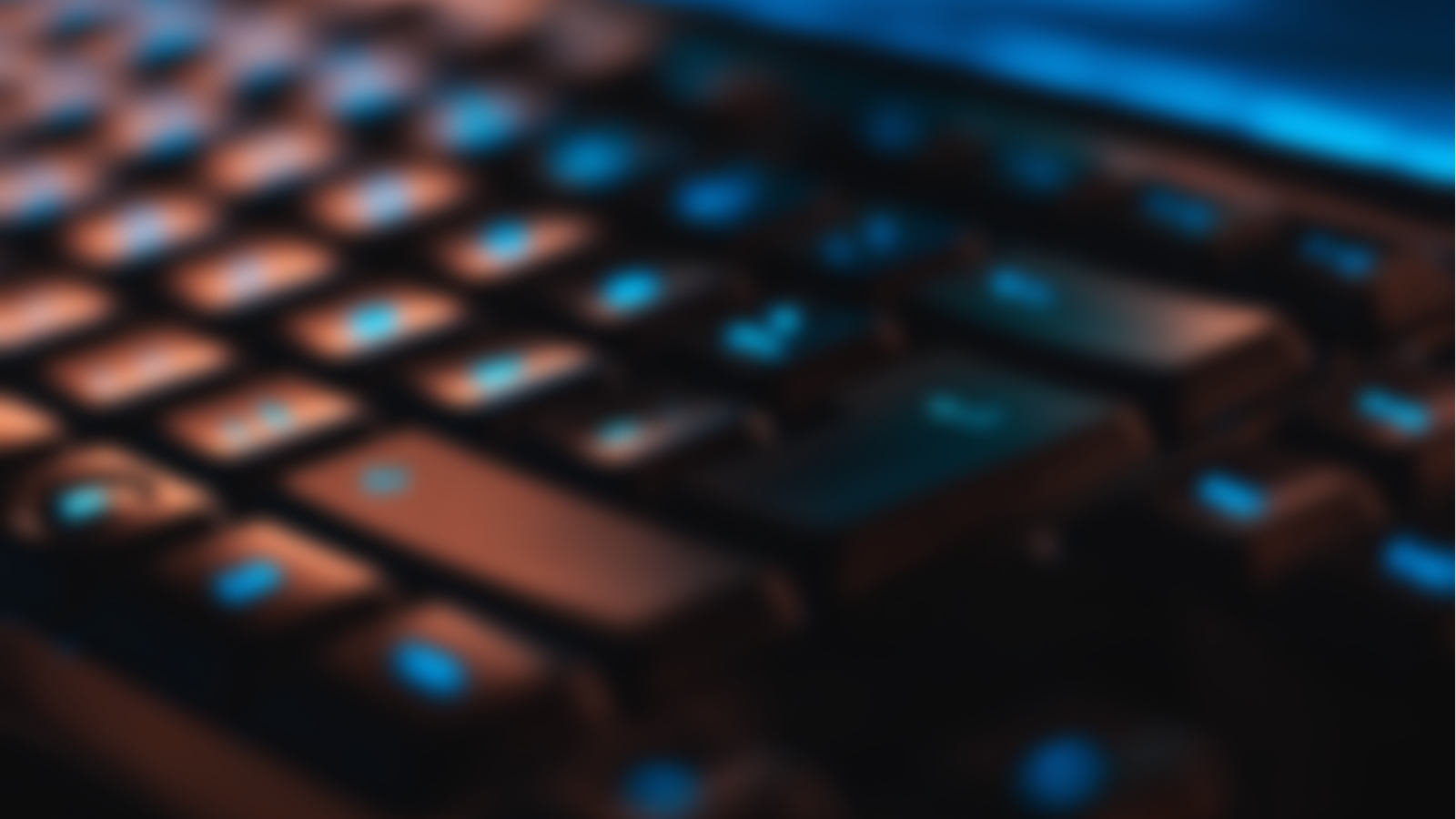 Rashed Azzam
January 5, 2023
To provide internet surfers with the best results, colossal search engines like Google and Bing are constantly changing their algorithms and ranking factors. The SERP of the word "coffee" today is not the same as it was a decade ago. Websites, CMSs, and marketers who did not adapt to the change are all lost in oblivion. And whether you're a marketer or a business owner seeking to always stay at the top, Drupal SEO modules will help you achieve that.
But even a great content management system like Drupal is not enough. There are plenty more critical factors that you should implement, and some reliable SEO tools that no matter what CMS you use, would help you. And you're about to discover them while learning why Drupal is the right option if you want to achieve the fastest SEO results.
Content and User Intent in SEO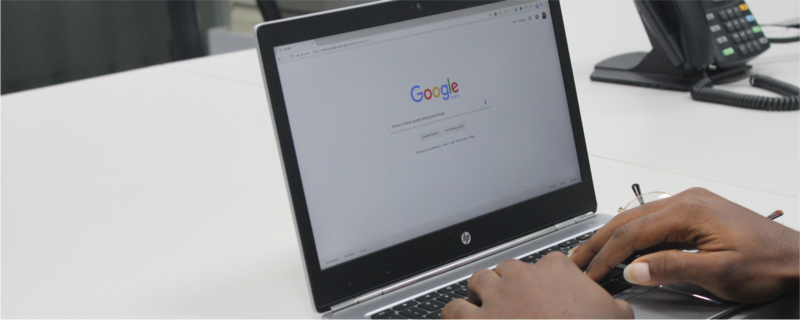 Keywords are essential in SEO. But placing them here and there in an article no longer gives the desired results. If you're not providing valuable information and entertaining content to your audience, all the other techniques and procedures you take advantage of will be of no use.
Content is king. If the readers don't enjoy reading your content they would bounce back. They would leave your website faster, and Google would notice. Then it would label your content under the low-quality section, resulting in less attention and poorer traffic. And no one wants to go down that road.
When writing an article, you -or your team- should ask yourself a single question after every sentence: "Is this valuable for my audience?" Whenever the answer is "No", you know something ought to change!
That being said, one more factor that can help people stick longer on your website is 'User Intent.
In a nutshell, user intent is what people are actually looking for or trying to accomplish when they type a specific word in the search bar. For instance, when people search the word "coffee" in Google or Bing, do they want to read more about the benefits of coffee? Recipes with coffee in them? Or maybe looking for the nearest coffee store? You get the idea…
You don't really have to figure out the intent when trying to rank for a longtail keyword like "How to prepare Turkish coffee". The keyword already tells you everything about the intent. But in the case of short terms like "coffee", there are some techniques to figure out what people are looking for.
One of which is to Google it! As absurd as it may sound, look that specific keyword up and the best results are basically where people tend to spend more time. This means it's what they're looking for.
And to reveal more data, you can install the Ubersuggest extension in the Google Chrome browser, and it will give you more insights about each SERP result.
The variables to look out for are:
Domain Authority: It's the indicator of the power a website possesses in a specific niche. The domain of a website doesn't necessarily have to contain relevant terms to a specific industry or niche to get high domain authority; instead, the authority is established through time based on the performance of the overall components of a website. An illustrating example is Forbes.com; the word Forbes has no denotative relevance to entrepreneurship, business, or finance… yet it has a domain authority of 95 in the business niche, which is very high.
Estimated Visitors: It indicates how much traffic a specific search result or a link gets every month.
Social Media Shares: You may find icons of social media like Facebook, Twitter, and Pinterest with a number next to them. This indicates how many times that result was shared on these platforms (also called social media backlinks). More shares mean that the audience liked that piece of content, and they are sharing it across social media feeds and groups.
Backlinks: The last variable is backlinks. It's the estimated number of times a result's link was shared as a hyperlink on other websites. It's a very significant factor in the SEO world because it doesn't only mean an audience is sharing that content, but also that other blogs and websites rely on that content and consider it as a reference. It's a testimony from professionals stating that they find the content insightful.
Again, Ubersuggest provides all these insights. But whatever software you use, these data will help you see through the result page into the actual veiled digits. Deciphering it will tell you which result users value the most. And therefore, how to give them better.
The last ingredient to gain better search engine positioning is a good CMS. Drupal for instance has been around for over 20 years, and it has always responded to algorithm updates by creating more Drupal SEO modules.
One of the main strengths of Drupal is the endless list of niche-customized Drupal themes that you can get. How themes are of help in the light of writing? Well, a good theme like Vartheme BS4 can help you customize how your website looks, and make your content appear in a tidy, attractive layout. This grants your audience a fast-loading site and a premium user experience, both of which are ranking factors for the search engines. 
Accelerate the Results You Get From SEO
Optimize the Mobile Version of Your Site

Yep, that's right! Two-thirds of the searches on the internet are done via mobiles. This means you throw a lot of visitors and potential customers to the sharks simply by not optimizing your site for mobile use.
So, to get started with mobile optimization, think about what you usually do on your phone! You scroll down, watch videos, check for specific info about a very specific topic, and most certainly, chat and send messages.
So, the first thing you want to do is to make the content of your website scrollable rather than forcing the users to keep on opening new tabs. When you mention a topic or a specific word that may not be clear, you can use a hyperlink to save your readership the time of Googling that term.
Phone optimization is crucial for videos. Your CMS should run videos just as seamlessly as it runs any other form of media. While you may have to install some plugins to enhance video playing in most CMSs, Drupal is built with the mobile-first mentality.
This means you wouldn't have to worry about videos when using Drupal CMS. The system is already optimized to make video content compatible with small screens and mobiles.
Also, chatting is what we do the most on our phones right? So, if you add a chatbot that helps people find what they want faster, then you're already rocking it! A chatbot will not only help your customers know more, but it will help you do the same. You'd get more precise data about what people want from you (or from websites like yours). And you're the only one possessing that data!
How can Drupal help with phone optimization?
Well, Drupal 9 for instance enables you to create fast-loading and mobile-friendly layouts that adapt quickly based on the user's phone screen. You can also take advantage of the WYSIWYG module that lets you see how the final product would look on the phone or laptop even before publishing it. This way you can troubleshoot any issues fast and address them.
This is not to say all your problems will be solved! SEO monitoring sessions are a must to see if there is anything that needs addressing. Only, in that case, you would need a professional themer or a developer to solve the configuration problems you face.
But the point here is that you would be able to solve problems faster and therefore grant your customers the best mobile experience.
Need Support?
Talk to our experts to explore how your website performance is impacting your business and identify solutions.
Slow Websites Don't Rank
As we saw in the mobile Drupal SEO section, the speed of your website matters a lot.
The pace at which an individual webpage loads is termed PageSpeed. Regard that we said a webpage instead of a website. That's because, within the same website, different web pages can have different load speeds. And it's explained by the amount and size of images and videos shared on a particular page.
The speed factor is regarded as decisive. So decisive that Google took the initiative to build PageSpeed Insight, which is a tool that helps webmasters assess their websites' performances and see what Google is looking for and doesn't find in a website.
The tool goes beyond assessing the performance to pointing out bugs and problems that slow your site down. In fact, the tool does a full audit and then tells you exactly what to do to improve the performance of a webpage or an entire website.
For instance, if PageSpeed Insight finds that third-party codes decelerate the result, it would suggest limiting the number of third-party providers. And it will tell you exactly where these parties are decelerating you the most.
But if you are a Drupal user, then there is an even more powerful tool for you. Drupal Audit is developed by Vardot, and it's built especially for drupal websites. All you need to do is to paste the URL of your website, and the tool would do a complete audit of your website, then with one more click, suggested solutions and tips would be provided.
At Vardot, we aim to make your use of Drupal easier. That's why we have developed Varbase: a Drupal website builder. Varbase helps you build websites faster, and it enables you to fix errors such as the ones discussed in this section faster. Moreover, this website builder is developed by experts and it integrates a lot of awesome SEO features.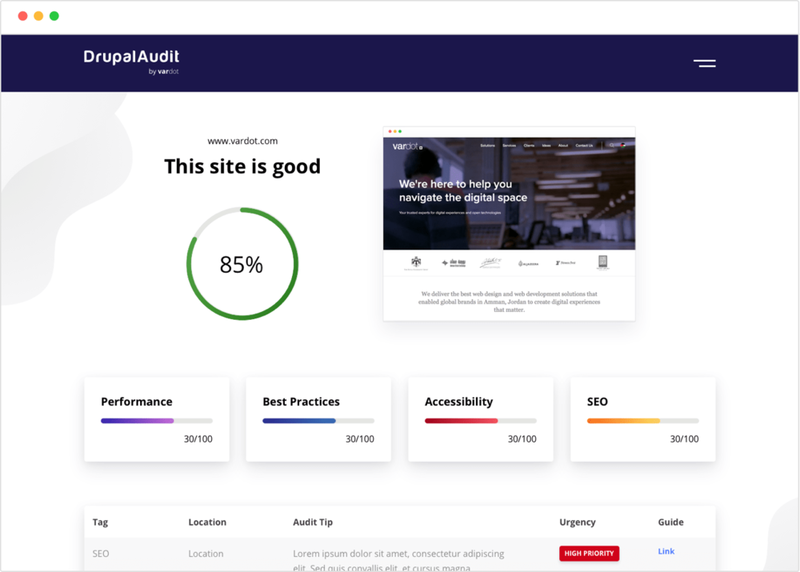 Looks VS Accessibility- Which One Is More Important for SEO?
Search engines exceed code and media analyses to actually test the UX friendliness and the accessibility of your website. That is to say, you should compromise neither the look and the UX to grant better accessibility, nor do the opposite. Rather, opt for optimizing both.
In this regard, Drupal 8 celebrated accessibility and encouraged the community to pay more attention to it. But it didn't stop there! Drupal 9 has introduced Drupal Accessibility Features such as the TabbingManager that grants non-visual and non-mouse users more control over their experience in a web page by giving them access to a webpage's elements in a more precise manner.
Web surfers and Google alike pay attention to these details when implemented in a website. The users will feel they oversee their experience on your website, and therefore spend more time consuming your content and navigating your website. Google on the other hand will reward you with better search engine positioning.
There are a lot of more interesting features and Drupal modules that you can take advantage of, and as Drupal 10 will have been launched by June 2022, the community is expecting more interesting features to be presented. So if you have a website running on D9, we advise you to migrate it to D10 as soon as it's launched.
Essential Drupal SEO Modules
Drupal 9 is backed by thousands of modules. But we picked the most essential modules that will help you go in the right direction. So let's check it out:
These modules will make your life easier while using Drupal. And they would help search engines decipher the content of your website faster and easier.
What's after Implementing All of This?
Now there is one last thing to talk about: on-page SEO.
On-page SEO is how you optimize web pages for specific keywords to gain more traffic and increase visibility. It involves the aforementioned Metatags, but it exceeds them to the whole structure of your content.
The first important thing you need to know is how to use a keyword. Long gone are the days of throwing keywords in a webpage and expecting it to rank. You should use them wisely throughout your entire article rather than stacking them in one section and neglecting them in the other.
Moreover, search engines now are trying to prioritize content that seems inclusive and written by experts. And to let these engines know you're an elite expert in your niche, you should use LSI keywords.
LSI keywords are simply words that are related to a specific keyword. Sometimes these LSI keywords may not be accessible except by experts in a field. So, when hiring a writer, make sure you hire the right professional who would make google know you are doing it right. And remember: content is king.
Drupal 9
On-Site SEO
SEO
Varbase Distribution
DrupalAudit