Al Jazeera Documentary
Tailored to optimize visual entertainment.
Image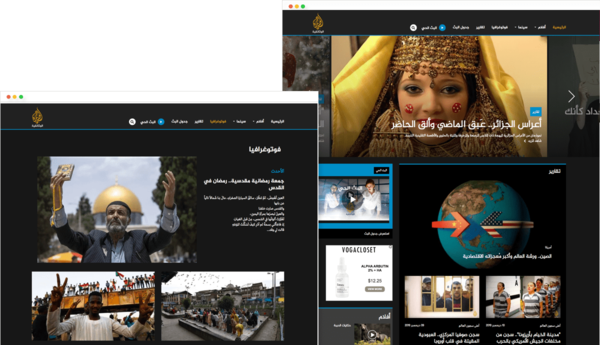 With a dominant presence across the Arab world, Al Jazeera Documentary Channel is a popular satellite channel showcasing Arabic language films and documentaries.
Since its inception on 1st January 2007, the channel has gained the reputation of telecasting rich quality documentaries based on various subjects such as history, science, politics, arts, and travel. Al Jazeera Documentary Channel aims at enhancing its online presence by delivering an exceptional and interactive experience to its web users. Undertaking numerous technical makeovers to optimize its workflows, processes, digital platforms, and operations, the channel is rapidly expanding in news and media operations.
Al Jazeera completely redesigned its legacy website that was in operation since 2007 which was a legacy CMS built on .NET. Al Jazeera wanted their website to be elegant and functional, with the channel's HD broadcast seamlessly syncing with the new website. After brainstorming on how to revamp the entire website to enrich their user's experience the project was delegated to Vardot. Our team had to perform it within the stringent deadline of six weeks to re-launch the channel.
Vardot migrated Al Jazeera Documentary website from a legacy CMS built on .NET over to Drupal within six weeks and synched the channel HD re-launch. Drupal provided a highly flexible and elastic content management system that has the capability of handling a wide variety of content types, and a large number of content pages.
Drupal's powerful and flexible architecture provided an easy to use programming platform and includes a plethora of functionalities that enabled Al Jazeera to create and manage many types of content such as high definition videos, content, blogs, podcasts, and others.
Due to the strict deadline and event-driven launch date to simultaneously build a new site with the launch of the HD TV channel, Vardot handled the project using Uber Publisher, a Vardot-built Drupal distribution allowing publishers to manage the way their content is experienced by controlling layout management, custom workflows, integrations, and other features. Vardot transferred the content from Al Jazeera's legacy content management systems to the new Drupal platform and, on 1st April 2016, the channel was re-launched with an HD broadcast synchronized with a brand new, redesigned, and revamped HD website.
Vardot's team have created Uber Publisher distribution using Drupal, which has the following features:
Apache Solr's search engine was the ideal choice for Al Jazeera Documentary website due to its immense scaling capability and reliability and is the trusted choice of many of the heavily trafficked websites and applications globally.

High availability hosting setup ensures that Al Jazeera's online presence is consistent and their digital web users are always smiling.

Vardot's custom-made backend theme grants an augmented editor experience.

Vardot integrated video and media library with Al Jazeera's private video repository through the Brightcove Video Platform.

TV Schedule integration provided elastic delivery options to integrate Al Jazeera's data into their app and website.
A structured approach to highlight and showcase the live feed of the channel's broadcast schedule for the current week. It also includes high-resolution images, magazine issues, videos, and articles in a thoughtful and methodical responsive implementation. With the ever-increasing number of mobile users, the responsive website design and implementation enabled Al Jazeera's users to view their channel online using any platform, be it their smart phones, tablets, desktops, or laptops, thereby enhancing the experience of their mobile users and increasing their customer outreach.
What were the services that Vardot provided?
Vardot established strong APIs that allowed Al Jazeera's website for third party integration.
We incorporated social and multimedia integration to increase Al Jazeera's viewers and popularity.
Al Jazeera's website was made more SEO friendly by providing upbeat SEO support.
Vardot has provided extensive training to the Al Jazeera editors about the various technologies they have used so they can manage the website effortlessly.
We also provided a complete hosting infrastructure set up along with regular maintenance and support.
Our team has migrated the website to the Drupal platform and has provided constant support at each and every step.
Vardot provides the utmost security assurance and constantly safeguards its hosting environment.
We gave a complete makeover to the Al Jazeera Documentary Channel's website and made the transition seemingly effortless and cost-effective.