Marketing Automation
Deliver superior campaigns, content and results in minutes.
Find, capture, convert and grow your database of leads or customers with the world's best open-source marketing automation tool - Campaign Studio. From now on, every marketing campaign, email, SMS, or tweet you send will be personalized to each website visitor's behavior and needs. Time for smarter communication.
Omni-Channel Automation
Enhanced marketing and communication effectiveness by finding the channel that works best for you.
Account-Based Marketing
Connect all touchpoints and personalize communication on the activities you track across all user accounts in your database.
Automated Intelligence
Understand your audience through a variety of tools such as detailed reports or a simple real-time dashboard.
Visual Campaign Building and Automation
Build marketing campaigns across all the channels you can possibly imagine entirely based on logic and enjoy watching the results unfold in real-time! What used to take hours of design work, strategizing, copywriting and development can now be built easily in a matter of minutes entirely based on logic and your website visitors' actual behaviors.
Powerful and Deliberate Communication
The wide range of variables that will become available to your marketing team will enable them to personalize and create dynamic content easily. The simplicity of creating a multi-channel campaign rich with dynamic content personalization in a couple of minutes will make you feel that your marketing team and resources have multiplied significantly.
Easier Key Integrations
Campaign Studio is meant to be the ultimate open marketing platform that gives you a single view of the customer life cycle. This isn't limited to popular and key marketing tools such as Google Analytics and MailChimp... you have the unbounded freedom to connect or integrate any solution out there.
Image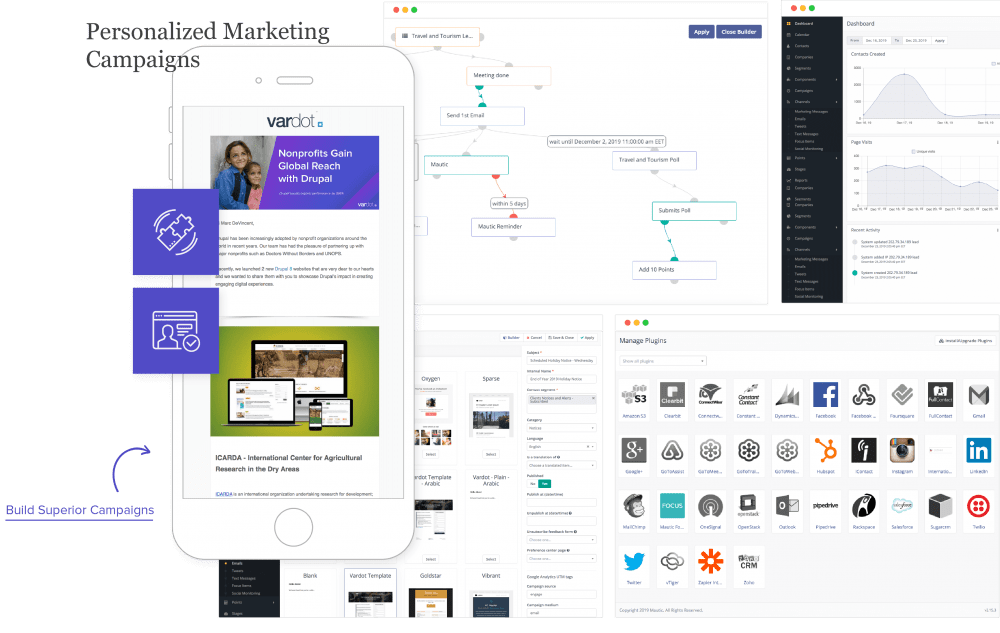 Rapid Innovation
There are 1000+ developers that contribute to the innovation of the platform in a bid to ensure that you always possess the sharpest and most powerful marketing tool in your arsenal.
Work Smarter, Not Harder
Give your marketing team the unrivaled flexibility to create the simplest to the most elaborate multi-channel campaigns.
Schedule A Personalized Demo