Facilitating Intercultural Dialogue & Enabling Diversity Among Nations
SEO optimized content in a variety of languages for King Abdullah International Centre for Interreligious and intercultural dialogue.
Image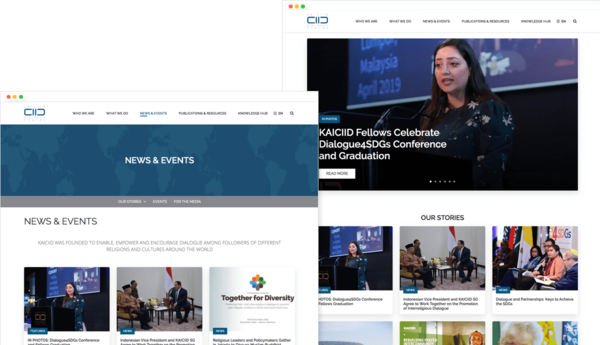 King Abdullah Bin Abdulaziz International Centre for Interreligious and Intercultural Dialogue (KAICIID) is an intergovernmental organization that seeks to prevent and resolve conflict and enhance understanding and cooperation by encouraging dialogue among followers of different religions and cultures around the world. Although the center is located in Vienna, Austria, it operates as an autonomous, international organization, which requires it to have a website that can reach a wide variety of target audiences from all corners of the globe.
KAICIID and Vardot joined forces to redesign and redevelop the organization's website—last redeveloped in 2012—because its existing content management system didn't possess the capacity to scale and grow with the organization, and didn't have the range of capabilities necessary to adequately meet KAICIID's multilingual needs. 
KAICIID needed a platform that could facilitate dialogue among its diverse pool of users, which includes Arabic, English, German, and Spanish speakers.
REQUIREMENTS
Improved Multilingual Support
As an international organization, the new KAICIID website required enhanced multilingual support with the capacity to consistently reach and serve the needs of users speaking several languages. To achieve this, the website's user interface needed to be able to switch seamlessly between right-to-left and left-to-right languages without sacrificing navigation features and general functionality. Additionally, the new website needed the ability to provide flexible translation and SEO tools to optimize content in English, Arabic, Spanish, German, and other languages.
Streamlined SEO Optimization and Branding
KAICIID's new website needed the ability to generate traffic and streamline content creation and distribution in order to expand the organization's digital presence and reach a wider audience. This required the organization's social media channels to be cohesively integrated with the website, as well as the integration of tools for analytics reporting. All of this while presenting the organization's brand as open, transparent, universally inclusive, accessible, proactive, and consistent with KAICIIDs branding guidelines through the website interface.
Optimization for Mobile
KAICIID's legacy website suffered from both inadequate mobile optimization and insufficient responsive design. Thus, harnessing the power of Bootstrap and various Drupal modules, Vardot promised to deliver a website with a user-friendly design and an intuitive interface that was equally accessible across all browsers and mobile devices. Vardot was able to achieve this while also vastly improving load times and mobile-optimized elements able to work with all potential screens and devices that KAICIID's website can potentially be viewed on.
Scalability
As a growing organization with a wider global audience, KAICIID anticipated needing a system able to expand and scale alongside the organization. This required Vardot to deliver a website with increased caching efficiency and an easily configurable database, all housed within a simple but sturdy architecture able to sustain speed and performance as KAICIID's digital reach expanded and demanded more of the platform.
Improved Content Creation and Workflow
KAICIID required a website with a simple interface able to provide content creators with an intuitive and efficient content creation process.
OUTCOME
In February 2015, Vardot delivered KAICIID its new website. It was built upon Drupal 7 and utilized Bootstrap to make it fully responsive and mobile-optimized; it also included significant SEO enhancements, featured enhanced multilingual support thanks to the integration of Drupal's Internationalization and Entity Translation modules, and was furnished with upgraded content creation and navigation features.
By June of 2015, KAICIID's new website had experienced immediate returns thanks to its improved SEO rankings, navigation paths, and content accessibility. KAICIID's bounce rate decreased from 69% to 20%, it's pageviews per visit per day rose by 6% to 3 per day, and the average daily time spent on the website rose to 3:53 minutes. [Source: Alexa.org]
Additionally, a testament to KAICIID's quality content and its improved SEO infrastructure, the platform is now receiving inbound links from high-traffic websites such as Wikipedia.org, CNN.com, Huffingtonpost.com, and many others.